Eagle6 Airsoft Tests An Upgraded TM 417 DMR NGRS
OptimusPrime
29 Nov 2020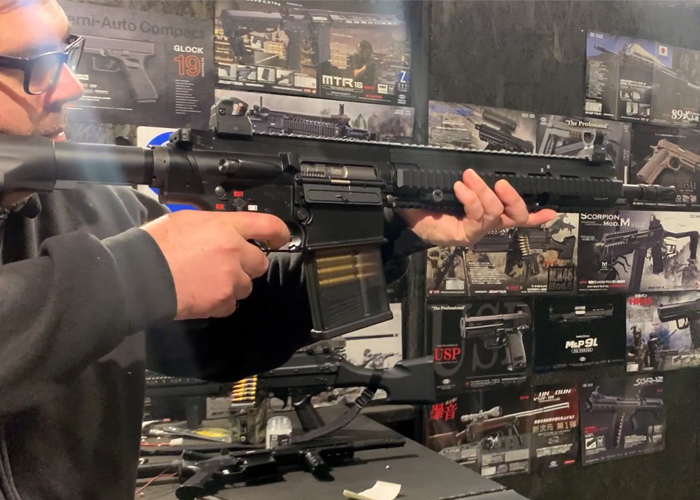 As part of their upgrade service Eagle6 Airsoft tests the AEG to ensure that they work as expected fromm the upgrade work. In this case it is the Tokyo Marui HK417 DMR NGRS... "Richard from our tech team talks about and demonstrates a customers upgraded TM 417 DMR NGRS build. Please find the full build description below.
FPS Results 470 FPS (Measured On 0.20gr BB) & FPS Results 320 FPS (Measured On 0.43gr BB)
Scope Of Work:
Install Lvl 9 Build, bring fps & RPS up and retain reliability. Install Gate titan mosfet for improved trigger response. install R hop.
Installed:
Level 1 - Power Spring & Rebuild

Full strip & rebuild
EagleSix M140 For NGRS

Level 2 - Hop Rubbers & Nubs
Level 3 - Tight Bore Barrel

Prometheus 6.03mm 407mm Tightbore Barrel

Level 4 - Gears & Bearings

Prometheus Normal Torque NGRS gear set
Prometheus 6mm Bearings

Level 5 - Piston Head & Spring Guide

Prometheus Piston Head New V2 M4 NGRS
Prometheus Spring Guide New v2 M4 NGRS

Level 6 - Cylinder Head and Cylinder

Prometheus Cylinder Type A
Prometheus Cylinder Head New V2 M4 NGRS

Level 7 - Air Nozzle & Tappet Plate

Prometheus Air Nozzle M4 NGRS
Prometheus Tappet Plate M4 NGRS

Level 8 - Selector Plate & Piston

Prometheus Piston M4 NGRS
Prometheus Selector Plate

Level 9 - Recoil Related

Prometheus Epsilon Gold Trigger for NGRS.
Extras:
Gate titan advanced
Laylax Trigger Pin
Deans mod
modify 2x 2600mah 7.4v lipos for deans.
Tested On an 7.4v 2600mah Lipo on video.
This RIF was put through our '4 point testing' prior to dispatch."