Tokyo Marui Glock 19 Gen.4 GBB Pistol 29 September Release
OptimusPrime
14 Sep 2021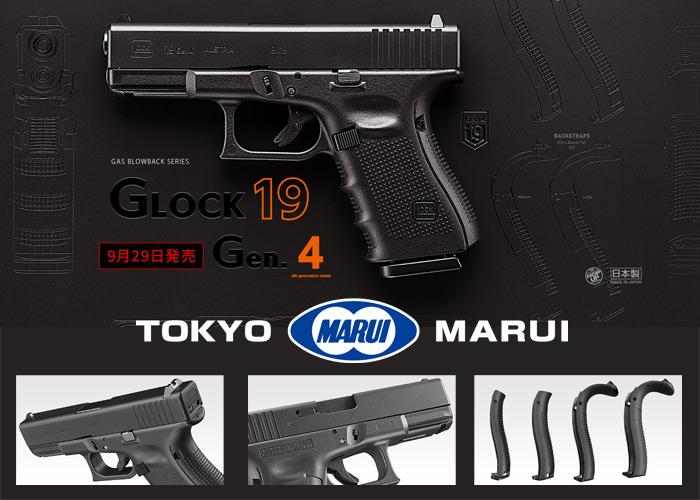 Good choices for Glock airsoft pistols this year as Tokyo Marui are also releasing their Glock 19 Gen.4 Gas Blowback Pistol by the end of the month... "The Glock series has undergone frequent minor changes since the first generation appeared in 1982. The 4th generation "Glock 19 Gen.4" is finally here as a gas blowback!
Reproducibility is improved by measuring the real thing, such as a new checker ring for the grip, a larger magazine catch, and a removable grip back strap that was first adopted in the 4th generation. In addition, it inherits the blowback engine of 'Glock 17 Gen.4' and realizes more powerful blowback and efficient operation.
Major features
Large diameter cylinder adopted
Inheriting the blowback engine and internal structure of "Glock 17 Gen.4", a cylinder with a diameter of 15 mm is adopted. Achieves stable shooting performance and powerful blowback.
Improved reproducibility
Pursuing the reality of size and detail based on the data measured from the real "Glock 19 Gen.4". In addition, we are particular about reproducing the texture of details, such as reproducing the dual recoil spring and making the extractor (*) and slide cover plate separate parts.
*This is a dummy that imitates only the appearance.
Gen.4 style railed frame
A new type of non-slip is adopted for the frame integrated with a 20 mm wide underrail that can be equipped with lights that are indispensable for CQB equipment. In addition, 2 types x 2 size back straps are attached, and the grip size can be changed in 3 stages including the unattached state.
Lanyard link
A lanyard (= carrying strap) that prevents loss or falling can be connected to the lanyard link at the rear of the grip.
Cocking indicator
Equipped with a gimmick that allows you to easily determine whether the main body is ready to fire based on the stationary position of the trigger.
Die-cast magazine
Comes with a die-cast magazine that has 22 bullets and is resistant to cold.
Package contents
Glock 19 Gen.4 body, magazine (22 bullets), back strap short (M / L), back strap long (M / L), back strap jig, back strap pin for back strap, protective cap, handling Caution / Instruction, order form, cleaning rod, BB bullet (0.2g / 100 shots), etc."