Orga Airsoft On The EMG G34 JW2 TTI Combat Master
OptimusPrime
24 May 2023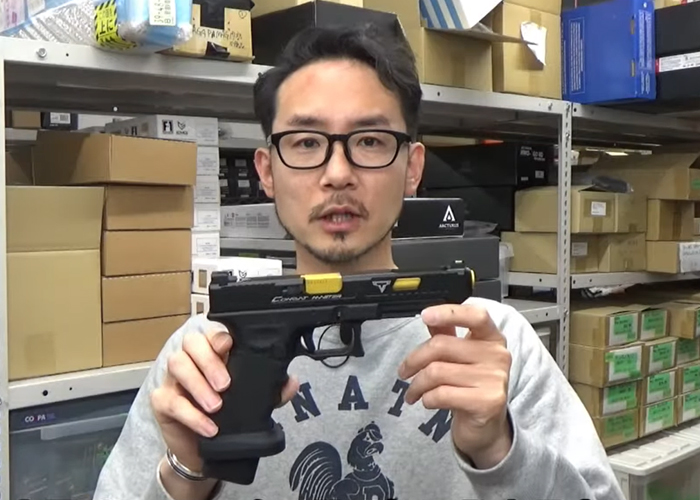 The EMG G34 JW2 TTI Combat Master GBB Pistol is expected to be in stock at Orga Airsoft this month but they have sample unit to review... "This product is a reserved product and is scheduled to be released around the end of May 2023. Please note that it may change depending on the production status of the manufacturer.
As a pre-order bonus, all pre-orders will receive his stock remover wrench! It will be a useful tool when removing and attaching his stock, including the Magpul type CTR, so it is very convenient to have one! Of course, customers who have already made a reservation are also eligible, so we will include it when shipping!
Custom Glock, which left a striking impression as the gun used by the main character in the movie "John Wick 2", which is based on the legendary killer, is now available with a TTI official license!
It is a full custom that makes the most of the parts of Taran Tactical Innovations, and it incorporates plenty of exterior parts with excellent functionality such as magwells and magazine base pads as well as slides and barrels.
In addition, the grip frame is based on Gen.3, and has a luxurious specification that has been carefully stepped by hand. In order to optimize the injection valve for the gas used in Japan, the taniokoba injection valve, which can be expected to blow back and efficiently inject gas, is equipped as standard.
The internal engine has a rifle-class large nozzle that is used in GHK Glocks, so it has a slightly different sharp shooting feel. In addition, since the trigger pull close to the real gun is reproduced, it is finished in the supreme custom Glock that balances both appearance and shooting performance.
The slide, which is the biggest feature, is made of lightweight and robust 6000 series aluminum alloy. Complex shapes such as window cuts, serrations, and engravings are precisely reproduced by computer-controlled CNC cutting.
The polished luster and lines are also realistically reproduced, and combined with the large window cut that accentuates the gold barrel, it is an excellent composition that makes you feel the beauty.
The sight is a type suitable for quick aiming. A front sight with a green insert for good visibility and a unique rear sight with anti-reflection slits provide excellent functionality.
The competition lightning type is used for the magwell. High performance fast reload can be expected with the relief cut and large funnel provided in the front. Due to the wide funnel design, it can be used together with the company's type magazine base pad.
The magazine comes standard with a magazine base pad. By adding a little weight, the empty magazine's own weight drop assistance and fast reload are realized. It can be easily attached and detached because it is fixed with a set screw and push pin on the side, and maintenance such as field stripping and cleaning can be performed without stress.
The grip frame is a Gen.3 type that features finger channels. The entire frame is carefully finished one by one by hand with a stepping process that is effective for comfortable gripping. In addition, ergonomic design based on the feedback of experienced shooters has been incorporated, such as an undercut on the trigger guard that allows a firm and deep grip, and a recess cut on the magazine release."