Nineball TM Hi-Capa 5.1 2-Way Non-Recoiling Outer Barrel
OptimusPrime
01 Jul 2020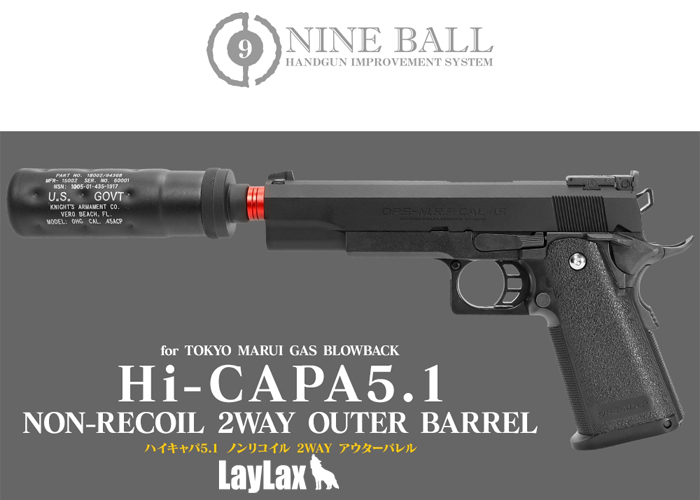 Tokyo Marui Hi-Capa Gas Blowback Pistol owners may want to take a look at this new product from Laylax if it offers improvement. Ryan gives us more details of the Nineball TM Hi-Capa 5.1 2-Way Non-Recoiling Outer Barrel... "LayLax has created an all-in-one Hi Capa 5.1 length outer barrel for maximum customization.
The '2 way' Non-Recoiling Outer Barrel refers to the included muzzle caps and fixed grub screw design.
First, the kit comes with a "standard or normal muzzle cap to protect the internal threads that helps create that threadless muzzle look.
Next, the kit also comes with a 14mm CCW muzzle cap for all your suppressor, tracer unit, and amplifier needs.
A bonus is that the outer barrel is negatively threaded with 11mm threads, so that means attachments threaded with positive 11mm threads are compatible as well.
So three muzzle options in one! Lastly is the 'non-recoiling' part.
Most Tokyo Marui gas blowback Hi Capa's have a large amount of play between the outer and inner barrels that once the gun is fired, causes instability between the slide and barrel, and thus reduced accuracy and range.
This inconsistency is remedied with two grub screws that 'fix' the inner and outer barrels so that any and all movement between the two is negated so that the outer barrel can fire smoothly along with the slide creating a stable firing platform.
Comes in Black, Silver, Gold, and Red for the time being.
Compatible with the standard Hi Capa 5.1 and its variants.
There is a Hi Capa 5.1 D.O.R version available as well."