DBoys M4 CASV: Great ACM
admin
03 Aug 2007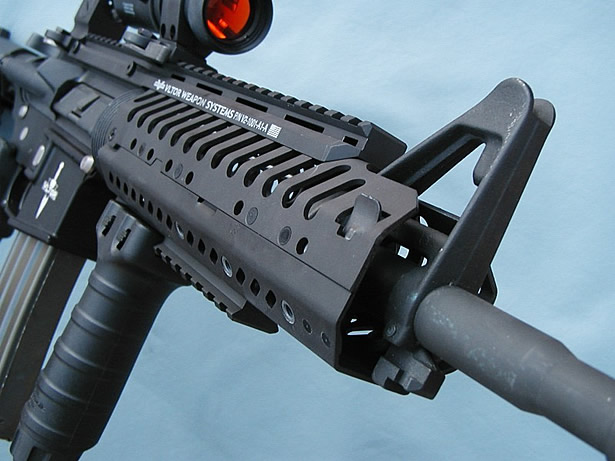 I think it is not making a good service to good Chinese airsoft makers to categorize their products under the "low end" section since in terms of performance, they can hold on their own against Japanese/Hong Kong/Taiwanese brands. I suggest that they be called LPHPs (Low Priced High Performance), as used by Airsoft Scotland.
The Dboys M4 CASV is an M4 Variant based on the VLTOR Free Float Handguard CASV (Complete Active Space Valence?) developed for the US Navy Seals. This allows you to have multiple configurations for the rifle as you can attach an assortment of components/accessories needed to be in effective in combat. The image below shows the real thing:
If you hate reading a review, and prefer a video review produced by Nachos Design:
From the Box
Upon delivery, you get an AN/PEQ Box (which acts as a battery case), 3-Point Tactical sling, the rifle, a 2-prong round charger, metal 330-round TM compatible magazine, adjustable flip-up rear sight, 6-position sliding metal stock, metal weaver based mount, cleaning rod, 8.4 mini-type battery, metal hop-up, vertical foregrip and full and semi automatic fire modes. The bbs that usually come with the box were not included in the delivery package as Keith of RSOV does not recommend using these, even for test firing.
The AEG is solid, as in solid snake, with some rattles.
By the way, RSOV delivered the baby on time as promised.
Aesthetics wise, the paint job is not excellent, but I'm not much concerned about the paint job, but more on the capabilities as a good AEG, should fire well, and should be reliable (which we shall discuss later).
I strongly suggest that you disassemble the CASV system upon delivery, check all the screws, and assemble the components back together, ensuring that you tighten and minimize clacking noises due to rattle (you'll get this sound out of the box). It is quite heavy, heavier than other known M4 AEG versions, and a lot of metal.
Test Firing
My test firing wasn't conclusive, since I wasn't able to make any serious test fires inside or outside the house for two reasons. Firstly, I can't do some firing in my yard since other neighbors' windows overlook the yard, and my neighbors might just call the Met Police Armed Response Unit and you'll all see me live on BBC News. Secondly, I can't go full rock and roll inside the house as there are glass windows, and I can't even just risk a ricochet (and I wasn't able to rig a proper target practice area inside the bathroom).
During the brief test firing, it was loud, but I also didn't mind it, I prefer it loud since it may just cause someone to surrender during a skirmish due to its intimidating sound. But someone made a video test firing it with a 3700Mah battery:
3-Point Tactical Sling?
The AEG didn't come with a front swivel mount for a 3-point tactical sling. I suggest that you buy one or the sling will just remain useless.
AN/PEQ Battery Case
While you can insert the mini battery inside the CASV, I recommend that you use the AN/PEQ Battery case with another spare mini-battery as it is easy to attach the spare battery while in the middle of a firefight. Inserting it inside the CASV guarantees that the sector you're guarding against the OPFOR will be overrun as replacing it will take time as you need to unscrew the CASV. Prepare to wrap this case with black electrical tape as the "laser pointer" areas fall off.
Stock
The stock is a nice M4 plastic stock with 6 point extension. There is a sling point on the bottom, and a sling point on the back of the receiver, where the stock tube meets the body. Thus, a 1-point sling rather than a 3-point sling is recommended. It is kinda unwieldy adjusting the stock, which I am bothered and just limited myself to either using it fully extended (while on the move), or fully retracted (while lying prone or doing CQB). I got used to using just 2 positions.
Receiver
The receiver is plastic but you get a very solid feel. It is really solid and there is no flex perhaps due to the rails that extend from CASV barrel to the receiver. As expected, you use the cocking handle to reveal the hop-up at the side port. While inserting a magazine, you should whack or thump a magazine into it, rather than gently inserting it, to make sure it is locked and loaded and buy DBOYs M4/M16 spare magazines.
Using a reinforced 7mm metal gearbox, it is said that it can be used with 10.4 or 12 volt batteries. But don't risk it yet, enjoy the default settings until you get tired of it.
Sights
The front sight is not a flip-up like the M4 S-System, but the rear sight is a beauty which you can make adjustments for windage and precision firing (by flipping the precision firing sight). You can flip it down when you use a scope or a reflex/red dot scope so that it won't be on the way. The railings really are useful as you don't need to worry about mounts.
Vertical Front Grip
While the vertical Front Grip included in the box looks great when attached, the AEG is heavy and harder to balance the barrel with the vertical grip and more convenient to balance the rifle without it, as I find it annoying when lying prone. I think attaching a M203 springer will do the trick, and you get an AEG that means business.
Skirmish Performance
Although I haven't chronoed the rifle, I believe in the reports that the rifle can go a consistent fire rate of 320-330 fps based on my experience. I am not a spray and pray player (as the ACE Brigade boys call it "religious") and prefer placing my shots on semi mode, and getting consistent hits, conserved bbs, and longer battery-life with that approach (never used up one 8.4v 1500mah mini battery in a whole day's worth of skirmishes).
The closer you get to an objective, the meaner you get with this rifle as it is a great medium- to-close-range AEG. It can help you clear entrenched OPFOR, so this AEG should be the preferred choice for assault in a woodland/village setting, especially under the fiercest firefights.
My first skirmish with this gun was great. While I panted under the heavy weight of the rifle (over 8lbs), I really didn't mind it since the solid feel makes me confident that I can fight my way through. It performed well, no misfeeds or jams, and I can easily adjust my firing in semi-auto mode, and I believe that with some more adjustments, I can make this more accurate. An upgrade may help, but I prefer it on its default settings for now.
Paint job may not be nice, and there are no markings but I am not complaining. The true test of an AEG is how it performs in a skirmish, since I didn't buy an AEG to display it as a museum piece or for others to drool over, but play weekend warrior with it.
Conclusion
Delivery by RSOV.com: 5 Stars
Out of the Box: 3 Stars (some rattle, tighten the screws)
Accessories: 3 stars (DBOYS please replace the sling with a 1-point one)
Aesthetics: 3 stars (but is irrelevant to me)
Performance: 5 Stars (and this is the most important, all things become irrelevant)
Bang for the Buck: 5 Stars
Configurability: 5 Stars (the CASV really rocks!)

Recommendation to Buy: Two-thumbs up!!!