VFC AKS-74 Release
OptimusPrime
18 Aug 2007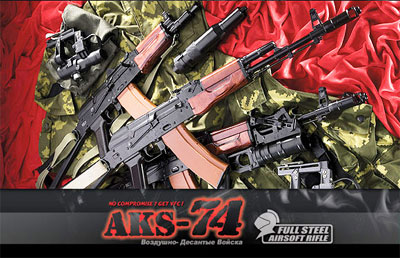 Taiwan-based Vega Force Company (VFC) already have released the AKS-74, an airsoft replica of the small-calibre version of the AK-47 made by the Russians from lessons learned in the Vietnam War. The real steel version fires a 5.45 x 39mm bullet, as compared to the AK-47 which dispenses the bigger 7.62 x 39mm ammo. Compared to the AKM, it has a distinctive muzzle brake, designed to reduce further the recoil and muzzle climb.


At the VFC website, the information goes.... "AKS-74 is the second shot of VFC Electric AK series. It came with two version : without side mount AKS-74 and with side mount AKS-74N. With high realistic appearance and high quality, VFC AKS-74 is better then before. Not only stamping receiver of steel material but also the rivet and the welding scar are just like real steel.

The trigger guard is riveted on to the receiver especially.The problem of bolt carrier dropping easily in AKS-74UN is also solved effectively. The AKS-74 bolt carrier will not drop anymore. The color of pistol grip has also been changed to plum. (deep brown) Gas tube is made from steel tube by stamping and welding, and also provide a space for battery storage. After the gas tube come with the gas tube spring which fix the upper hand guard and gas tube set to the rear sight base. The hand guard is made from plywood which is as the way in real steel. Besides, the length of cleaning rod is as the same as real one.Inside with Ver.3 reinforce gearbox mechanism, 7mm bearing, EG1300 high speed motor, precise steel gears, and high-abrasive strengthen piston. Those make VFC AKS-74 series can continuing to shoot more than ten thousand BB Bullets. VFC AKs-74 series are definitely the outstanding airsoft."