Tokyo Marui HK45 Slide & Internals Upgrade
OptimusPrime
23 Apr 2021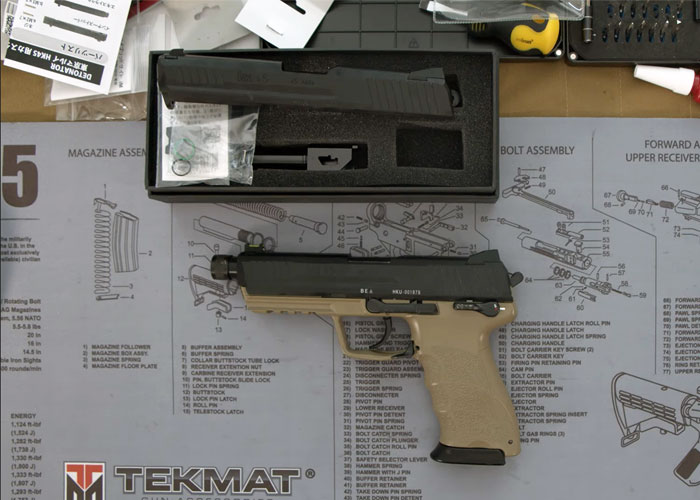 Another upgrade video by Azrel Sutcliffe and he does a full surgery on the Tokyo Marui HK45 Gas Blowback Pistol... "The second part of a series covering upgrades of the Airsoft Tokyo Marui HK45. This second instalment is the installation of the Detonator Slide, Guarder Nozzle, new Ice Pick gas valve and the Laylax Recoil Spring. Over the course of this series we have installed the following:
HK45 120mm Maple Leaf Crazy Jet GBB Barrel
50A Degree Flamingo Bucking
Laylax Nine Ball HK45 Hammer Spring
Laylax Nine Ball Dyna Piston Head (Wide)
RA-Tech Outer Barrel for HK45 (14 mm CCW)
Detonator Custom Slide for HK45 (Black)
Guarder Enhanced Nozzle for Tokyo Marui HK45
Poseidon ICE Pick Flute Valve For Marui (Red)
Laylax Nine Ball HK45 Teflon Recoil Spring
Some of these items were purchased directly from Japan from various vendors on Amazon.co.jp, Rakuten and others. To purchase from Japan with ease I used Buyee a Japanese Proxy Service."