More On The Secutor RAPAX M3 & M4 Pre-Order
OptimusPrime
26 Feb 2020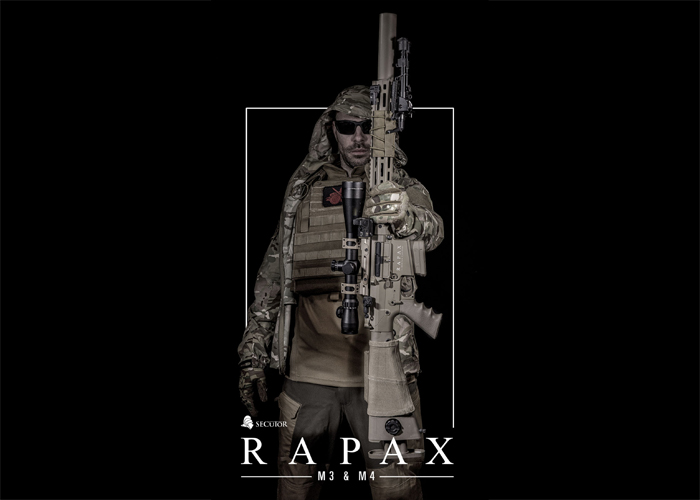 We finally get more details about the Limited Edition Secutor RAPAX M3 & M4 AEGs being carried by SKWAirsoft. These AEGs are now on pre-order. MSRP is €549.95.. "The pre-orders for RAPAX M3 & M4 are open. We remind all our customers that this product is in limited edition.
The new policy of the brand SECUTOR is to produce in limited quantity and to care the quality of the product like RAPAX M3 & M4 and not to commercialize these ranges again.
GENERAL FEATURES
New hop up rubber for heavier bbs
Two 7.62 mm magazines (not 5.56 mm) included in the box
2 different textile accessories: cheek rest on the stock and handguard cover
45° sights included, allowing to mount a scope
Adjustable stock in length
Ergonomic pistol grip with anti-slip texture
Programmable electronic trigger:
The fire selector has 3 modes: safe/semi /auto by default out of the box. But, thanks to its interchangeable fire selector, it can be let in 2 modes: safe/semi, blocking physically the automatic position.
Quick spring change system
6.03 mm precision barrel
Mosfetincluded
Silencer included
QD sling swivel included
Adjusted as standard to 445 FPS with 0,20 g bbs
2 models to choose: M3 and M4
Combination of bearings and 8mm bushing
Piston with all metal teeth
Silver wiring"