KWA TT-33 GBB Pistol At Airsoft Station
OptimusPrime
13 Aug 2020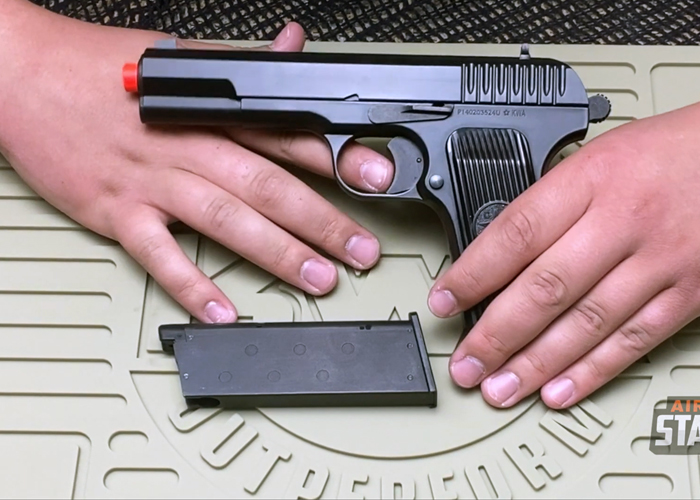 Airsoft version of the Soviet sidearm used in Word War II is available at Airstation. Anthony gives us a quick look of the KWA TT-33 GBB Pistol that uses the NS2 gas system... "Designed to replace the Nagant M1895 pistol for Soviet forces during the early 1930's, the TT-33 was widely fielded among Soviet forces during World War II. This full metal airsoft replica stays true to the original TT-33 design by making a collector-worthy green gas powered handgun that goes as far as to include the original CCCP Soviet Star Emblem on the pistol grips. Utilizing KWA's renown NS2 gas system, this pistol has both a powerful and gas-efficient blowback action. It's 6.05mm inner barrel and adjustable hop-up makes this pistol surprisingly accurate especially when used with heavier weight BBs. If you're looking to have an excellent all-around sidearm, looking to complete a WWII Russian reinactment loadout, or a collector of WWII replicas, the TT-33 green gas airsoft pistol from KWA is sure to please.
Features:
True to spec replica TT-33 Airsoft Pistol including subdued CCCP Star emblem
Unique Serial Number for every pistol
340-350 FPS with 0.20g BBs using Green Gas
KWA's NS2 Gas Blowback System
Green Gas 11 BB Magazine
6.05mm diameter Inner Barrel
Adjustable Hop Up
Functional Trigger Safety and Field Stripping/Takedown
Pistol lanyard lug
1.65 lbs unloaded weight"