Jia Dyi: Rising Airsoft Brand "ASCEND"
OptimusPrime
21 May 2021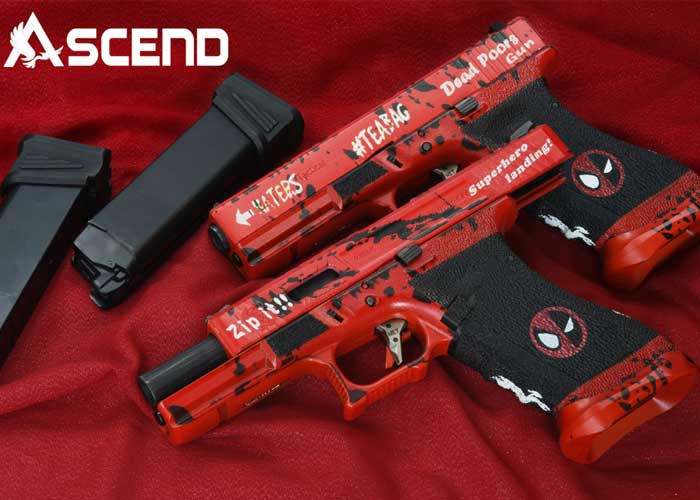 Jia Dyi explains the Ascend airsoft brand and its first product, the DP17 GBB pistol... "The pistol with the designation DP17 is the first work of the ambitious manufacturer and is available in three different versions. An absolute must-have for comic enthusiasts as well as weapon collectors and lovers. At the first glance, the DP17 is immediately recognizable as the special action hero, it has been hydro-dipped in red and black throughout you can see quotes from the character and certain references to the superhero. In order to generate the perfect look, the slide, frame and magazine well have been colored by Ascend Airsoft using a special high computer transfer print process. Thanks to the transfer print process in vintage design, the pistol looks as if it had already survived several missions.
All functions of DP17 are functional as with original pistols. The slide is dismantled using the centrally mounted dismantling lever, and the slide catch integrated trigger safety feature are authentic in their functionality. In addition, the DP17 is also equipped with a transport trigger guard, it's located below the under-barrel rail and can only be inserted when it is tensioned.
The grip integrated in the pistol frame with a non-slip, roughened surface ensures that the pistol is held securely in every situation. There is also a practical magazine well made of aluminum underneath the handle. This makes reloading the magazine easier and faster because it acts like a funnel.
Besides the slice, the metal parts also include almost all external fittings such as trigger, hammer, outer barrel... as well as almost all internal parts. The modern configuration relies in tough polymer composite plastic for the pistol frame, which does not have to hide from metal because of its robustness. Thanks to the strong gas blowback system and a shot power of up to 1 joule, the pistol is still ideally suited as a back-up. All in all, clearly positive features that show that Ascend Airsoft focuses not only on collectors but also on players."