HAO Industries HK416C Conversion Kit For Marui M4 MWS GBB
OptimusPrime
26 Oct 2020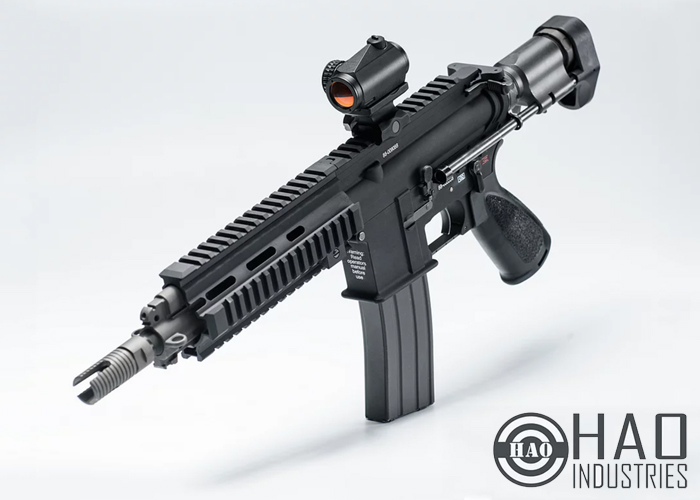 If you can't wait for Tokyo Marui to release a version an HK416 version of their MWS Gas Blowback, then the best and so far expensive recourse is get a conversion kit. HAO Industries got available a HK416C Conversion Kit which will do damage to your wallet by US$1,500... "HAO's 416C conversion kits for Marui MWS are CNC machined from an Alloy 7075-T6 billet which is as same material as real firearm.
In this model of 416 , you will have 9" one piece steel gundrilled barrel end with 1/2-28RH thread , CNC machined 416D style gasblock, Full RS spec 416C version hanguard, Full set of 416C collapsible stock, Ambi sling end plate, Plastic-polymer injected V7 grip for GBB.
CNC drilled Alloy 7075-T6 billet Upper
CNC drilled Alloy 7075-T6 billet Lower
SUS304 gas block & gas tube (416C length)
CNC lathed, Gun drilled 9" Steel barrel
CNC lathed Steel barrel nut
CNC drilled 416C type Handguard
CNC lathed Decoration pins
CNC lathed  Steel Flash hider knobs
CNC lathed drilled Takedown pins
CNC lathed drilled HAO's HK416 style ambi selectors
CNC lathed 416C/F style muzzle brake (With 1/2-28RH thread)
416C type collapsible stock
CNC lathed 416 ambi charging handle
Plastic Polymer injected 416 V7 grip
416AC Ambi Sling End Plate
SUS EDM wire cut light weight BCG stopper"