AW/Ordnance 1911 Squadron GBB Pistol At Bomb Up Airsoft
OptimusPrime
01 Oct 2020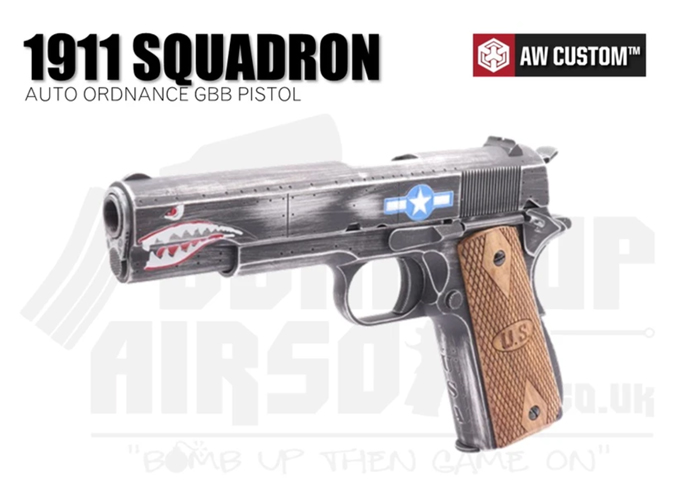 Get the sharky looking 1911 GBB pistol, Armorer Works/Auto Ordnance 1911 Squadron GBB Pistol that is available at Bomb Up Airsoft as part of nice 1911s in your collection... "Auto-Ordnance's WWII commemorative series is the 'Squadron' model.
This pistol features custom graphics reminiscent of those painted on fighter aircraft during the war. The muzzle displays the 'shark mouth' nose art often seen on American fighter planes like the P-40 Warhawk. The Army Air Corps insignia is on both sides, and there's a rivet pattern engraved over the gun.
This airsoft 1911 doesn't just look pretty, the finish is a highly durable, worn black and gray cerakote. The overall appearance makes for a pistol that looks like a WWII fighter plane getting ready to race into the skies hunting bandits!
Auto-Ordnance say they are 'proud to offer this latest custom 1911 in honour of the pilots who flew in defence of our nation during WWII. May their bravery and sacrifice always be remembered!'
This beauty was created by Armorer Works in conjunction with Auto-Ordnance and Cybergun, and it's evident that more heads are better than one! Check out some of the key features below for more information.
Key Features:
Officially licensed by Auto Ordnance
Authentic and Iconic 1911 design
Real wood textured Grip with U.S Logo marking
Slightly weathered body to give you that "Combat Used" feel
Grip and Thumb Safety
Full metal internals, slide and lower frame
Pistol weight and blowback action offer a super realistic shooting experience
The Famous American star symbol is engraved on the slide and it also has 'USA' engraved on the lower frame grip area
The slide is designed to look like a steel plate Armour surface
The "Gun metal" paint give it that real steel look
There's a lanyard attachment area at the bottom of grip, allowing you to keep your pistol safe and reduce the risk of losing it in battle!
Squadron - Engraved slide design to resemble a WW2 Fighter Plane (P40/Hurricane etc), featuring the famous shark mouth artwork"