Timerzanov Airsoft: Silverback Desert Tech MDR-X .308 AEG
OptimusPrime
17 Feb 2023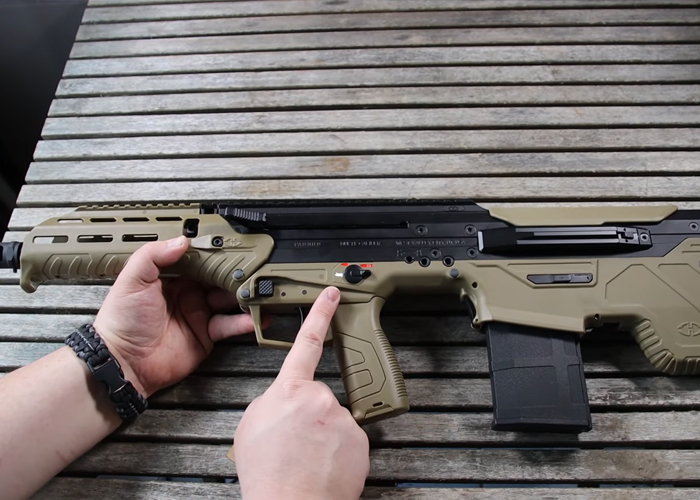 Timerzanov Airsoft gets his chance to give his take on the Silverback Airsof Desert Tech MDR-X .308 AEG in this video review... "Finally! Here it is finally! The long-awaited Desert Tech MDR-X from SilverbackAirsoft! A response that we have been waiting for for years. In this video I invite you to discover what this replica is finally worth. It's new for 2023 and I think you'll be delighted to see what it has in store. In short, I wish you all a good video!
Thanks to @AirsoftEntrepotTV for allowing me to make this video!
The MDR X, for Micro Dynamic Rifle eXtreme, is an assault rifle designed and manufactured by Desert Tech. The rifle is very compact due to its bullpup platform, the length of the weapon is variable depending on the length of the barrel that has been chosen for it. In addition, it can be chambered in various calibers, such as the well-known 5.56x45mm and 7.62x51mm, or to fire more recent ammunition such as the 6.5mm Creedmoor or the 300AAC. As with any modern rifle, many Picatinny and M-Lok rails are present, so that you can accessorize the weapon and adapt it to each situation.
Here is, under Desert Tech license, the long-awaited MDR-X in airsoft version, produced by Silverback. It is in its 308Win version that the replica was produced, hence the compatibility of its chargers with those of the M110 G&P and A&K. M-Lok rails are present on the handguard, ideal for adding accessories such as lamps, laser or Peq box. The top has a Picatinny rail devoid of sights, perfect for adding the red dot sight or the telescope of your choice. The compactness offered by its Bullpup architecture makes it easy to use in CQB while keeping a good barrel length for play in open terrain, in short the replica is very versatile and can be used in many situations. The undeniable asset of this replica is inside, a custom-made gearbox with parts of breathtaking quality!
This replica comes with two other springs to adapt the power easily. It is also possible to change the switch with another supplied in the box, allowing the replica to be limited in semi-automatic mode only for optimal use as a DMR (very useful for power limitations in certain associations). The MDR-X is equipped with a Hop-Up seal optimized for ball weights below 0.32g, a second Hop-Up seal is provided in the box to use balls above 0.32g.
Whether in open terrain in DMR use or indoors with a CQB configuration, this MDR-X will cause carnage in the right hands, going absolutely anywhere thanks to its Bullpup platform, featuring mind-blowing performance and outstanding reliability."