Laylax Battle Style CQC Holster For Glock Series
OptimusPrime
25 May 2020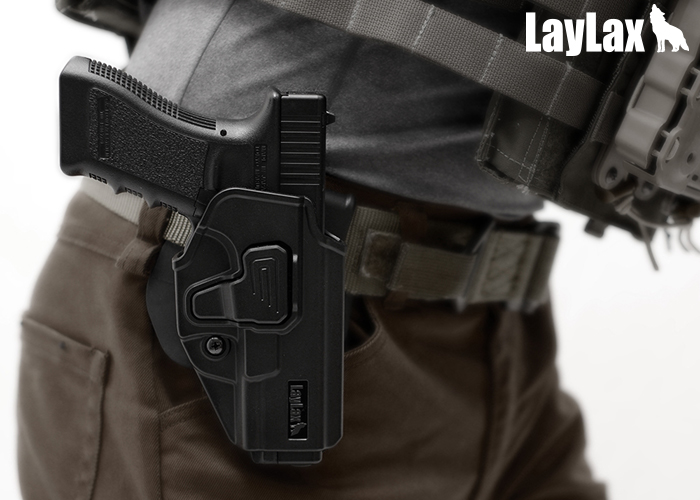 Laylax are now taking pre-orders for their Battle Style CQC Holster for the Glock Series. Mainly compatible with the Tokyo Marui Glock Gas Blowback series (and perhaps the clones), this is mainly made of Polymer and more accessories will be released too... "Because the holding power can be adjusted according to the gun, you can achieve a perfect fit. The paddle has a round shape that fits around your waist and can be attached to a belt or pants.
When storing the gun in the holster, be sure to push it firmly so that a clicking sound is heard. When drawing the gun, pull out vertically while pressing the switch. By pressing the lever on the platform (paddle, etc.) in the direction of the arrow, it can be attached to or removed from the holster. At that time, the angle of the holster can be adjusted.
Use the adjusting screw according to the gun to be stored to get the desired fit.
Brand: BATTLE STYLE
Product contents:
Compatible models: Tokyo Marui gas blowback
Glock 17
Glock 18C
Glock 19
Glock 22
Glock 26
Glock 34
Material: Polymer
Corresponding optional accessories:
MOLLE attachment (coming soon)
Paddle (coming soon)
Offset paddle (coming soon)
Belt loop (coming soon)"