JAG Precision: JAG TTI JW3 is Here!
OptimusPrime
16 Sep 2019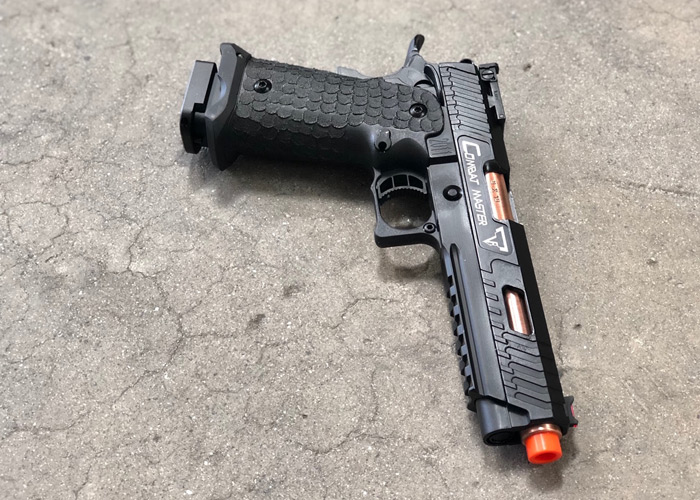 For U.S. players the JAG TTI Licensed JW3 2011 Combat Master Airsoft Pistol is in stock and shipping. Perhaps by the time you read this, it is already out of stock at resellers. For fans of the John Wick movie franchise, this should be a must have airsoft pistol in their collection.
"Features:
Highly detailed CNC machined aluminum slide w/ officially licensed STI rollmarks and TTI laser engraved markings. CNC machined aluminum frame w/ molded reinforced polymer grips. Used by none other than John Wick himself, aka Baba Yaga / The Boogeyman / The man you send to kill The Boogeyman
Hand Stippled grip providing a comfortable, slip-resistant grip
Gold (TiN) Colored Barrel (1st batch). 2nd Batch will have a Bronze Color which is similar to TiNC Coating
TTI professional slide lightening cuts help the slide cycle faster with less felt muzzle flip
Flared mag well aids in quick reloads
TTI Extended Base Pad
Target style sights w/ fiber optic front
Extended magazine release
Specifications:
Manufacturer: JAG Precision
FPS Range: 330-370
Specifications:
Overall Length: 9.5" Inch (muzzle/magwell)
Overall Height: 6.5" inch (iron/mag)
Overall Weight: 38oz with empty mag
Magazine: 30+1 rds
Gas Type: Green Gas
Firing Mode: Semi Automatic, Safety
System: Gas Blowback
Hopup: Yes, Adjustable
Package Includes: Gun, Magazine, and Manual"