CYMA SVU Bullpup AEG At Evike.com
OptimusPrime
13 Jan 2021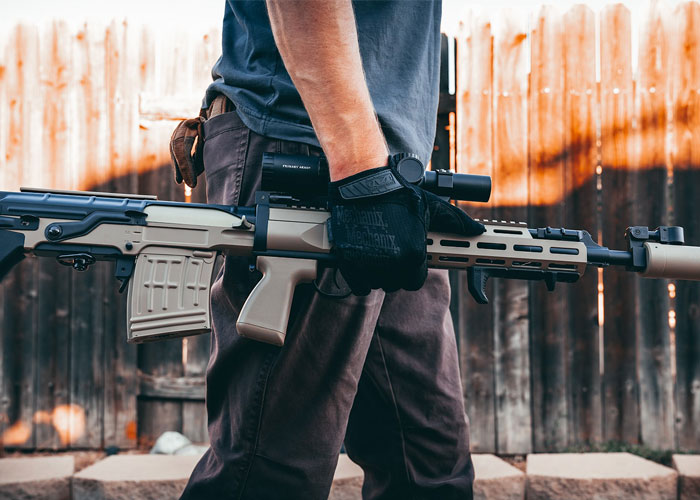 Looking for the CYMA SVU Bullpup AEG for you to have an airsoft DMR that can give you a lower profile? You can find one available on Evike.com... "The CYMA SVU is a bullpup configuration of the SVD sniper rifle. The SVU was developed to meet the needs of the security forces of the Russian Ministry of Internal Affairs, such as OMON. The SVU was first seen in use in the First Chechen War. Originally, the plan was to just slightly modernize the aging SVD, but the designers eventually realised that the configuration of the weapon would have to be completely altered, leading to the creation of the SVU. In combat, the SVU is much more compact than the SVD yet retaining equivalent barrel length for accuracy; also enabling one-hand operation of the rifle.
Features:
Full metal receiver w/ nylon reinforced polymer grip and stock
Integrated SVD scope mount base. Utilizes standard SVD/AK style side mount for optic and side mounted rails
Compact and unique bull-pup configuration provides full length performance in a short barrel configuration
Bull-pup design enables one hand manipulation; 200 round SVD magazine included. Uses main stream A&K & compatible SVD magazines
Safe, semi-auto and full auto firing capability
Front and rear flip-up back up sights
Aluminum M-LOK compatible handguard with 20mm M1913 Picatinny rail for rail-mounted optics and accessories
Aggressive SVU style muzzle break
Specifications:
Length: 36in.
Weight: 8.8 lbs
Inner Barrel: ~600mm
Magazine Capacity: 250rd Hi-Capacity. Compatible only with CYMA SVD magazines
Muzzle Velocity: 410-430 FPS (Measured with 0.20g BBs)
Thread Direction: 14mm Negative
Gearbox: SVD custom, full metal
Motor: Short Type
Fire Modes: Semi/Full-Auto, Safety
Battery: 8.4v stick type battery / 7.4v LiPo recommended ( Battery not included)
Hopup: Yes, Adjustable
Package Includes: Gun, Magazine, Manual"