The ASG Storm 360 Airsoft Grenades
OptimusPrime
29 Jun 2020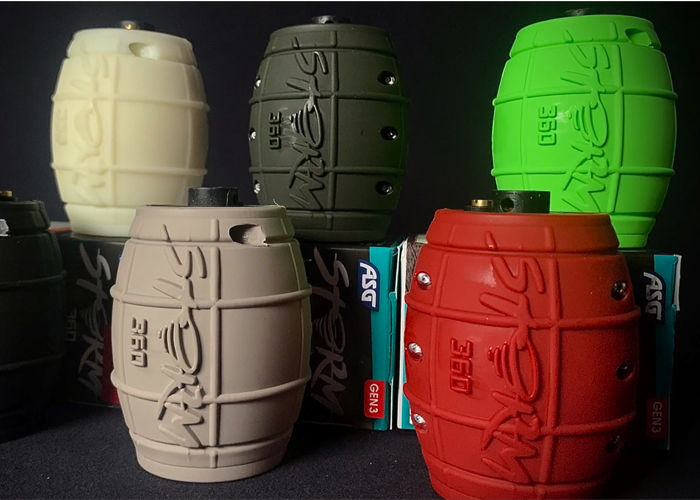 Available in the market for some time now, Action Sport Games (ASG) took time to do a quick video detailing their Storm 360 Airsoft Grenades... "The highly popular ActionSportGames Storm Grenade 360 has been the go-to 'room clearer' for CQB airsofters world-wide since its launch. It's innovative 'bounce and spray' system means maximum BB coverage in a small package at a great price.
Available in six exciting colours, the new 'Gen 3' Storm 360 has been specially enhanced to be even more resilient than ever before. Simply charge up the Storm 360s internal gas reservoir with ASG's Ultrair Power Gas, load it with your choice of Blaster BB's and you're ready to go. No dangerous blank cartridges or explosives are needed making the Storm 360 both effective AND safe!

Once the pin is pulled the Storm 360 will detonate on impact on hard surfaces, creating an explosive BB shower effect propelling 160 BBs in every direction for up to 10 metres – taking out even the toughest targets. While each Storm 360 grenade comes with a heavy duty safety pin that can easily be attached to a lanyard or ribbon, in case of loss, ASG can also provide spare pins as part of the Storm 360 range.
The Storm 360 Grenade comes in a variety of colours to suit every play style. From 'tactical' Black, Grey and Olive Drab through to 'easy to find' Red and Lime Green and finally 'glow in the dark' Phosphorus."