APS CAM Bulldog Airsoft Shotgun
OptimusPrime
26 Nov 2022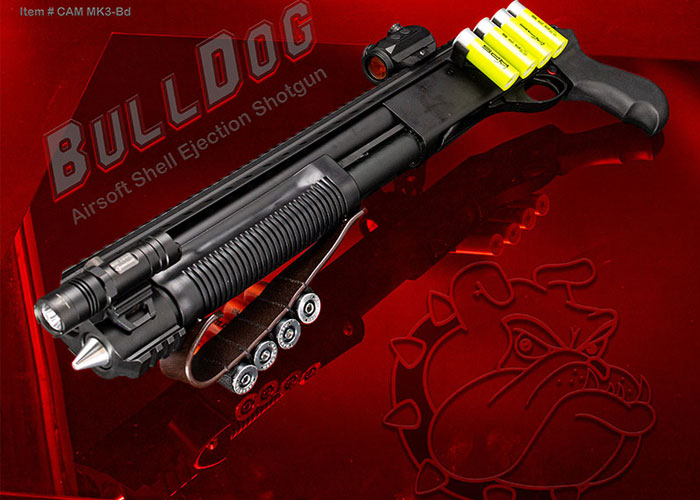 APS demonstrates the latest shotgun from their CAM series, the CAM Bulldog... "After the success of the CAM MKIII-SF, APS releases the new upgrade version BullDog. The all action and operation of this airsoft gun is the same as real one. It has a top rail with quad fore add the accessory, such as scope, flash light, laser. With the the 14inch barrel with overall length just 63cm and weight just 2.1kg providing you high maneuverability during battle. It has a genuine leather strap provide better grip for fast pumping and comes with extra shells holder on the strap and left side of receiver. A dummy breaker is also included.
Specifications:
Caliber: 6mm BB
Outer barrel size: 18mm
Energy Source: Co2 Charge to shell
Velocity: 330 ~ 360 FPS @ 0.2g BB x 11 (Shower Mode)
Maximum Range: 30 Meters
Effective Range: 20 Meters
Fire Selector: Safe / Fire
Plastic Hand Grip and Forend
Metal Body
Rate of Fire: Pump Action Single Shot
Shell Capacity : 4 + 1 Rounds (extra 8 shells holder)
Length 63cm(L) x 18cm(H) x 8cm(W)
Weight: 2.5kg
Free Speed Drew Buckle with Tactical Belt Loop"