By Pasyal from ACM Games: A&K M4 CQB
OptimusPrime
28 Aug 2007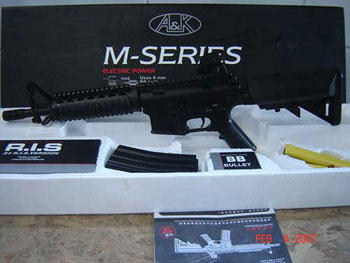 It's been quite a while since A&K released their maiden product, the ever popular M4 S-System. This model has placed A&K in front when it comes to ACM guns. They made a complete clone of one of Marui's exclusive model and improved on it more by removing the infamous "barrel wobble" seen on the original S-System. But now with new models coming out from JG and Boyi, A&K has to do something to maintain that competitive edge over the other companies. Thus, they release the M4 series. But we'll focus more on the CQB.
EXTERNALS:
A&K seems to be going in the right direction with this model. They've been using a lot of "metal" on their new models, specially the CQB and M4 RIS.
Front RIS is die-cast aluminum. Really feels solid on the front end w/ mock gas tube and heat shield. Front triangle sight, flash hider and outer barrel is also made of aluminum. 2 rail covers are also included.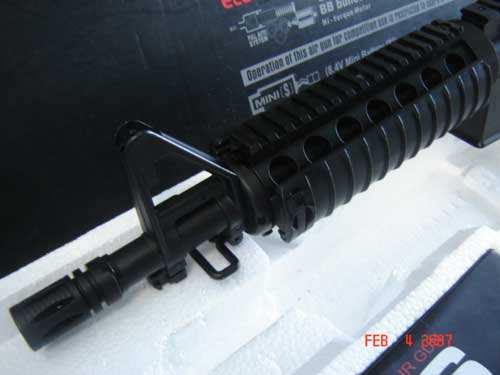 Upper receiver is now metal. Its design is like those on the Zeke units, 3pcs. Lower is still plastic and no longer has the A&K markings. Mag wobble was reduced. It now feels more solid than its previous predecessor, the S-System. You won't have second thoughts on using the mag as a foregrip. DEVGRU rear sight is also metal, but tends to move because there's no spring holding the adjustments. Fully adjustable = Elevation(up-down) and Windage(left-right).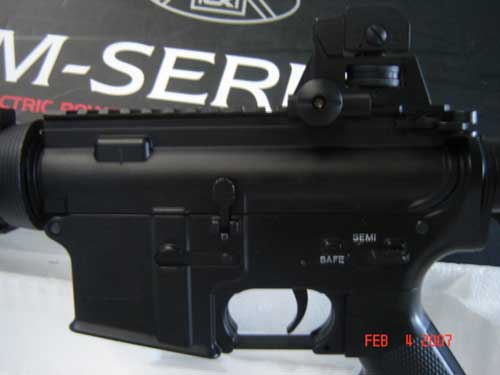 Cranestock is one of the best features of the CQB. It will fit even the larger Sanyo Sub C's. It is a 6-position adjustment in extending the stock.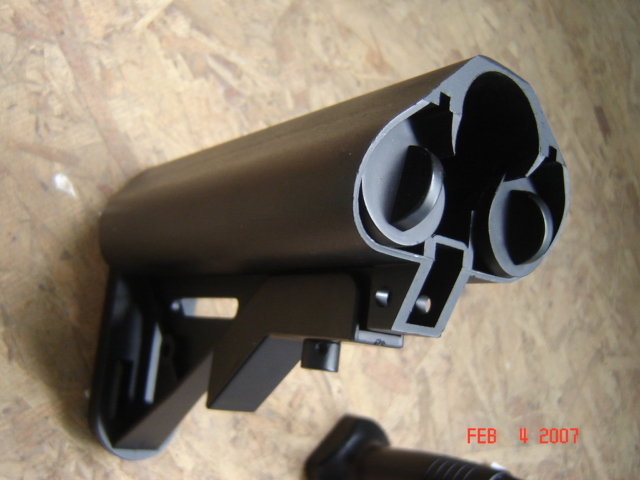 The included plastic foregrip is now QD (quick detach) and really weighs a lot. But there is a flaw in the design --- the spring that pushes the pin to make it hold to the rails is really weak. It wobbled horribly when I quickly tried changing aim from left to right.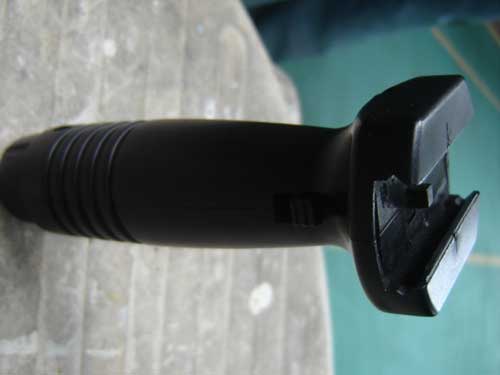 INTERNALS:
Gearbox is still the same as with the previous model. It is still not reinforced but could still handle SP140/M140 safely.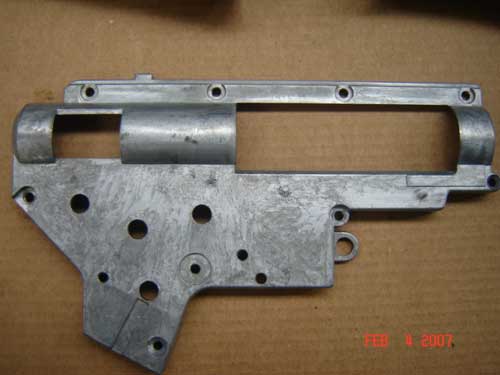 Uses type 0 cylinder. It should be using a Type 2 cylinder for short barreled guns.
Wobbly cylinder head. Another casualty by A&K. Lots of air leakage.
Motor looks the same, but no longer has the Chaoli decal.
Inner barrel length is the same as the CA CQB, 300mm and its inner diameter is 6.06 (using my trusty old dial caliper).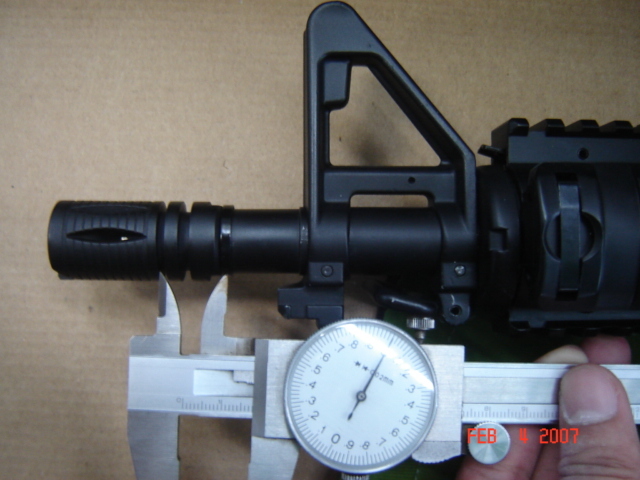 For the very first time, A&K has produced their own kind of gears. They totally look different from the previous XYT and CA marked gears. They look more "long lasting". The gear seems to be dark in color, a sign in which it may have been hardened in oil. (Stainless sector chip and bushings - trademark items by ME!!! hehe)
There's no fuse box anymore. It was a practical idea by A&K to remove the fuse. An ACM this nice won't stay "stock" for long.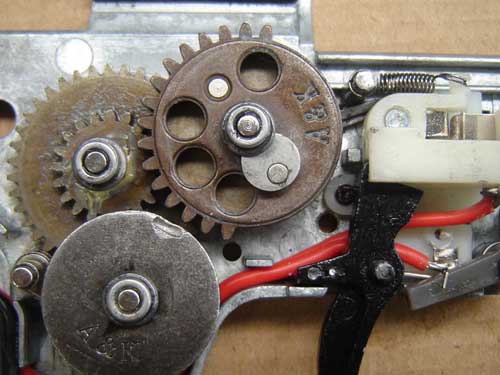 PROS:
Cranestock, could use Sub C's up to 4200's.
Lots of metal parts. Especially the upper receiver in which it has the history of "broken ears".
A&K 300 round metal mag is still the best M4 ACM mag available to date.
Solid front assembly. No wobbles here. Just some minimal tightening in the neck of the RIS. There's a small amount of rotation.
Almost CA look alike.
Considering all thats metal. It' really cheap compared, to a Super M for example, which cost 5+++. This gun is under that range. ;D
CONS:
Lots of air leakage - wobbly cylinder head and wrong type of cylinder. That's why you can't compare this to a stock JG that reaches 360 fps.
If you think the previous S-System was heavy, this gun weighs a ton!!!
It's quiet irritating installing the batteries in the stock. Needs getting used to.
Lousy foregrip