Going Bullpup? Try Tokyo Marui's FN P90 (Version 6)
Gungho Cowboy
12 Aug 2007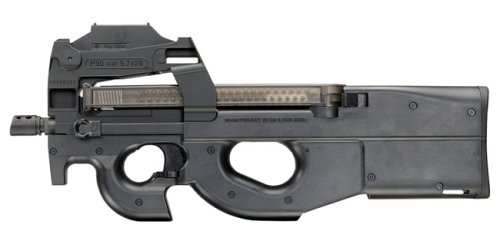 Introduction
If you don't want to be called a me too in bringing another MP5 Airsoft SMG to your CQB skirmishes, try going bullpup. Bullpups have the power of assault rifles while maintaining a shorter profile enabling you to go around tight spots in rooms and corners inside CQB sites.
In this case, you might want to take a look at an FN P90 replica. Made popular by the Stargate TV series and can also be seen in use in the Battlestar Galactica series, the P90 gives you futuristic design. So this is a must have for airsoft players who are also sci-fi fans.

While futuristic as it may look, the P90 is a 20th Century weapons design. Developed by the FN Herstal to answer NATO's PDW (Personal Defense Weapon) call, the P90 entered service in 1994. It is fully ambidextrous, with a translucent magazine that you can check on rounds remaining. It has a low recoil contributing to fire accuracy and uses a 5.7 x 28mm armour-piercing cartridge.

It is in use by special forces units in 20 countries worldwide.
The subject of this review is the version 6 TM FN P90. Most of the issues in the older boxes seemed to have been answered by version 6 as there are yet to be some reports of problems from the field.


Before I begin, here are the manufacturer's list of its highlights:

Motor - EG1000 Hi-Torque Motor
Magazine - 68 rounds (with AEG) / 300 rounds (optional purchase)
Length - 540mm
Height - 210mm
Barrel Length - 247mm
Weight - 2100g
Muzzle Velocity - 260 - 280fps
Battery - Mini Type (not included)
Package includes (AEG, manual, magazine, loading tube, cleaning rod)
Out of the Box
This is a very solid replica, which Tokyo Marui is known for. It has a detachable top mounted magazine with fake rounds and a long barrel length with its metal flash hider allowing you to quickly install a silencer. Made of metal parts and high quality ABS, it is a very compact SMG that makes good of its promise in CQBs.
The sign-mounted RIS rail allows you to attach accessories such as a laser sight. While the cocking level seems to work like the real steel it really has no purpose but serve as making as realistic as possible the look of the replica. This further reinforced by the fake rounds that you see in its translucent magazine.
It has a small 20mm integrated red-dot scope with 2 settings for brightness and helps you for making quick aims in CQB areas. This is powered by two AA Batteries. But using its iron sights is also good, as it is accurate when I tested this. It weighs around 2 kilograms when empty, which makes it one the lighter SMGs around.
The standard magazine can carry 70 rounds, and you have an option of buying a 300bb rounds magazine. It typically uses an 8.4 mini-type battery. You can install a custom battery if you are keen on having one.
Firing Mechanism
It is easy to access and fine tune the hop-up adjustment, but I was just too excited to test its firing mechanism as it is similar to the Steyr Aug. This means that it's a two-stage fire selection which by making a half-pull on the trigger, you get to fire off a single bb, while you can go full auto by pulling it harder. For added comfort, you can find the fire selector switch below the trigger.
The version 6 gearbox has the EG1000 motor integrated, and it seems efficient at power usage. Any prudent user can use a single 8.4 mini battery for a single day of skirmishes (though do not bring a 600mah one).
This can really go headon against assault rifles in open areas as it can be accurate to over 40 meters and can produce a higher ROF which can reach up to 900rpm. Make sure you have enough bb ammos in the field as you can easily run out of ammo in a skirmish.
You have heard about problems with magazine handling in other bullpup AEGs. The P90 removes this problem as the magazine is on top of the weapon. Now that's sweet. But hold on, it is one of the largest and expensive magazines out there in the market. Slap the magazine to dislodge the bbs in case your magazine jams.


Take down
This is one of the easiest SMGs to take down and thank god for it. Just push the button under the magazine that separates the outer barrel and hop-up from the stock. Remove the butt plate and two screws holding the plate inside and the entire gearbox can be easily pulled out through the stock.


Is it Tough?
Many have questioned its durability due to its mainly ABS construction. But it is durable, which speaks of its quality make.


Conclusion

This a very ergonomic, lightweight, and comfortable SMG. It gives you the power of an assault rifle in CQB settings. It may not necessarily give you a higher fps without upgrading, that it is much more recommended for CQB/MOUT scenarios.
The cost is very reasonable, and since TM AEGs are usually in the midrange prices of similar models from different manufacturers, it actually gives you more value.