Bang for the Buck Anyone? GFC M4A1 AEG
Dom
30 Jul 2009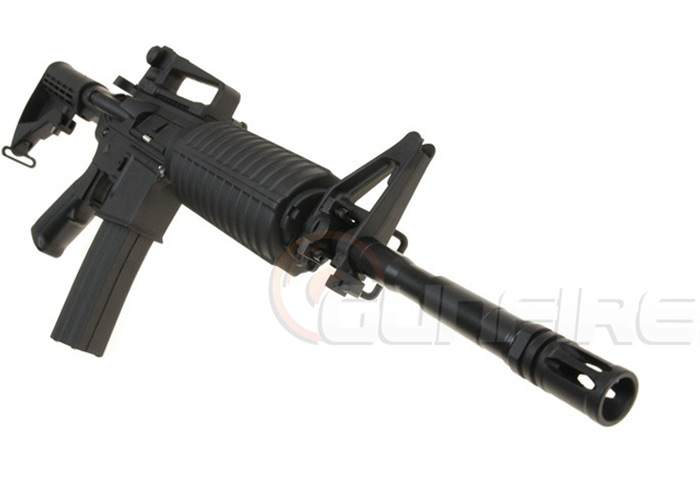 With assistance from Attila. In the August 2008 issue of the Popular Airsoft Magazine, Ogre did a great introduction on the JG All-Metal M4A1, however, he never had the time to take a peak inside the JG DX gearbox. GFC is a new brand on th e market. Actually this M4A1 is their first product but now th ey have two AK variants to offer . The carbine is based on the new JG M4A1 DX with a little Polish twist.There is a long list on www.gunfire.pl about the improvements compared to the earlier JG models. Let's take a look:
420fps out-of-the-box
Full-metal construction
6.04mm precision inner barrel
MOSFET switch
Metal bushings with ball bearings
Reinforced Torque-up gears
Piston head with bearing
Reinforced piston body with metal teeth
Low-resistance wires
New type of delayer
New type of tappet plate
Metal spring guide
8 locking pawl
Reinforced gearbox
Ball bearing on the main gear
Increased torque
Chromium cylinder
M130 spring
Now a quick inventory of the contents:
All-metal construction, check!
9.6V 1100mAh NiMH mini battery with 8.4V charger, check!
High-capacity (300 rounds) magazine, check!
MOSFET switch, check!
Metal HOP assembly, check!
Manual, cleaning rod, small bag of ammo, check!


First impression is very good—this M4 is built well, no wobbles hidden squeaks. It feels rigid and balanced weighing 2.8kg. There are small flaws on the receiver, but I have seen worse receivers; and I would say this one closely resembles a CA receiver.




The lower receiver has a serial number, caliber and logo engraved. There are no differences in colors between the receiver and other smaller metal parts, like the charging handle or the ejection port cover, for example. We can find the usual S-S-A engravings around the fire selector, which firmly clicks from one setting to the other. The HOP-up chamber is accessible by pulling the charging-handle. I like this method better than the magnetic ejection port cover because I do not have to take my gloves off to adjust the HOP-up.




This M4 has a metal mag catch mechanism and it does the job right. I had no problem inserting or ejecting various brand metal hi- or mid-cap magazines like JG or CA and King Arms ABS mid-cap, as well. Not too many people are using their iron sights, but I always check them because you'll never know. I found the rear sight acceptable just like the whole removable metal carryhandle.

Windage and elevation are easy to set and turn knobs are not too tight. A good grip on the handguard is always important and it's annoying when your front end wants to fall apart, but I don't think this will be an issue here. This ABS heat shield will give you the desired grip for sure. There are no flaws or cracks on the material and the quality probably matches TM's front end, if not better. A MOSFET box is sitting under the handguard and you'll need to place the battery here as well. A standard carbine length one-piece metal barrel is sticking out of the handguard with the front sight and the flash hider which is the only part that needed some additional tightening.




We don't have anything else to do after our inspection but to load a magazine and shoot; since there's no need for re-wiring and it already comes with an acceptable battery and quality connectors. I filled up the included hi-cap magazine with 0.2g Blaster ammo and installed an 8.4V battery pack to see the fps and trajectory right out-of-the-box. The first few rounds were everywhere between 405fps and 422fps, but I guess I need a couple of games to find out the true number. The rifle produced the numbers promised by GFC even with a weaker battery (8.4V) and usually it means that the gearbox is just fine and the MOSFET does the job. I was surprised by the range and trajectory what this AEG was showing. The HOPup has too much twist even on the lowest setting and I had to drop(!) my aim about [email protected] in order to hit the target, whether I use 0.2g or 0.25g BBs. This is typical with China-made rifles, but I am optimistic it will "walk it off" after the first 3,000 rounds. The grouping is just about average just like the ammo we used.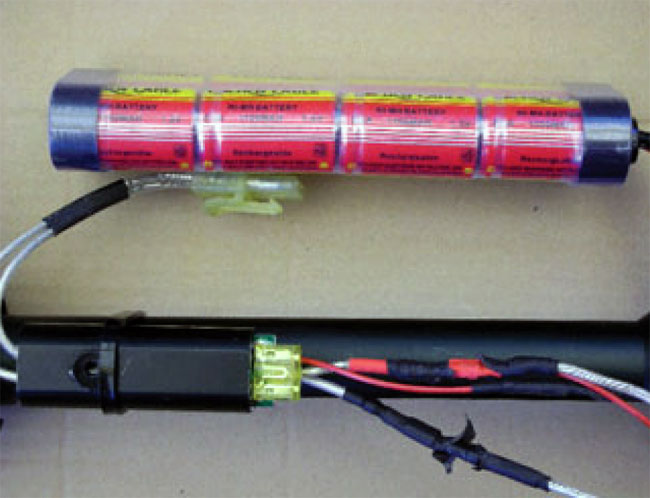 The sound of an AEG can tell lots of things and this gearbox passed my "ear-test". I gave it a nod with a smile on my face, just like when Arnie picked up the minigun. It has a sharp but not too loud sound and it is not loud at all if we consider the performance that the gearbox delivers. I emptied the first few magazines without jams or double feeds so the first thing I can state: the gearbox spins smoooothhah!

Since everything looked fine, I thought of putting this M4 to the test first and only check the gearbox afterwards, to prove its claim of being an "open-the-box-and-shoot-AEG". We spent two games trying to break it but the whole weekend went by without feeding or gear-cycle problems and everyone tried it for a round or two. One charge is enough to spend about 1,200 BBs and then it stopped working in Auto mode, but it was still capable to deliver shots in Semi mode.

ABUSE TEST PASSED. LET'S GET TO WORK

The following things need to be removed in order to access the gearbox: mag catch assembly, three receiver pins, pistol grip with motor and the stock tube.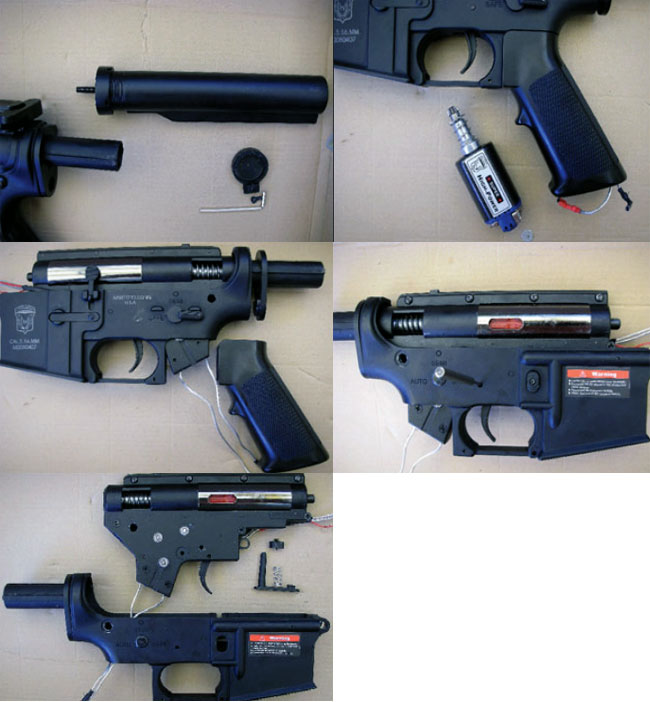 Two of the receiver pins (the front and the rear one) are held in place with Allen screws and the upper/lower receivers are locked in place by two metal brims on the back of the upper receiver.

By removing the front receiver pin the upper receiver simply slides off to the front.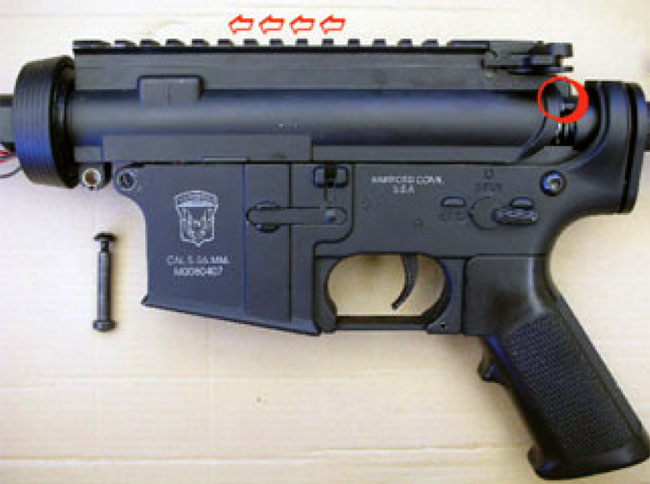 Do not forget to disconnect the MOSFET box first.




With the upper receiver out of the way and the gearbox exposed, we can now pull out the HOP assembly and the inner barrel.

I usually check the HOP assembly and the inner barrel before I grab the gearbox, just to make sure everything is OK. All I can see in this case is a clean brass barrel with an allmetal HOP chamber. I used a digital caliper to verify the barrel diameter and it is indeed a 6.04mm barrel. No air leaks or deformed/ damaged HOP-up rubber, which could cause performance loss, so I now can put the upper with the front end aside so I can finally deal with the guts.

First noticeable thing is the use of good quality 7mm metal bushings with ball bearings and a smoother gearbox surface—not CNC quality, but smooth enough to match a TM or a CA.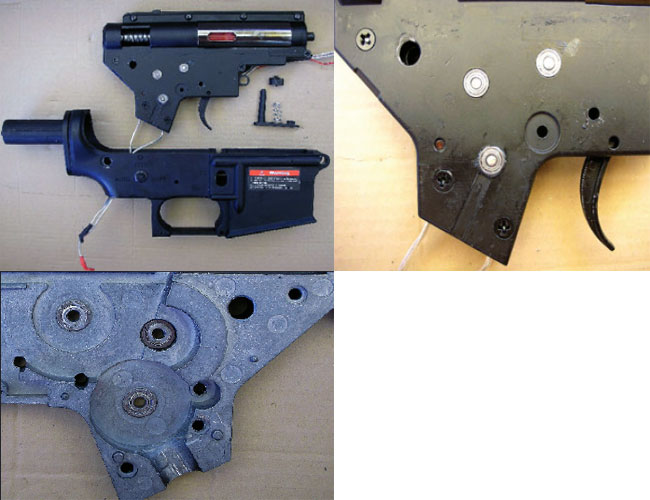 Once I removed the screws, I can clearly see what has been changed in this gearbox. First of all, it only has enough grease—not really something to fuzz about. What surprised me the most is the sector gear-tappet plate combo, which helps maintain precise cycling and feeding.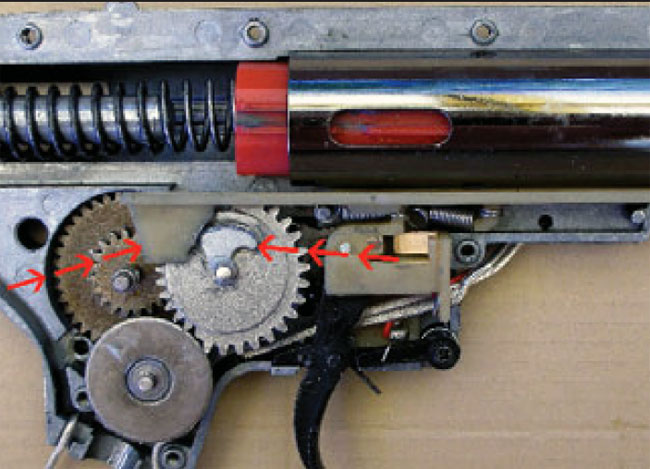 The gears are of decent quality torque-up type gears.

The first/main gear has an extra bearing on its side to provide a smoother run and lower-power consumption.

The shimming is decent. You can still toy with it, though, but only if you know what you're doing. There is a short but hard spring—my guess is it's rated to be around 120 to 130—inside the gearbox, guided by a metal spring guide without bearing, which is a small minus here.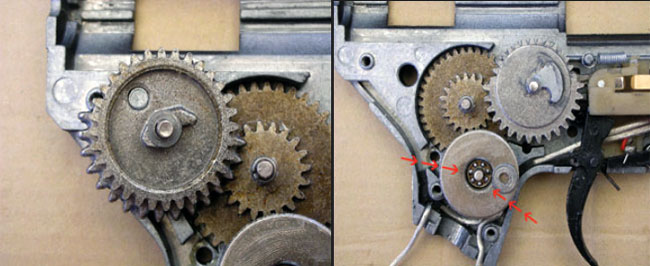 The O-rings were found all right inside the gearbox and I hope they will take the beating for a long time. I do not recommend changing anything other than the spring guide if you have one around, but it's not necessary. The entire gearbox setup works perfectly fine and the hightorque motor should deliver the performance you will need. The motor, I believe, will also be able to crank an SP150 spring.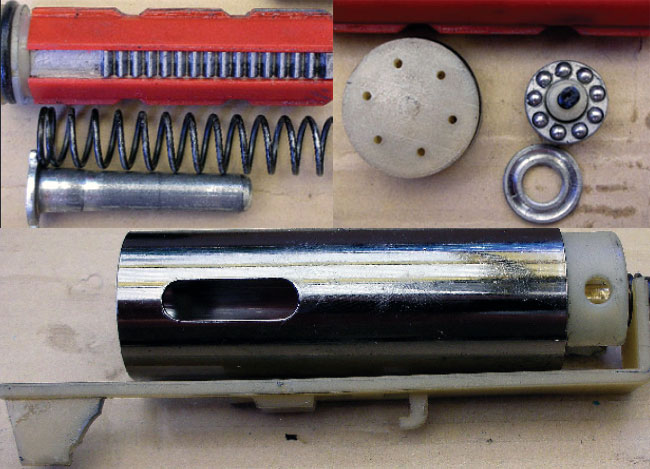 GFC has something great to offer here. All they have to do, after they start including a better charger and not an 8.4V 300mAh one, is to maintain strict quality control parameters to earn the trust of players like you and me. The last velocity reading I recorder was close to 430fps using 0.2g Blaster BBs—even higher than before (out-ofthe- box).

Some countries do not allow such high-velocity rating, as such the spring should either be downgraded or wait for it to settle, which means longer battery life. The GFC M4A1 is an ideal platform, since the only things you need to spend your money on are for the accessories and other external modifications. The internals are already good, asis, where-is.

The MOSFET is an added bonus, since integrating FETs within this price range is near impossible, as installing these switches cost money. What GFC started here with its M4A1, I hope, will drive other manufacturers to make upcoming MOSFET-integrated AEGs more competitive in the near future.

Like what I suggest in the title, this is the most bang you could get for your buck right now. I consider putting a gearbox like this onto my CA M15 receiver.

Don't miss a chance to try this AEG—just look for this part number: FB6604. I hope you'll have just as much fun like we did.