Timerzanov Airsoft: Tokyo Marui HK416D NGRS
OptimusPrime
09 Mar 2023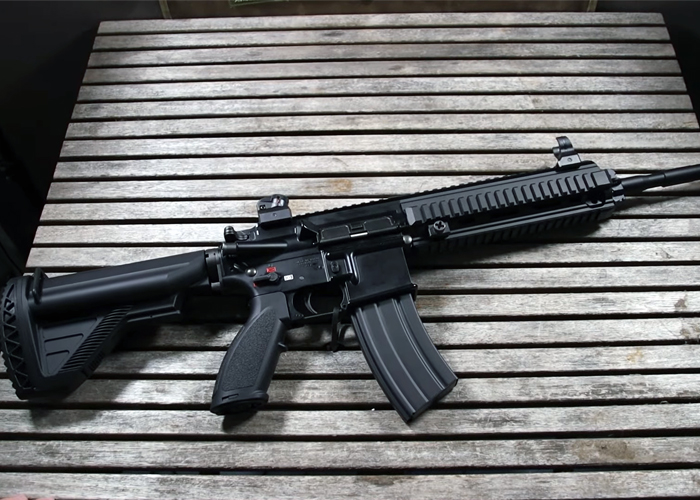 Timerzanov Airsoft gets to give his opinion of the Tokyo Marui HK416D NGRS, the first in the HK416 NGRS and still a sought after airsoft rifle by players... "Hi all ! For this Friday I offer you the review of one of the brand's EBBRs that I prefer the most… The HK416D Next Gen Recoil Shock from Tokyo Marui!
A replica of the HK416 with the Japanese manufacturer's Next Gen Recoil Shock system, this qualitative replica has an excellent finish and great performance out of the box. In short, I let you discover this on video, good video to all!
Created in the early 2000s by the German firm H&K, the HK416 is the regulatory rifle of the French army and will eventually replace the Famas. It is used by many French Commando sections and around the world. It was strongly inspired by the architecture of the AR-15s, in particular that of the M4. Although its design differs, which gives it this unique silhouette, the HK416 has some technological innovations that differentiate it from the M4.
This 416 from Tokyo Marui is a very successful replica in terms of mechanics thanks to the latest Next-Gen technology.
We find on this replica:
Shoot & Recoil Engine: The M4 Mk18 Mod.1 'recoil' system provides recoil and mimics bolt movement with every shot. Once the magazine is empty, the shots will stop automatically for more realism.
2 WAY Barrel: The 14.5 inch outer barrel can be shortened to 10.4 inches by removing the - outer barrel extension
An ambidextrous fire selector
A retractable 14.5" outer barrel
Flip-up sights adjustable in height (front) and from right to left (rear).
A removable trigger guard
A Full Float Barrel barrel
Next-Gen magazine (Allows you to choose between 30 or 82 balls)
The latest Next-Gen technology allows here to equip the replica with a very realistic Blowback system, a Recoil Shock and a Bolt Catch (blocks the replica when your magazine is empty).
A little jewel of technology in a high-performance, reliable replica with high quality finishes signed by the great manufacturer Tokyo Marui."