Timerzanov Airsoft: Ares/EMG Helios EV01
OptimusPrime
28 Feb 2023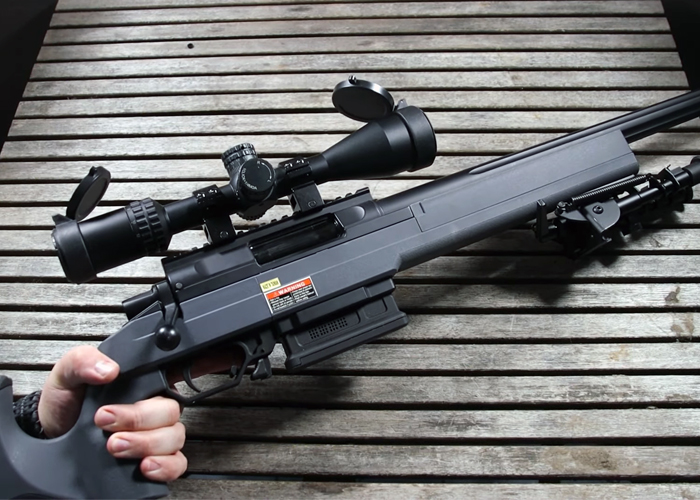 Timerzanov Airsoft reviews the bolt action airsoft rifle from Ares Airsoft for the EMG brand... "Hi all ! Today I offer you the review of a sniper type replica. A bolt action replica from Ares with EMG licenses. I present to you this evening the Helios EV01, a replica based on the Ares Striker. A replica inspired by the Remington M40. Rather nice in terms of perfs, I let you discover it on video! Good video !
This M40 was designed by Ares, in partnership with EMG. A perfectly playable quality sniper right out of the box, for a fair price.
The M40 is an American sniper chambered in 7.62x51mm NATO, designed on the basis of the Remington 700 and which equipped the marines from 1966. A weapon of simple design, which has been found in various works of fiction.
Ares offers here, in partnership with EMG, an M40-style sniper of impressive quality. The replica has a 185mm Picatinny rail to install the desired optics, as well as a 23mm CW screw thread for mounting silencers or flash hiders. An indicator is present on the left side of the replica, allowing you to know at a glance if the replica is armed or not. As for the safety, it is located at the level of the trigger guard, making it easier to access but also to realize more easily if the rifle is still safe since its activation will interfere with passing your finger through the trigger guard.
This EV01 sniper is characterized by:
Color: DE
Full metal replica
185mm Picatinny Rail
23mm CW thread
Arming Indicator
Security at the trigger guard
Loop for webbing at the stock heel
Comes with mid-cap medium magazine (55 BBs)
Grenadière under the barrel for the addition of bipod
Internally, this replica has:
6.03 / 550mm barrel
AEG spring compatible
Sear with 90° hook
CPSB compatible (to switch its replica to CO2)
A playable quality M40 out of the box, with excellent finishes."