Tanie Militaria: CYMA CM057S
OptimusPrime
16 Sep 2020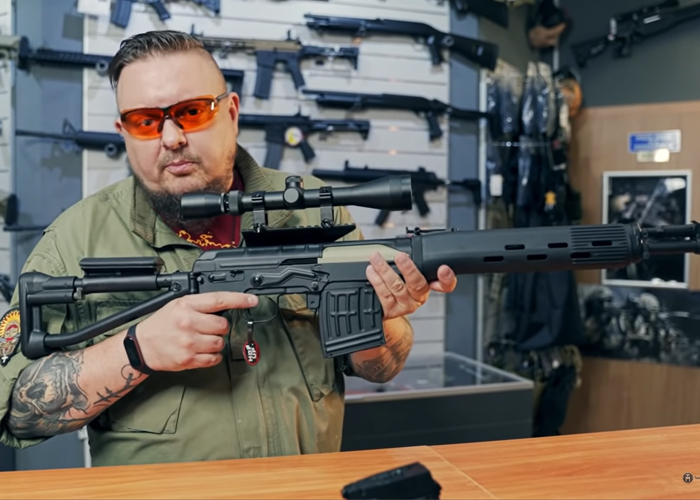 A look at the CYMA CM057S by Tanie Militaria and it is CYMA's take on the SVD Dragunov... "A high-quality replica of a sniper rifle made by CM. Enriched aluminum and steel were used for the production of the replica. The outer barrel is made of aluminum, along with the front sight base and the surge reducer, the rear sight and the main body, the steel flap, magazine and most of the small elements (including the fire mode switch), as well as the butt stock. The stock itself was made of high quality plastic, just like the front cradle. Additionally, it is equipped with a comfortable cheek pad.
The external design is characteristic of replicas of Soviet-made weapons - the appearance of the external elements exudes austerity. On the replica's body, there is an optics mount, which allows you to attach e.g. the PSO-1 type scope, characteristic for this replica.
The replica is equipped with a special gearbox based on the proven RS design, equipped with reinforced parts and allowing the installation of an M120 spring, generating an initial muzzle velocity of ~ 450 FPS thanks to the good tightness of the entire system. Thanks to the use of steel gears, reinforcement of the piston with two steel teeth and the assumption of a reinforced, directional piston head and a bearing spring guide, the replica is perfectly prepared for possible power tuning.
The replica is also equipped with a metal Hop-Up chamber, also modeled on the proven RS design. The good tightness of the system and the exemplary operation of the HU system allowed to achieve high repeatability of shots and precision, further enhanced by the use of an internal barrel of 690 mm length."