Silverback Airsoft HTI At Bohemia Airsoft
OptimusPrime
12 May 2023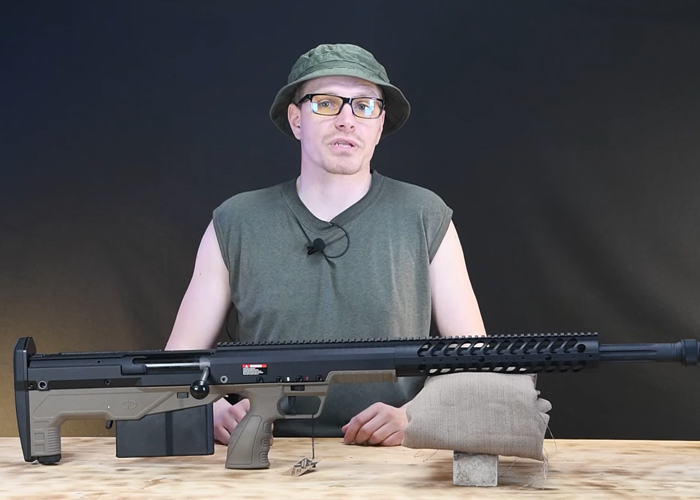 Bohemia Airsoft does a review of the hefty Silverback Airsoft HTI that they have availablle in black and FDE colours... "Beautiful licensed replica Desert Tech Hard Target Interdiction .50 BMG bullpup sniper rifle. HTI is made of the highest quality materials, so you won't find any zinc alloy anywhere, and all screws are made of high quality steel.
Additionally, the internals of this gun are load-bearing, so only the spring needs to be replaced for higher performance. However, even with the basic spring, when using 0.48g balls, you can reach values ​​of approx. 1.8 Joules.
The bolt housing, outer barrel and handguard are made of durable aircraft aluminum alloy and CNC machined. The HTI rifle bolt housing is one piece and is one of the largest parts produced in airsoft. Each has its own unique serial number.
The handguard can be fitted with standard RIS rails for accessories, which are included in the package.
The outer barrel is fluted and has a massive .50 BMG muzzle brake on the end. This is mounted on an M25x1.5 thread and can be replaced with an Elite Iron Alpha .50 silencer or an adapter for an M14x1 left-hand thread.
The stock is made of nylon reinforced with glass fiber and equipped with a strong rubber boot on the butt.
The steel magazine is really massive, but very cleverly designed and can be easily disassembled and cleaned. A longer slider can be used so that even the last ball is fired.
Internal parts:
Internal brass barrel 730 mm with a diameter of 6.05 mm with silicone 60° hop-up rubber AEG type.
Aluminum CNC hop-up chamber attached to a quick-change outer barrel
30mm cylinder with 71cc air volume allowing the use of exceptionally long inner barrels.
QD quick-change spring with POM mandrel with bearing and massive HTI spring
Steel/aluminum piston with impact rubber
Cocking lever with round grip, also suitable for other grips with M8 thread
Adjustable trigger (position, pre-load) with steel piston catches and trigger (90°)
Double-sided trigger safety"