RWC Agency Arms Bonesaw 34 In Cerakote Woodland
OptimusPrime
30 Mar 2020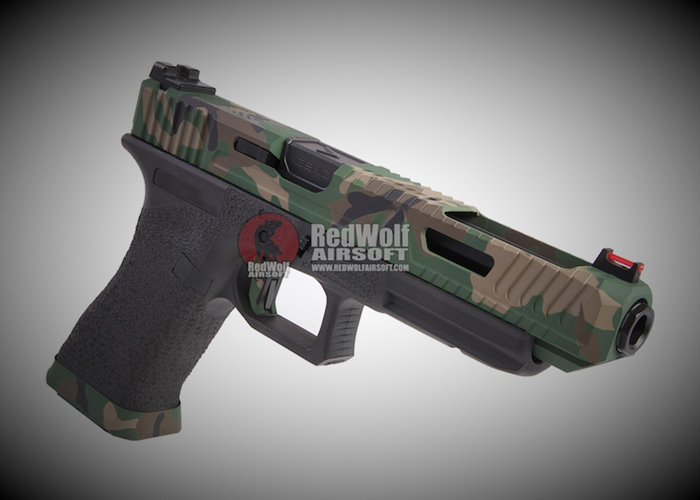 Another complete RWC Agency Arms GBB Pistol, RWC Agency Arms Bonesaw 34 In Cerakote Woodland is in stock at the RedWolf Airsoft online store... "The RWC Agency Arms Bowsaw 34 is a fully built pistol cerakoted in a classic M81 Woodland style.  The pistol comes standard with a Agency Arms style stippled frame and fully decked out not only with simply a slide and outer barrel but including magwell, trigger, and upgraded sights (fiber optic front sight).
The pistol features original TM internals and is TM based, making it compatible with all Tokyo Marui after market parts.
The cerakote finish is completed by our in house Hillbilly 223 certified applicator ensuring a premium and authentic coating done in the same ways as applied on real steel firearms.  The pattern used is inspired by the classic M81 Woodland and features shades of green, tan, brown, and black.  Each pistol's pattern is hand laid, making each pistol different from the last. This hand laying process not only offers truly one of a kind patterns but ensures that each pistol's overlapping color feels organic and placed together in a way that makes look good yet not overly busy.  The camo patterning extends to the trigger as well as magwell.
Specifications:
Length: 240mm
Weight: 828g
Magazine Capacity: 25rds
Power Source: Green Gas / Top Gas
Shooting Modes: Semi Auto
Hop Up: Adjustable
Magazine Compatibility: Tokyo Marui G Series Model 17 Magazines
FPS: Approx. 300FPS +/-
Includes:
x1 RWC Agency Arms Bonesaw 34 Complete Pistol (Cerakote Woodland)