ASG Steyr AUG A1 At Airsoft Station
OptimusPrime
01 Jul 2020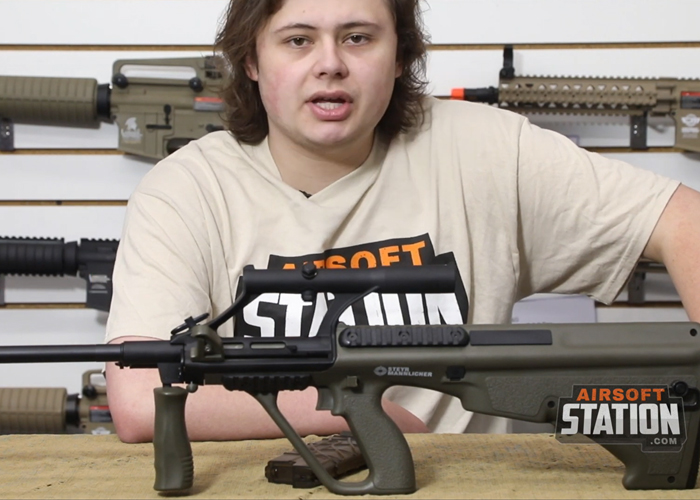 What many consider to be the pocket sniper rifle given its range in a bullpup configuration, the Steyr Aug is a favourie of airsoft players and Airsoft Station got the licensed Steyr AUG A1 from ASG in stock... "ASG's officially licensed Steyr AUG A1 airsoft rifle Proline edition supports premium parts, features, and specifications. ASG has taken one of the world's first and most famous bullpup rifles and made a high quality, high end airsoft version that looks and feels like the real rifle. The A1 variant of this AUG rifle features an integrated flip down ergonomic foregrip as well as a build in 1.5x zoom scope just like the real military version uses. The Proline version also supports extra picatinny/weaver/20mm accessory rails on the receiver for mounting extra attachments such as lights, lasers, and more. The bullpup format shifts all the internals, including the action on the real-steel version, to the buttstock. By doing this it allows for a full carbine length barrel to be utilized without adding unnecessary length to the rifle. This full length performance in a CQB sized package allows for the rifle to be effectively used in both field and CQB play.
Specifications:
395 FPS with 0.20g BBs
Officially Licensed Steyr AUG A1 Airsoft Rifle
Proline Edition
1.5x Integrated Scope with Iron Sights on Top
Polymer Receiver
Integrated Folding Foregrip
Metal Barrel Assembly and Internals including Gearbox
Functional Charging Handle and Bolt Release
300 BB AUG Hicap Magazine
Quick Change Spring System and Upgrade Capable Gearbox
Black Receiver and Grip - Ideal for any loadout including military, SWAT, security, and more
Battery & Charger Not Included"