APS Ghost Patrol Phantom Rifle
OptimusPrime
24 Jun 2021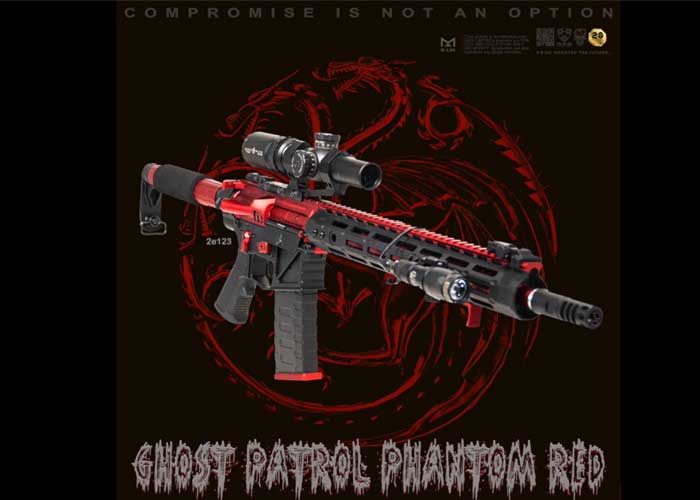 Inspired by the movie "Tron" is the new APS Ghost Patrol Phantom Rifle that uses the e-Silver Edge 2.0 gearbox. You can order it directly from their online store for US$286.00, shipping costs not included or you can ask your nearest airsoft retailer when they are going to have this in stock.
"Tron" Tube
TRON is coming from an idea of a movie called "Tron" where the light beam run after the motorcycles. It is a sci-fi movie and we love it very much. With this cyber appearance, we believe player will love this tube stock. The stock tube is made by high grade aluminum and it is the only tube style butt stock for AEG Rifle found in the market. As long as the button on the stock is pressed, the back plate can be removed and you can install lithium battery inside the tube easily. The weight of this stock is less than 350g; compare to other retractable stock that use buffer tube, our light weighted stock is more practical in use.
Milled Receiver
2e123 is a tactical rifle that built for the user. It is a light weighted rifle where the receivers are structurally milled for reduced weight and aesthetics. The CNC machined upper receivers allow user can see the gear box inside from its opening.
Evolution Tech 13.5" M-Lok Hand Guard
2e123 is using a new 13.5" Evo Tech M-Lok Hand Guard. M-LOK stand for Modular Locking system, it is a firearms accessory mounting system developed by Magpul Industries that allows for direct attachment to negative space mounting points. Unlike other traditional hand guard comes with a full picatinny rail on the top, 2e123 use a slim profile hand guard, only short picatinny rail sections positioned along the top at the front and rear, middles are trimmed and replaced with M-Lok Slot. These make the hand guard more light weighted and easier to grip during battle.
Phantom Flip Up Sights and pistol grip
This rifle comes with Phantom flip up front and rear sight. They are mounted on a Mil-STD 1913 Picatinny Rail. This gun standard comes with Phantom Overload Grip, which has shock absorption deign in the interior that reduce the vibration generated from the start up of the motor, thus relatively improve the motor performance and significantly reduce the battery loading to 10.5 Ampere.
eSilver Edge SDU 2.0 gear box
In terms of Gear Box, Ghost Patrol AEG comes with the latest eSilver Edge SDU 2.0 Programable Gear Box made by APS. Simply pressing down the button underneath of the gear box, user can switch its fire selector modes (total 5 different modes). No external device or trigger control are needs, it is easy to program anytime and anywhere by the user."