The Airsoft Surgeon EVO AR Version III
OptimusPrime
07 Jul 2020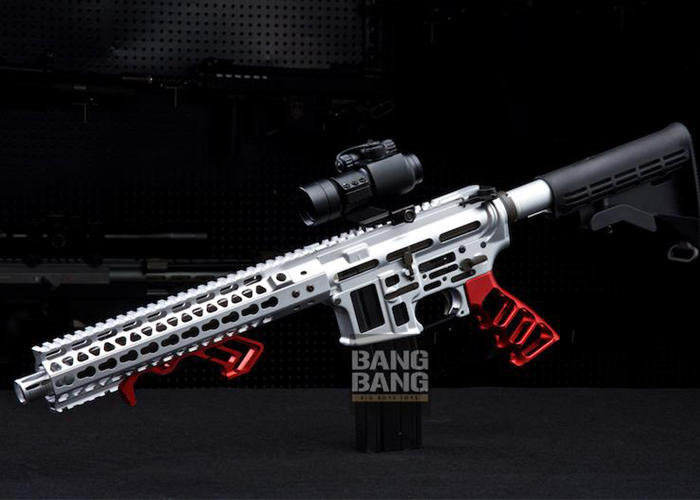 As always, the Airsoft Surgeon never ceases to make us drool with his custom projects. The Airsoft Surgeon EVO AR Version III is available at the Bang Bang Big Boys Store that mainly caters to Hong Kong residents... "This EVO AR III is based on an Inokatsu M4 GBBR Series and known for its reliable gas blow back system in the airsoft market. Airsoft Surgeon makes sure that every cut and trim is made with precision as the receiver have received lightening cuts to be lighter for extremely fast cycling and a sexy metal crunching sound with a metallic ring in the end when cycling the bolt.
It doesn't look like any other M4 especially after Airsoft Surgeon has tinkered with it, thus making it far more superior than any other GBBR on the market. The upper and lower receiver are sturdy and tough as they are forged. The hand guard is the Keymod quad rail with a fore grip and pistol grip and features a standard collapsible stock. What makes the AR stand out is the flashy, externally cut cerakoted silver body allowing you to see the internals. The overall look of the GBBR is absolutely beautiful!
On top of the receiver features a adjustable dot sight for engaging distance targets and close range targets. The trigger has been short stroked and the selector has been short-throwed for extreme quick operations.
You want to have the best magazine around when shooting this GBBR, so it comes with a 50 round magazine. With everything in place, the only thing to talk about is how it shoots. At a stable 400 fps, taking into account laws and restrictions of Hong Kong, this is enough to reach those targets out far.
All-in-all, this custom piece of airsoft mastery is designed for the expert and as close to a race carbine would get. Not a single aspect or detail of the replica has been overlooked. When it comes to custom aesthetics and performance, with a tactical balance between them, there is little that can surpass Airsoft Surgeon's creations.
Items included:
1x Airsoft Surgeon EVO AR Version III
1x 50 Round Magazine
1x Adjustable Red Dot
1x Certificate of authenticity by Airsoft Surgeon"