Airsoft Station's AI Tornado 2 Review
OptimusPrime
21 Nov 2019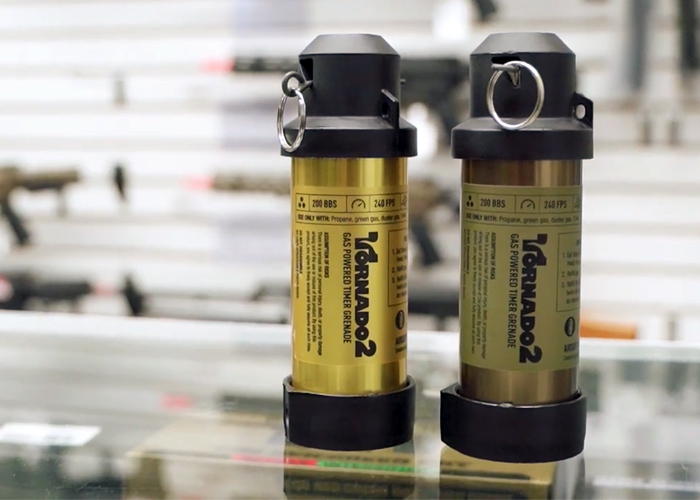 Airsoft Station got the Airsoft Innovation's Tornado 2 Grenade in stock, but what do they think about it? Here is a video review they did... "Easily clear out a whole room of enemies with the most powerful reusable airsoft grenade available on the market today, the Tornado 2 Timer Frag Grenade from Airsoft Innovations. This airsoft grenade is constructed fully from tough metal for maximum durability and reliability despite heavy use. The overall simple design of the Tornado 2 requires no disassembly and features an adjustable 3-position timer depending on how much time you need before detonation. 200 BBs are ejected from this grenade in a 360 degree spray up to 240 FPS, making the Tornado 2 the most feared airsoft grenade on the battlefield. Simply fill with Green Gas or propane, pour in your BBs, pull the pin, and watch as you take out all that stand in your wake. Thanks to the compact nature of the Tornado 2 allows it to be easily carried transported in a standard sized M4 magazine pouch or pocket. When all else fails, feel confident you won't go down without a fight and and give your enemies a taste of the new Tornado 2 Timer Frag Grenade from Airsoft Innovations.
Features:
Colors: Gold, FDE
240 FPS (0.20g BB)
Capacity: 200rd
Dimensions: 163mm x 58mm
Green Gas / Propane Powered
Durable Metal Construction - 100% Reusable
Adjustable 3-Position Timer (Short / Medium / Long Duration)
Full 360° Spray
Easily Fits in Standard Sized M4 Magazine Pouch"