Airsoft Station On The Krytac KRISS Vector AEG
OptimusPrime
01 Aug 2020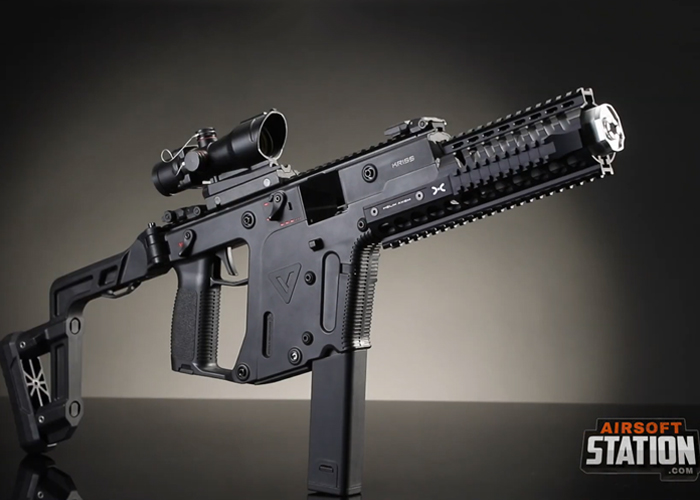 Airsoft Station shows the fine features of the KRISS Vector AEG from Krytac which hs been in the market for some years now... "Krytac would like to introduce their newest version of the highly esteemed fully licensed KRISS USA Vector airsoft AEG. To start off this rifle, Krytac upgraded the upper receiver to now utilize the new Gen 2 full metal one piece upper receiver for maximum durability and authenticity. The specially designed rear right-side folding stock can easily adjust the overall length of this SMG for enhanced maneuverability and transportation in CQB situations. The extended barrel allows for up to a 155mm inner barrel to provide exceptional accuracy and range, and is protected by the aluminum alloy RIS handguard which can fit a wide range of tactical accessories. Players can use the licensed DEFIANCE flip-up iron sights to quickly and accurately zero in their targets without the need of an additional optic accessory.
Specifications:
360 FPS (0.20g BB)
Magazine: 95rd
Weight: 5.73lbs
Inner Barrel: 155mm
11.1v LiPO 1400mAh Battery Capable (NOT INCLUDED)
Full Metal One Piece Receiver
Right-Side Folding Stock
Fully Licensed KRISS USA Replica
Authentic Trademarks
Licensed DEFIANCE Flip-up Iron Sights
Extended Outer Barrel
Ambidextrous Fire Selector Switch
Gen 2 Pivoting Trigger
MIL-STD 1913 Picatinny Top Rail / Bottom Rail
8mm VECTOR Gearbox
High Torque - Short Type Motor
Integrated KRYTAC FET System
Electronic Trigger Unit
Quick Change Spring System
Padded Cylinder Head & Relief Cut Cylinder Window
Temperature and Wear Resistant Bucking
Adjustable Rotary Style Hop-up
Safe / Semi / Two Round Burst / Full Auto"