2-Tone JLS FN2000 Price Drop
OptimusPrime
21 Feb 2008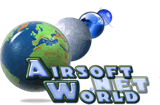 Airsoft Scotland is promoting a price drop of their 2-tone AEGs. Like the 2-tone JLS FN2000, it's now available at £99.99 from its original price of £139.99... "This AEG from JLS packs the un-usual with the practical, high quality and a real punch, based on the FN2000 this AEG is a real winner if you like bull-pup guns, The gun is injection molded in green ABS (same as the black/tan originals) and also has a nice site friendly FPS of 315.
The finish of the metal could be better, it has that battle look, but its much better than some guns i have seen. The gun has been carefully balanced in colour so that screws and extra parts retain their original black finish.

This airsoft AEG boasts an easy strip front end, uses standard M4 mags, flip up sight, very comfortable fore grip and removable outer barrel to turn into a CQB version. With its hybrid V2 gearbox and steel gear set, it is both very reliable and strong and it also comes with a 9.6v battery."