Smith & Wesson Announces New M&P 2.0 Chambered In 10mm
Gungho Cowboy
18 Nov 2021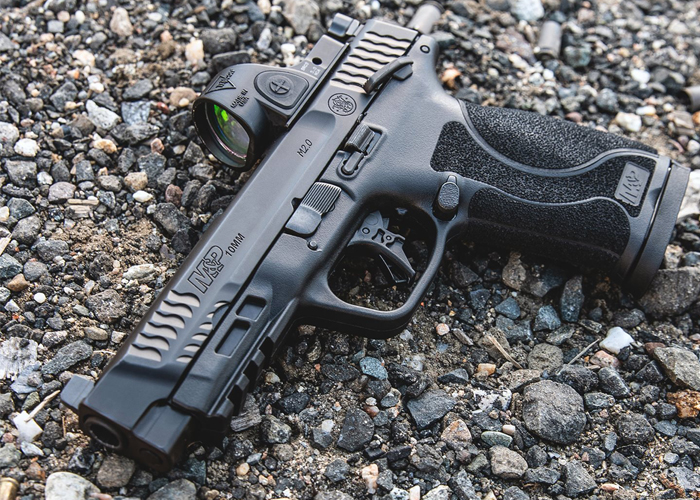 In 2017, members of the Smith & Wesson forum wondered if there will be a 10mm version of the newly released M&P M2.0 handgun which is chambered in 9mm. They got finally got their answer four years after with the release of the M&P 10mm 2.0 pistol. What's even better is that the company made sure it is also optics ready as new pistols are optics ready which is pretty much standard in 2021.
The Smith & Wessson M&P 10mm 2.0 will come in 4-inch and 4.6-inch barrel configurations and buyers have the option of getting the thumb safety variants. They are base on the frame of the M&P 45 M2.0 which basically means that accessories made for that pistol are compatible with the M&P 10mm 2.0. They also sport a new M2.0 flat face trigger.
Both versions have double-stack magazines with a capacity of 15 rounds and raised white dot iron sights that can be co-witnessed with the micro optics that can be mounted on these pistols.
As with being optics ready being standard, the versions also come with a Picatinny rail for mounting pistol accessories such as lasers or weaponlights.
---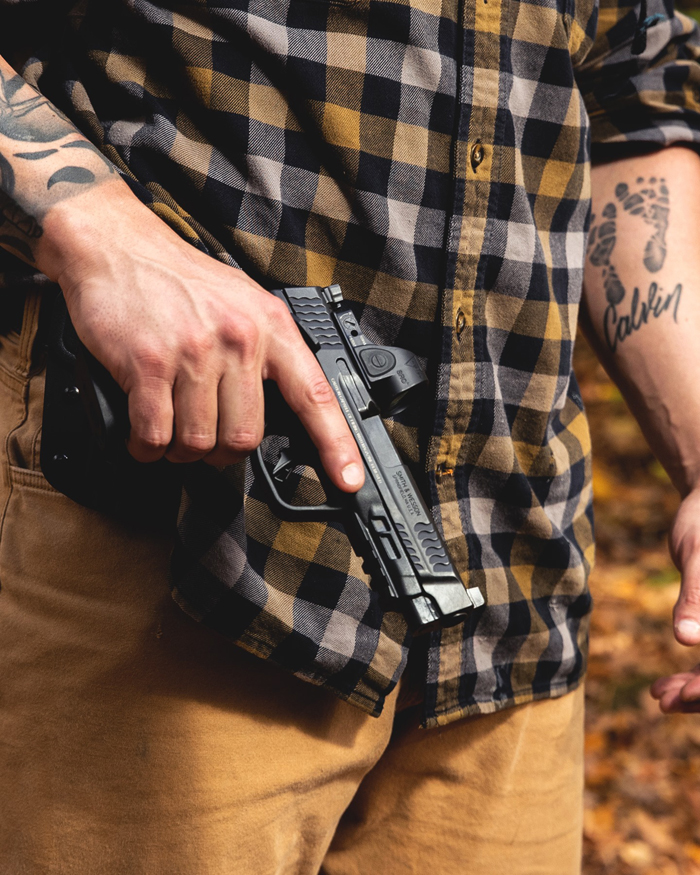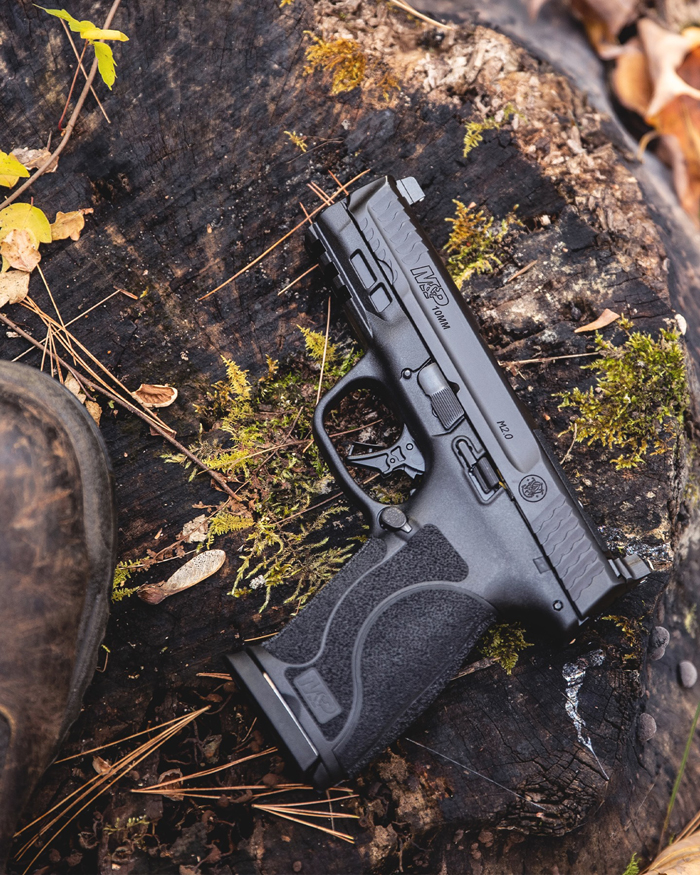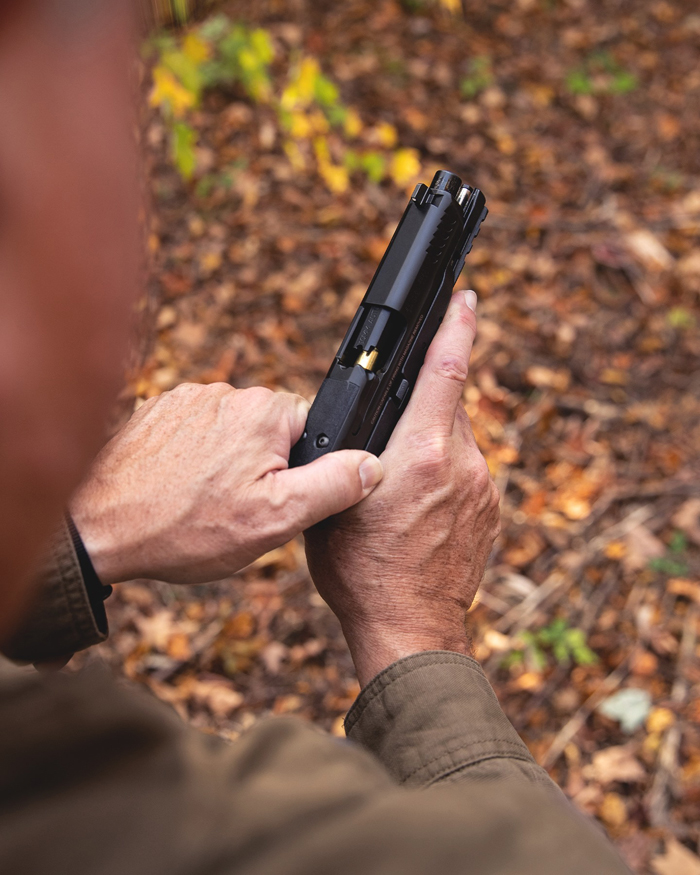 ---
The Smith & Wessson M&P 10mm 2.0 is now available at authorized dealers. Press release and more photos below:
Smith & Wesson® Launches New M&P®10mm M2.0™

Smith & Wesson Re-enters the World of Semi-auto 10mm Handguns

SPRINGFIELD, Mass., (November 16, 2021) – Smith & Wesson Brands, Inc. (NASDAQ Global Select: SWBI), a leader in firearm manufacturing and design, today unveiled the latest expansion in its M&P M2.0 line of handguns.The new standard 10mm comes with enhanced features like an optics cut slide with the C.O.R.E.™ system thatenables users to mount a variety of popular optics.  This handgun is designed to carry an impressive 15 + 1 capacity,ships with two magazines, and, reflecting the needs of the consumer, features Smith & Wesson's brand new M2.0 flat face trigger design, which is designed to optimize trigger finger placement to allow for more consistent and accurate shooting.

John Myles, Smith & Wesson's Senior New Product Manager, said, "Having not made a 10mm semi-automatic hand gun since the 1990's, it's a pleasure to re-enter that space with the M&P10mm M2.0 pistol.  The 10mm caliber has its own following, and our customers have been asking us to bring one back.  We are excited to launch this product using the M&P45 M2.0 as a building block to support existing aftermarket accessories that are readily available, as well as adding new enhanced features like the optics ready slide and the new M2.0 flat face trigger."  

These new handguns are purpose-built with the end consumer in mind. They include the M2.0 features and are available with or without an ambidextrous manual thumb safety. Smith & Wesson will offer a shorter 4" configurationof the handgun to allow for quicker clearance of a holster or a slightly longer 4.6" configuration to provide for a longer sight radius to optimize the accuracy of the barrel's 1-in-10 twist rate. The M&P10mm M2.0 comes with the familiar 18-degree grip angle, four interchangeable palmswell grip inserts, and enhanced grip texture to help manage recoil.

The MSRP on the M&P10mm pistol is $654.00 to $665.00.

Specifications:

SKU 13390
Model M&P® 10MM M2.0™ Thumb Safety Optics Ready Slide 4" Barrel
Caliber 10mm Auto
Capacity 15+1
Optics Yes
Safety Thumb Safety
Length 7.2
Front Sight Optic Height White Dot
Rear Sight Optic Height White 2-Dot
Action Striker Fire
Grip Polymer
Barrel Material Stainless Steel with Armornite® Finish
Slide Material Stainless Steel with Armornite® Finish
Frame Material Polymer
Slide Finish Matte Black
Frame Finish Matte Black
Barrel Twist 1:10˝ – 5 RH
Barrel Length 4" (10.2 cm)
Weight 28.5 oz.

Features:

Slide cut for optics
M2.0 flat face trigger for consistent flnger placement that allows for more accurate and repeatable shooting
Low barrel bore axis makes the M&P® pistol more comfortable to shoot reducing muzzle rise and allowing for faster aim recovery
Optimal 18-degree grip angle for natural point of aim
Four interchangeable palmswell grip inserts for optimal hand fit and trigger reach – S, M, ML, L
Enhanced grip texture allows the user to manage recoil, keep a firm grip, and delivers comfort when concealing
New M&P® M2.0™ crisp trigger with lighter trigger pull
Tactile and audible trigger reset
Accurate 1 in 10˝ twist M&P® M2.0™ barrel
Extended rigid embedded stainless steel chassis to  reduce flex and torque when firing
M&P's patented take-down lever and sear deactivation systems allow for disassembly without pulling the trigger
Armornite® durable corrosion-resistant finish
---