Smith & Wesson Adds The M&P22 Magnum: An Optic Ready Hammer Fired Pistol
Logan
13 Jul 2023
The Smith & Wesson M&P22 Magnum is a new addition to the M&P series of pistols, chambered in the powerful .22 WMR rimfire cartridge. This pistol offers a high-capacity 30-round magazine, a light and crisp single-action trigger, and a reliable and accurate gas system. It is based on the M&P5.7 platform, which also uses the same innovative technology.
The Tempo gas system technology is a unique feature of the M&P22 Magnum and the M&P5.7 pistols. It consists of a two-part barrel with a front gas port that delays the unlocking of the barrel and slide until the bullet leaves the muzzle. This reduces recoil, muzzle rise, and wear on the pistol, while enhancing accuracy and reliability.
---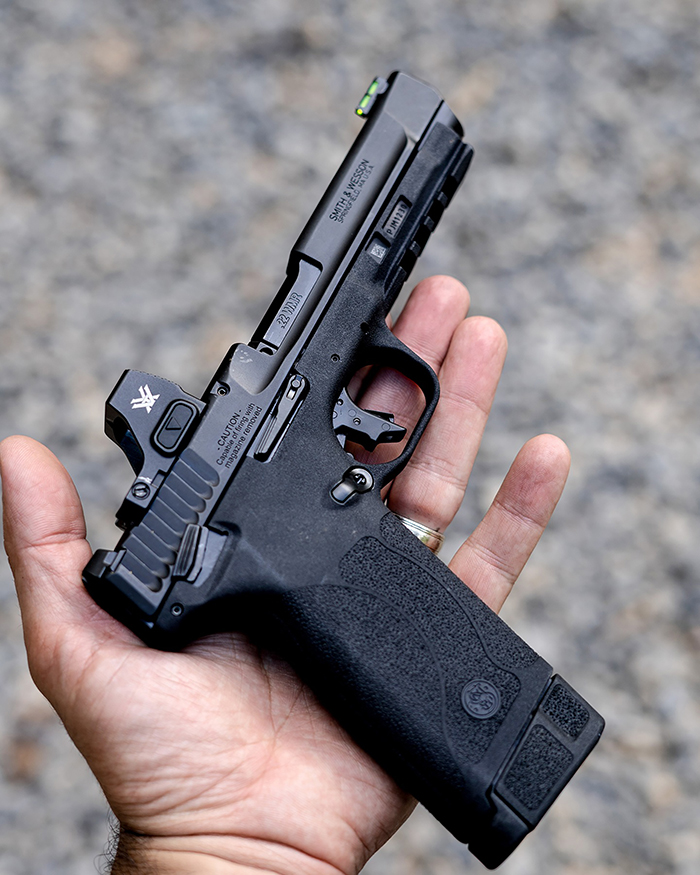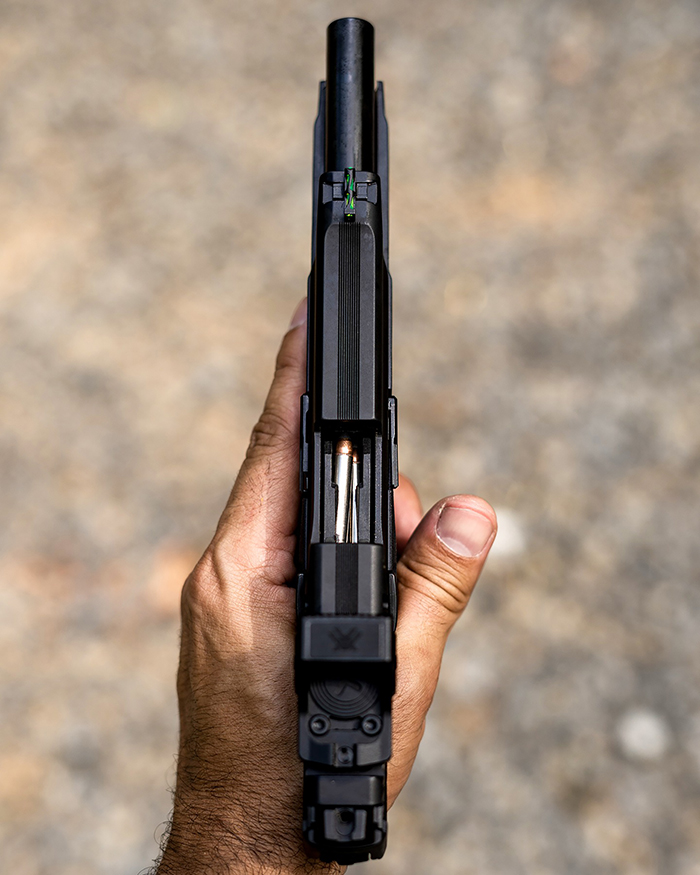 ---
The M&P22 Magnum has a full-size polymer grip with enhanced stippling for a secure and comfortable hold. The flat-faced trigger is designed to provide consistent finger placement and a smooth pull, with an audible reset for faster follow-up shots. The pistol also has fully ambidextrous controls, including a classic thumb safety and a reversible magazine release.
---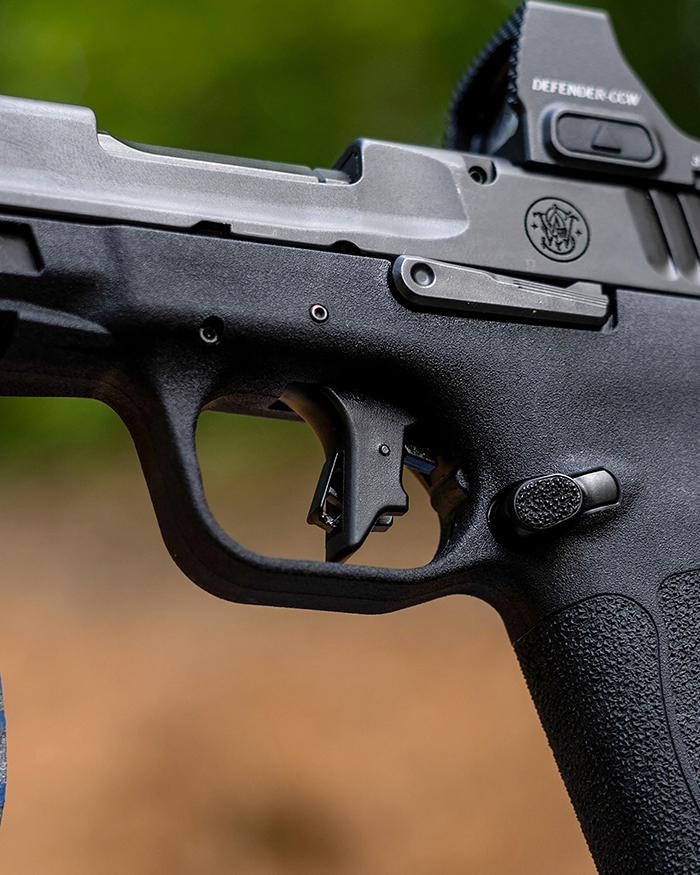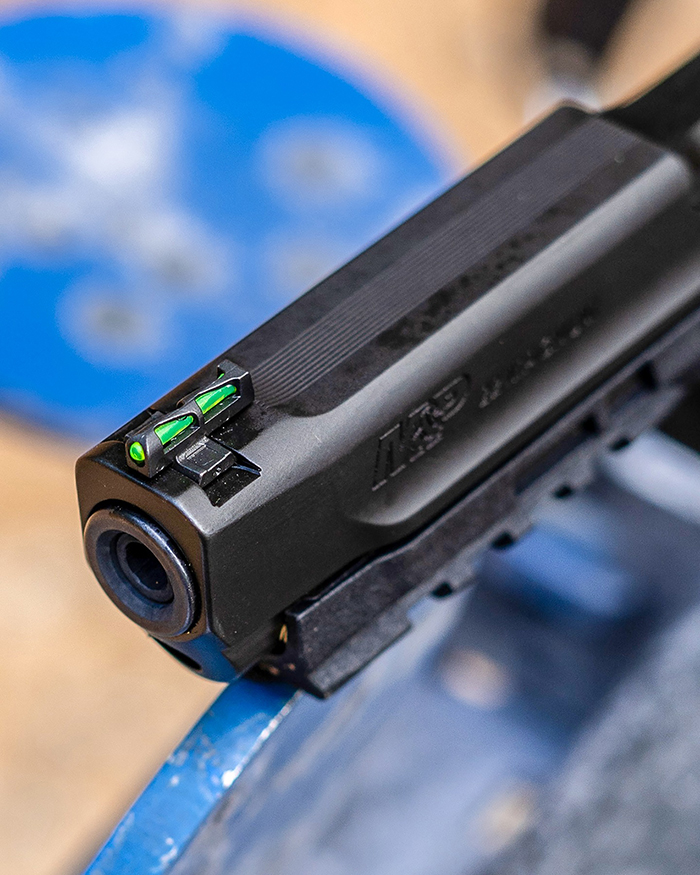 ---
The pistol has a stainless-steel barrel and slide with a black Armornite finish for durability and corrosion resistance. The barrel is 4.35 inches long and has a threaded muzzle for attaching suppressors or other devices. The slide has dovetail-mounted sights, with a fiber-optic front sight and a notched rear sight. The slide is also cut for mounting optics that use the Shield RMSc footprint, such as red dot sights or reflex sights.
The pistol also has a four-slot Picatinny rail on the frame's dust cover for attaching lights, lasers, or other accessories. The Smith & Wesson M&P22 Magnum pistol package that includes two magazines has an MSRP of US$649. Press release below:
---
NEW: Smith & Wesson® M&P®22 MAGNUM

SPRINGFIELD, MA., (7/11/2023) – Smith & Wesson Brands, Inc. (NASDAQ Global Select: SWBI), a leader in firearm manufacturing and design, today announces the release of the new M&P22 MAGNUM pistol, chambered in 22 WMR.

This latest addition to the M&P series is all about bringing more. More capacity, more reliability, and more features. Its internal hammer-fired design, paired with the TEMPO gas-operated barrel system, keeps components locked in place until the bullet passes the gas port, increasing performance. With a staggering 30-round capacity, the full-size polymer frame M&P22 MAGNUM ships with two magazines so you can spend less time reloading and more time training. It comes with a fiber optic front sight, black notched rear sight, and is optics-ready, allowing you to direct-mount most of the popular micro red dots available today.

"The M&P22 MAGNUM combines the best features of our internal hammer fire control system with the patented TEMPO barrel design, creating a smooth operating experience for the shooter. The 22 WMR is a versatile and field-savvy cartridge that has been a legacy among American shooters, hunters, and trappers for decades. Smith & Wesson is proud to offer a new pistol that further supports the use of this cartridge outdoors or on the range," said John Myles, Senior Manager of New Products.

The M&P22 MAGNUM is fully ambidextrous, has a 4.35-inch stainless steel barrel with Armornite® finish, includes a flat-face trigger, and Picatinny-style rail for mounting accessories. This pistol is proudly made in the U.S.A. and has an MSRP of $649.00.