SHOT Show 2022 Day 3: Evike, PTS, Magpul, FN & Kel-Tec
Logan
20 Jan 2022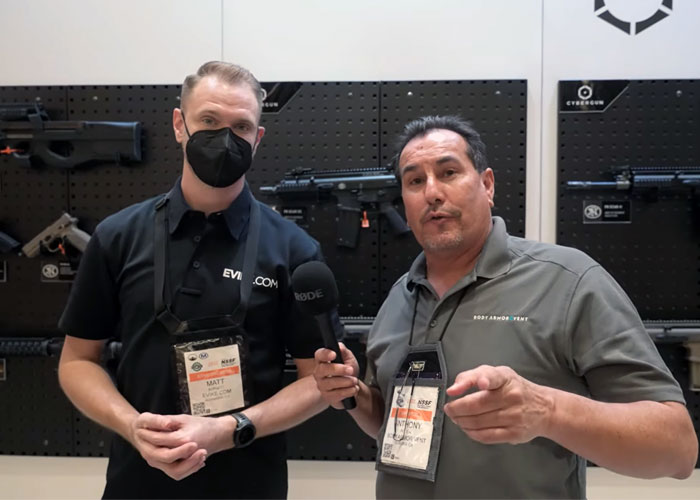 Some of you have been asking where is airsoft at the SHOT Show 2022? Well, there is an airsoft presence, albeit a smaller presence at that given that most of the airsoft companies based in East Asia stayed away due to travel restrictions brought about by the Covid-19 pandemic. For those who are looking for upcoming releases for 2022 in airsoft, there are some revelations.
Asian With Hat visited the Evike.com booth and Matt got a lot to tell of products coming to Evike.com. Starting with EMG Helios CMMG Banshee AEGs, which should make those looking for the compact Banshee series in airsoft very happy, Matt introduced other upcoming products under the EMG brand such as the Spikes Tactical which is made with CYMA that feature the QBS or Quick Buffer System. He also mentioned the upcoming EMG Strike Industries Tactical Competition MWS System Gas Blowback Airsoft Rifle with Cerakote Finish. From there, they moved along to the FN Herstal airsoft guns carried by Cybergun.
From Sweden are the Airsoft.nu guys who also got footage which are even better of the Lancer Tactical booth to check out the Kalashikov USA airsoft guns and the Elite Force/Umarex booth to see if they have new products from Heckler & Koch as well as other licensed brands for the airsoft market. They also spotted the PTS Syndicate booth which the featured the various EPM polymer magazines they have as well as other weapons accessories they have available for airsoft guns.
The Tactical Advisor takes a look at the EOTech EFLX, which is the first reflex optic offering by the company famous for its Holosight. Speaking more of optics, Guns of America feature solar-powered Holosun Optics that are on display.
The Firearm Blog TV crew are doing a great coverage on the SHOT Show exhibit floor, hitting the booths of brands that matter a lot to airsoft players such as Kel-Tec, Magpul, FN Herstal, Zastava, and 5.11.
The SHOT Show 2022 ain't over yet. More will be known tomorrow, so keep coming back to find out what we've spotted for you airsoft or real steel.