VISM Micro Green Dot Sight w/ Red Laser
Jon AMS
28 Apr 2015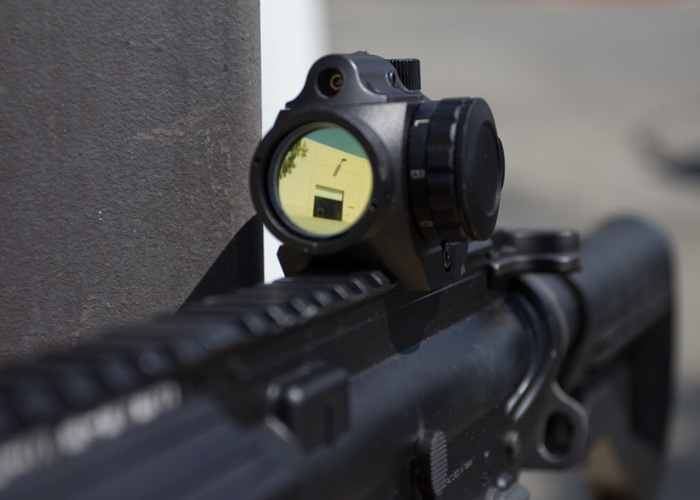 VISM has been on a roll lately. Boasting great prices, intuitive designs and real-steel quality construction, the current generation of products continues to cause buzz around our office with the awesome previews we've been able to get in our hands from VISM/NC Star. There's one in particular we wanted to take a closer look at: The VISM 5-intensity micro green dot sight. A great balance between function, build quality and affordability, a lot of players will find this to be a great addition to their armory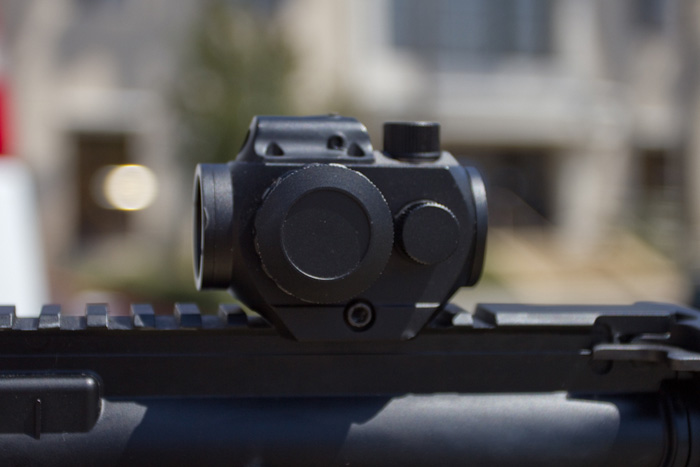 EXTERIOR
The black anodized aluminum build is of great quality, solid construction, and matches perfectly on most M4s out there. Although the optic area is smaller than some similar red dots, every part is designed for easy manipulation. On the optic is a light control knob, X / Y zero-adjustment turrets, and a laser unit on the roof of the unit. The lens itself is tinted, with the outermost lens featuring a brilliant platinum reflective surface.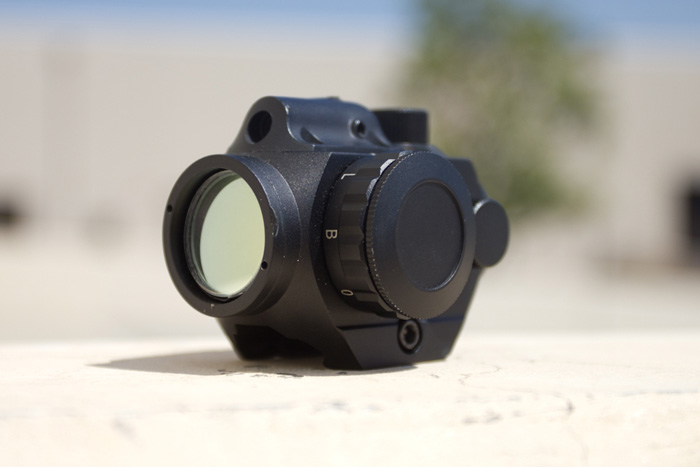 An awesome option for players that might want to get some more out of this optic is to consider the quick release ACH Sighting System, a platform that includes this Green Dot sight and a carrying handle optimized to mount it on a raised base. The sight is perfect for players with standard M4/M16 foresights, co-referencing at three points (foresight, flip up rear sight, green dot) for maximum precision.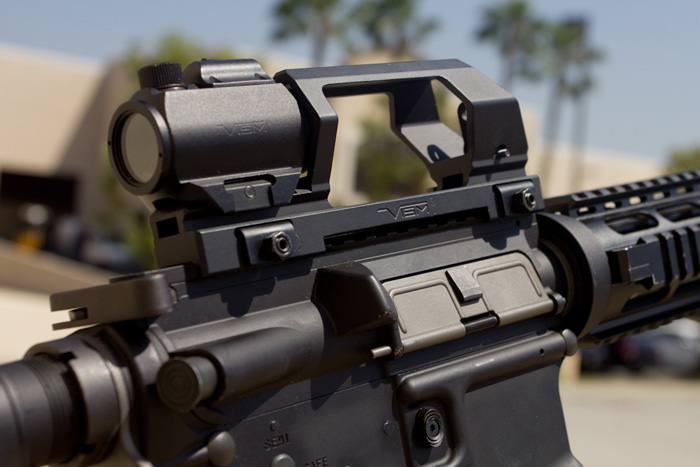 One of the neatest things about this system is the laser channel on the top of the sighting system. This lets you utilize the entire platform without having to remove the carrying handle to use the laser sight with or without your dot.
UTILITY
The optic features a generous but not overbearing tint, making the green dot sight extremely visible even with the sun at your back while still exhibiting high visibility in low light conditions. The five brightness settings are handy, but there isn't a lot of variation that you aren't going to notice if you aren't playing in a low light environment.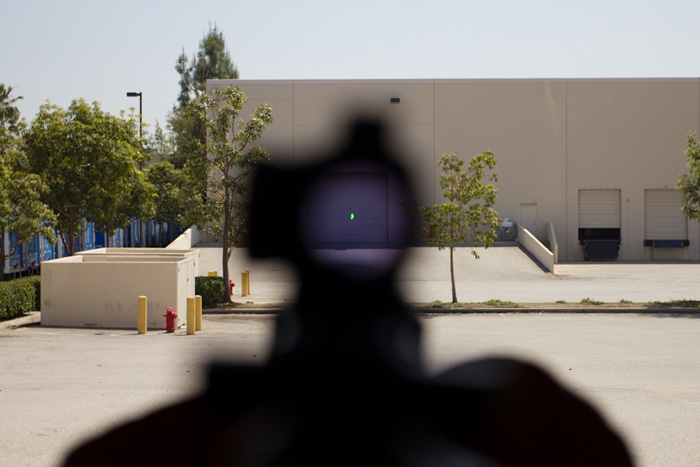 The laser, attached on the top, is an awesome little feature. You can operate it independently or cooperatively with the green dot sight, which is pretty neat. Unfortunately, you cannot adjust its position nor is there any sort of toggle feature.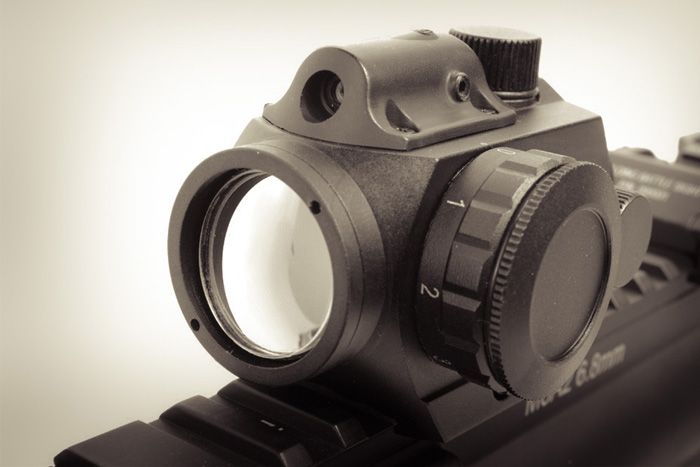 Players might prefer a riser as the profile is particularly low to the rail, which is part of what makes the ACH system so great. But this issue is going to be most present on M4 style rifles. G36s, P90s, AKs and other model types won't suffer from the same problems due the elevated optics relative to the cheek rests on each gun.
FINAL WORLD
Currently available at Airsoft Megastore for $59.99 this is a superb optic for players who are looking for a tough, efficient and affordable green dot sight. VISM/NC Star seems to think so as well, and back it up with a limited lifetime warranty as with any of their newer products: a rare quality for a product in an industry oft defined by fire-and-forget manufacturing.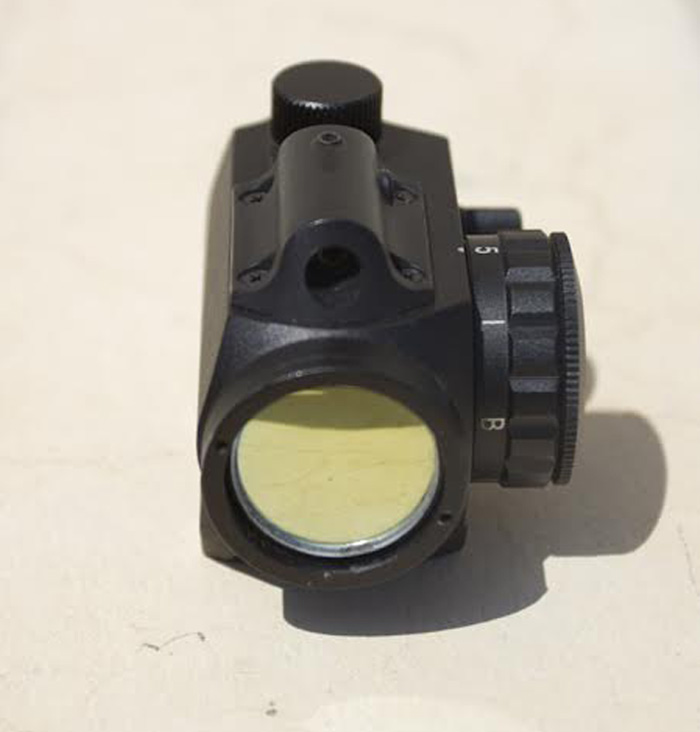 It won't be for everyone, and it's not a mega feature-packed sight, but it'll do great for players that want a no-bullshit optic that'll last through some serious use. The low profile might be frustrating for players that want to use it alone on an M4, but on most platforms and ESPECIALLY with the ACH system this optic really shines. I can definitely recommend this optic for airsoft to anyone that wants a great system for a decent price.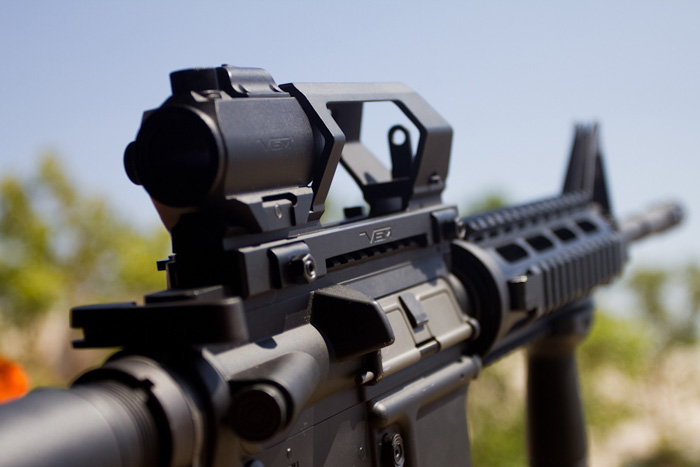 ----------------------------------------------
ABOUT THE REVIEWER
Working at Airsoft Megastore by day, and growing his beard by night, Jon is an airsoft enthusiast and has a special spot in his heart for all Kalashnikovs.