The Spartac SRT-15 Entry Level AEG
Operator7
12 Jun 2015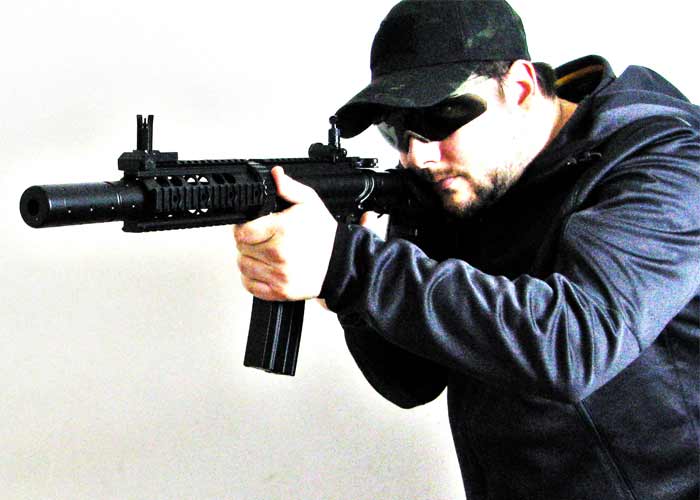 What's the fastest way to start playing Airsoft for the first time and get a decent entry level airsoft gun that won't break the bank and will offer you the most accessories you need to start playing in no time? The Spartac SRT-15 available at Gunfire could be the answer in case you want a brand new gun and want to avoid all the hurdles and risks you sometimes undergo with second hand AEGs.
BUILD QUALITY AND DESIGN
This is one of the seven (7) M4 models offered by SPARTAC. Just as usual from this manufacturer, you'll be getting a fully plastic (polymer) construction AEG. The big difference between a "full metal" M4 and a "full plastic" one is of course weight, but also a bit of flex on the materials. This is good since it flexes a lot before breaking (unlike metal) but it also means that a lot more can go wrong in case you take it to a certain point where the plastic loses its shape and form and becomes deformed.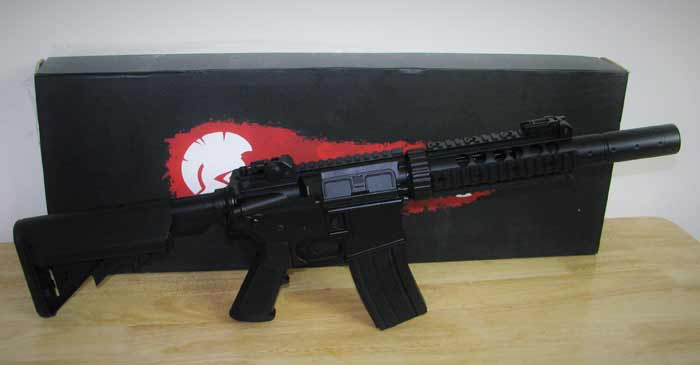 Aesthetically, most polymer components are almost similar to metal ones, at least until you actually touch the gun. The shape and form of the plastic is pretty much a very good quality replica of the metal ones, so visually it's quite good.
The SRT-15 weighs slightly under 2Kg, which allows me to hold the gun with just one hand without much effort and also provides an almost unfair advantage over other CQB rifles since it makes it really easy to manage corners and makes it effortless to point the sights and keep them up and ready at all times thanks to its almost feather-like weight.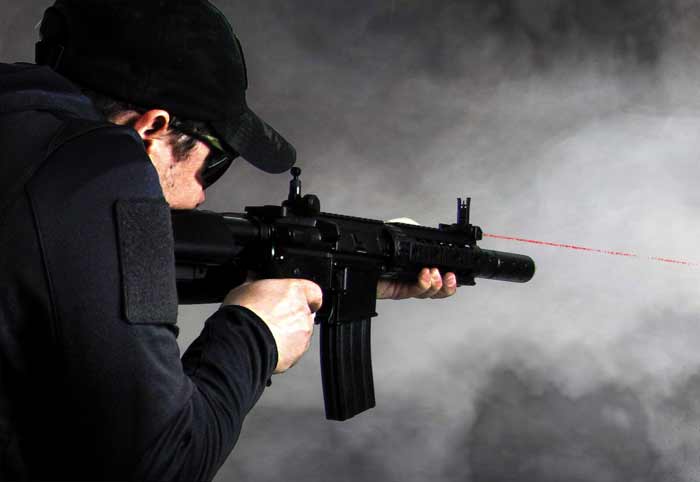 Almost all parts of the gun are plastic with a few exceptions, such as the very short outer barrel, the inner barrel and the gearbox which are metal. Apart from those parts it's all plastic: buffer tube, body, handguard, suppressor, sights, sling mount, fire selector, mag release button, and hop-up unit.
Most of the components have a good but not high-end build quality, so I would say this is a good gun to run when your main weapon is down or to lend to a friend; and if you're a newcomer to the sport and want to start without investing much money and in case you like the sport then you'll get your dream gun.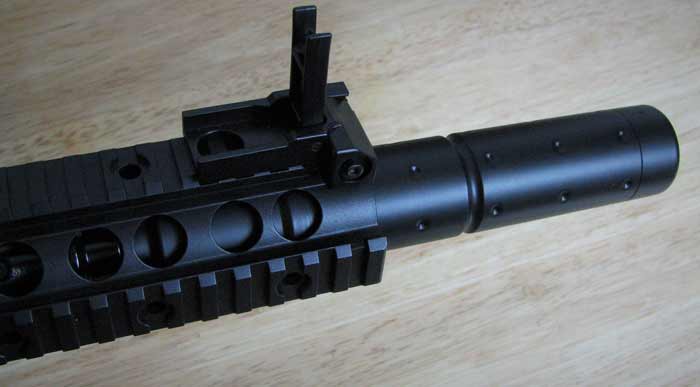 Design-wise, this is a CQB rifle with a very short barrel and free-floating quad rail where the attachment options are numerous. Coming from inside the handguard and adding an extra good 4 inches, you have a nice looking mock suppressor which gives it a nice touch.
On the other end there's a five position SOPMOD-style stock where you can connect the battery to the mini-Tamiya plug which also has a fuse.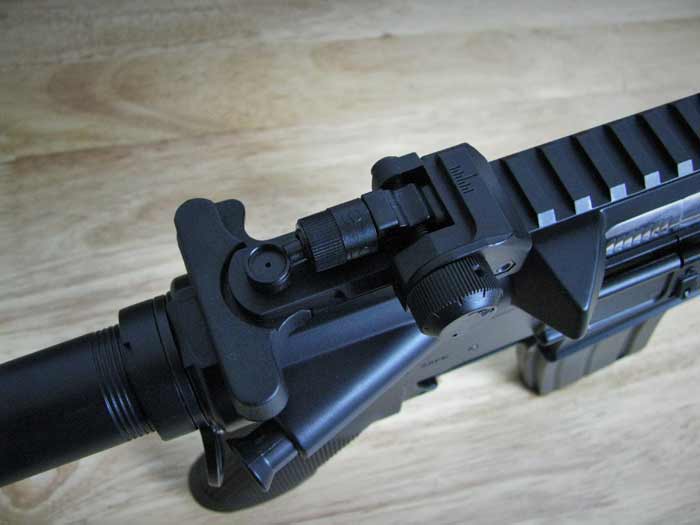 On the top rail there are a couple of detachable sights. The front sight isn't adjustable, but the back sight is fully adjustable. Fortunately these are quite easy to remove and you'll be able to use any other sights like for instance, a red dot.
ACCESSORIES AND FEATURES
As with most SPARTAC AEG's, the SRT-15 comes with all the accessories you would need out of the box to get started in the sport: a charger (EU plug), battery, magazine, a useful unjamming rod, sling, and even a small bag of BBs.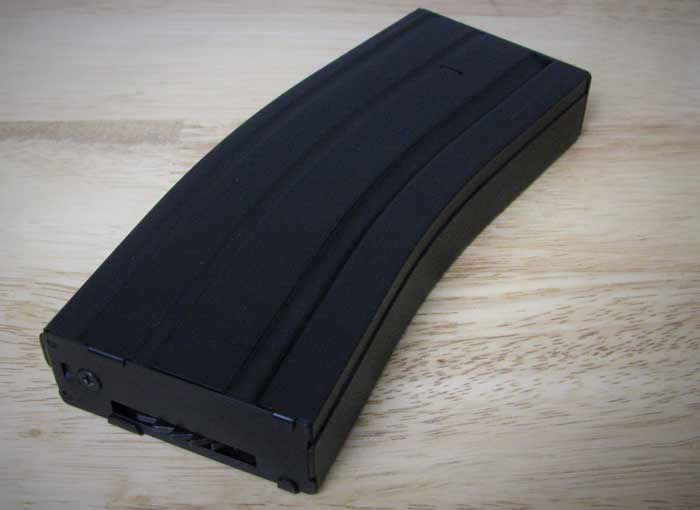 The highlight is indeed the magazine: a steel (yes you read this right, it's steel!) 300-round high capacity magazine. It might seem odd the choice, and Spartac could have easily gone with a plastic one too, but it's a nice addition and it helps to balance the gun nicely.
On the other side, the 8.4v battery is very sluggish and only outputs 10 rounds per second which might not be bad for CQB but I would use a 9.9v LiFe or a 9.6v NiMH.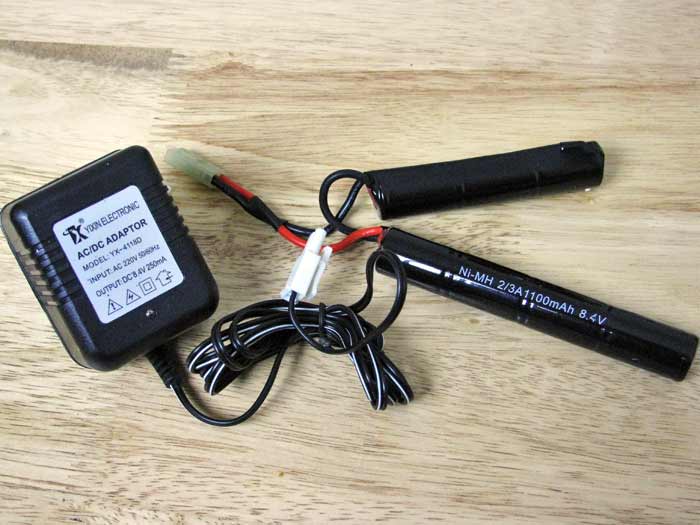 As for the sling, it is just right for this gun as it's a very lightweight gun. I would not recommend using it with a heavier AEG though. Also, this is a two point sling and the Spartac is missing a second sling mount, for instance on the handguard.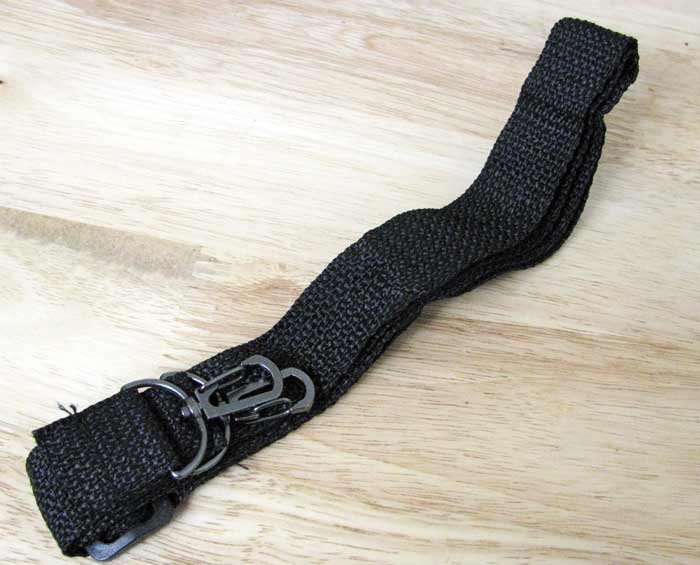 Finally, a pretty much decent manual in understandable English is also included.
PERFORMANCE AND INTERNALS
In contrast with the externals, Spartac does make metal internals, meaning you'll be getting steel gears, a metal shell and a decent and very much upgradable gearbox.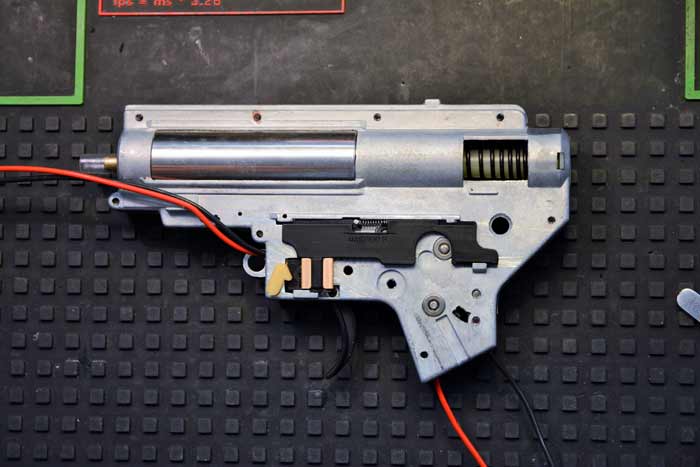 Performance-wise, it will come shooting out of the box at around 400fps, unless you request a power downgrade like this one had and it's now outputting around 360fps.
The rate of fire with the stock battery is 10 rounds per second, but you must keep in mind that the stock battery is only 8.4v and it will go up in case you start using a 7.4v LiPo or a 9.4v NiMH.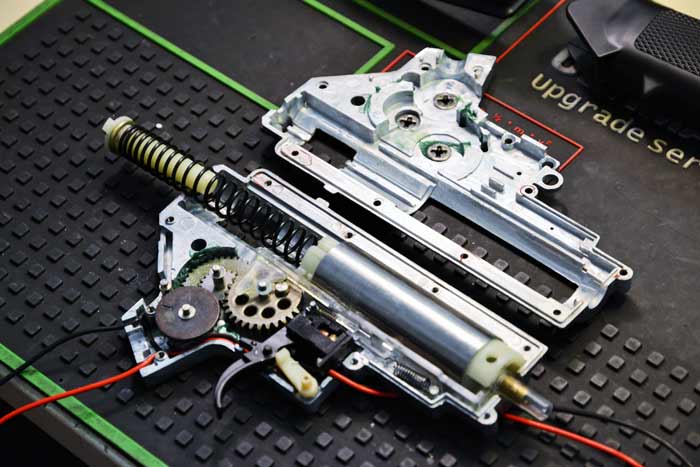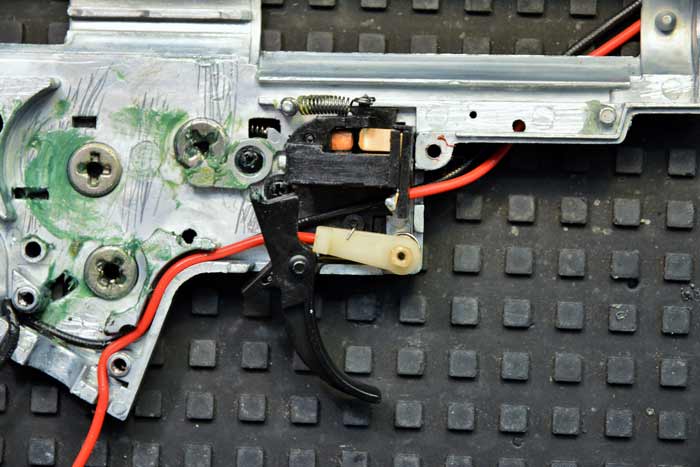 It also comes with an aluminium cylinder, a polymer piston with one metal tooth, polymer piston head, clear plastic air nozzle, and a tappet plate as well as a plastic spring guide. The compression is quite good hence the high FPS output.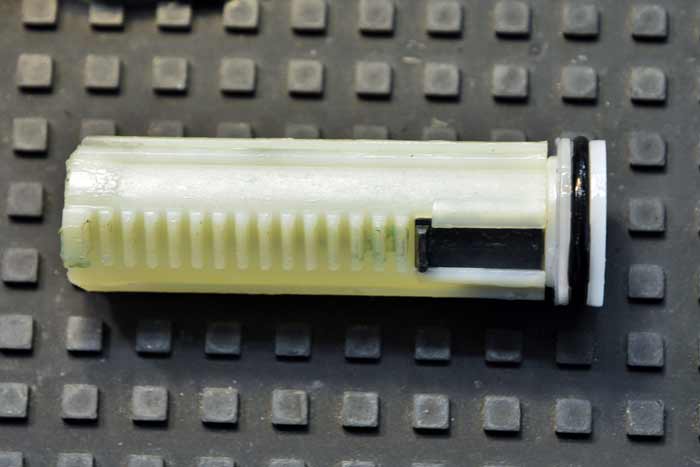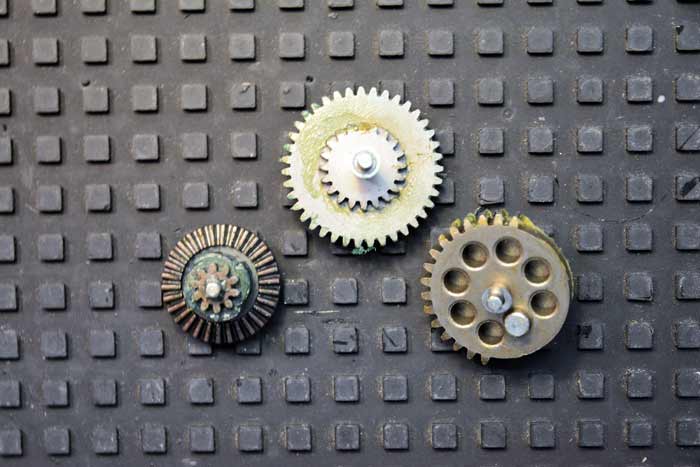 The trigger is also metal and is fairly responsive especially if you use a LiPo or 9.6v NiMH.
The included barrel is pretty much standard and quite short as it's a CQB gun. The 280mm barrel length is great for CQB but lacks range and accuracy when it comes to outdoor skirmishes.

When it comes to the hop-up, it's an all polymer construction and easy to adjust. But most importantly it maintains its position even during games!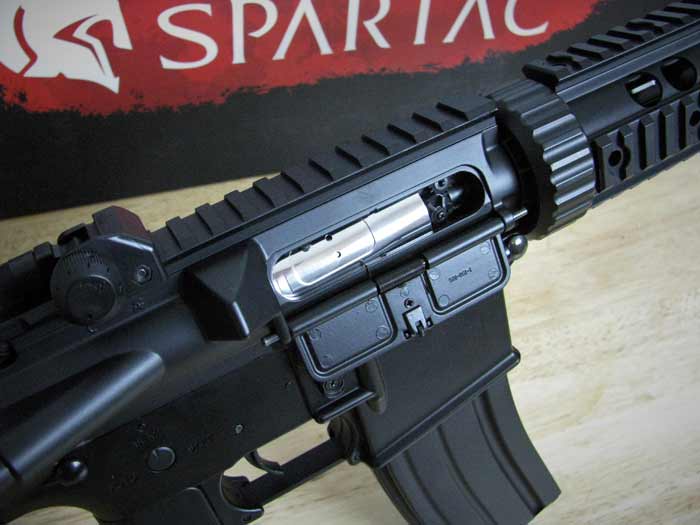 Finally, the motor isn't very powerful so it might be one of the internals that I would probably upgrade in the long run with this gun.
CONCLUSION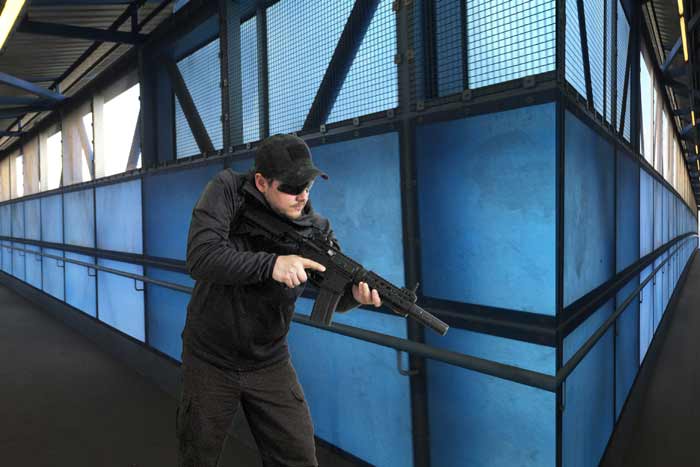 Definitely, this is not a high end gun for the most demanding and seasoned airsoft players. However, it could be an option for the beginner players, and a good possibility for someone looking for a budget gun to loan or to serve as a backup.
The SRT-15 is a decent starter gun if you're looking to play mostly in close quarter venues. Otherwise, you might consider another one of their M4s or AKs (just like the ones I reviewed here) that have a longer barrel which are quite accurate and have a very good range.
Pros
Extremely lightweight
All you need to start package
Very, very affordable
Good for beginners
Cons
Battery included
Lack of realism because of plastic construction
Not a very high performing gun