ForceCore Armament FC-109 M4 AEG
Operator7
22 Sep 2015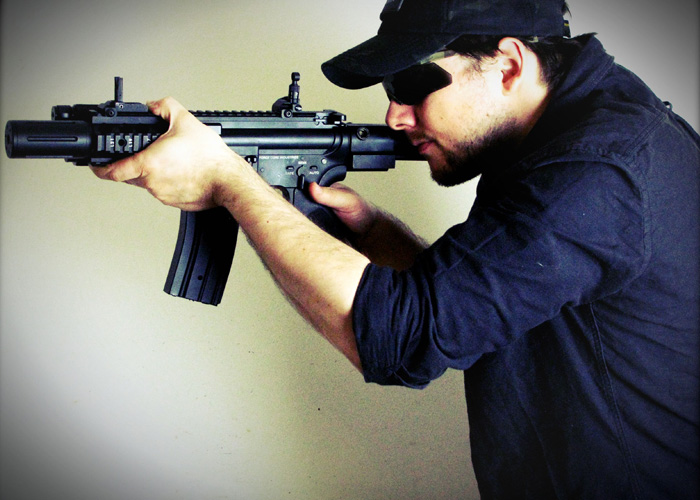 ForceCore is, to me and many Airsofters out there, a new name and a new player in the market. One of my latest reviews was a first for me, not just in terms of the brand itself but also in terms of an AEG which I had never seen or used before: the Spectre SMG.
So it was not so easy to gauge the actual quality of this brand (although the quality of the Spectre is seemingly good) since I had no other references.
Now with the AR15/M4 platform, things are a bit different since I consider myself not an expert, but someone who has owned enough M4s for long enough to be able to form an opinion on the subject!
So things are a bit clearer when looking at the FC-109 M4 AEG from Gunfire and it's really interesting to find out how ForceCore is becoming more and more a brand to keep an eye on!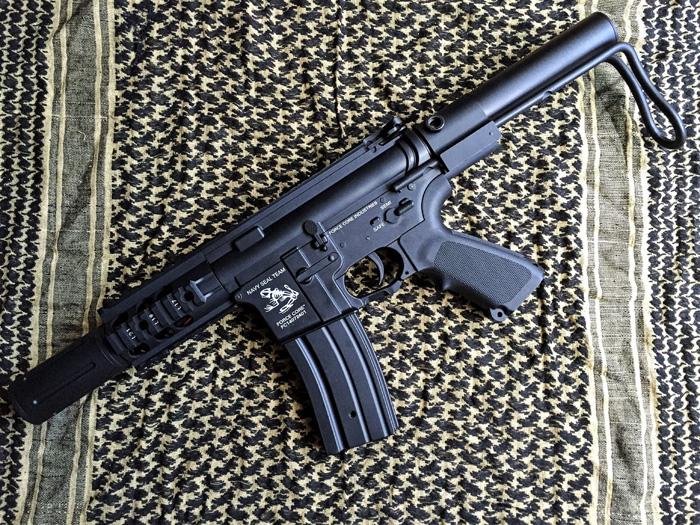 DESIGN AND BUILD QUALITY
The FC-109 is a strikingly good looking CQB-oriented M4. The stubby suppressor, beautifully integrated in the short quadrail handguard and the skeleton like telescopic stock are the highlights of this AEG, especially nowadays when it's very hard to build a unique looking M4 AEG.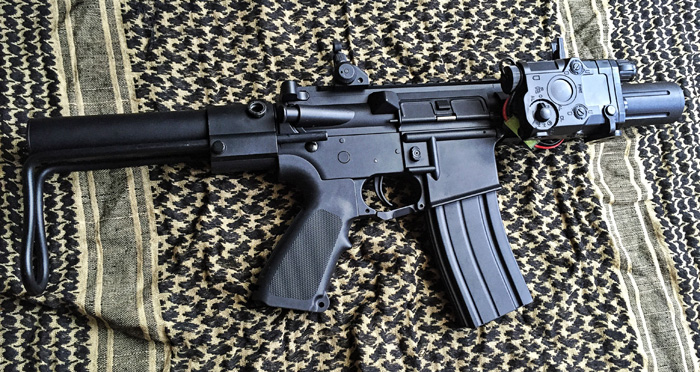 And doing this while keeping the price down and delivering a full metal M4 is even more challenging. But it seems that ForceCore succeeded in doing so and the FC-109 didn't disappoint me once I picked it up from the box:
I felt immediately that this was a full metal M4 thanks to the weight which is in fact considerable but proportionate to the type of gun. This makes it feel more realistic and less than nice but weird feeling of having a feather like gun that is just too lightweight.
The build quality is quite good using some steel parts, hence the weight, and all the parts come together really nicely and tightly secured. Being that the telescopic stock with 3 positions is a very solid piece of metal with two metal rods going into that metal.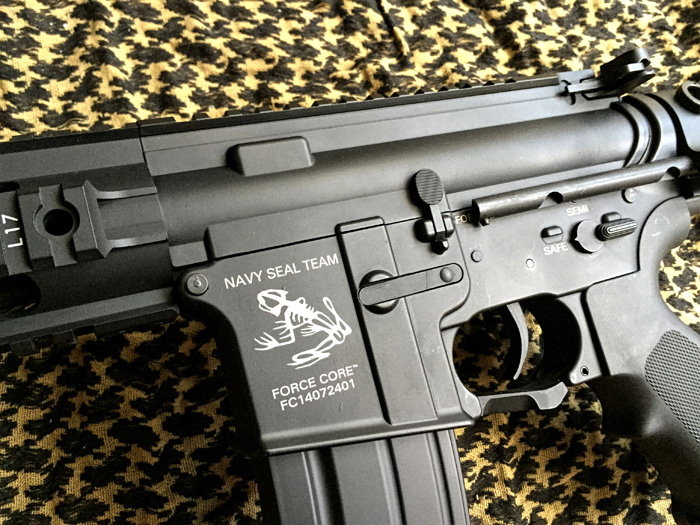 The paint finish is very good and quite resistant to scratches and the laser markings on the receiver are very cool and sharp.
I really do like the pistol grip which is wider than normal but somehow it's very ergonomic and easy to grip. Plus it's very, very solid.
The devil is in the details, and the ForceCore FC-109 has some very nice little details such as the ergonomic trigger guard which adds to the look of the gun but really makes it easier and more comfortable to use the gun.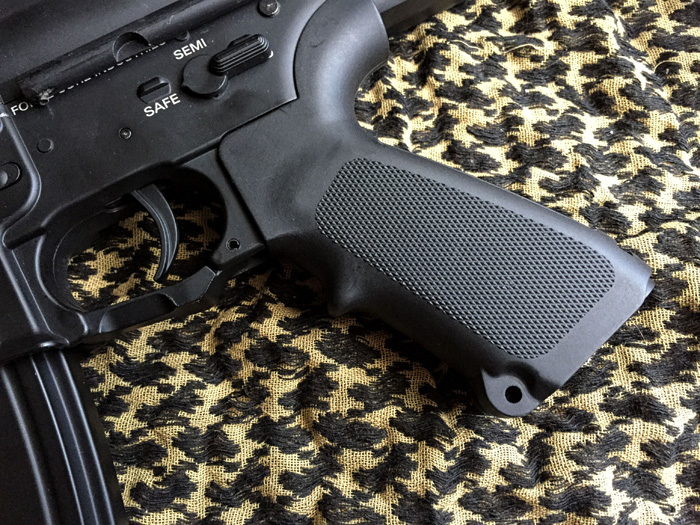 Nicely detailed and well-built are also the included metal sights which can be easily mounted on the rails. Both are fully adjustable and work very well, with the front sight very lightweight and compact.

Built for CQB, the 4,5 inch quad rail is quite short, but long enough to provide some nice mounting room for the included dummy PEQ box, where the battery is housed. However, when the PEQ box is attached, the space for gripping the gun is less and makes transitioning to the sides very hard since you don't have enough space to grip more, unless you hold on the PEQ box...
But the highlight is really the cool looking stubby suppressor which not only gives the gun a personality but also allows it to house a 170mm inner barrel.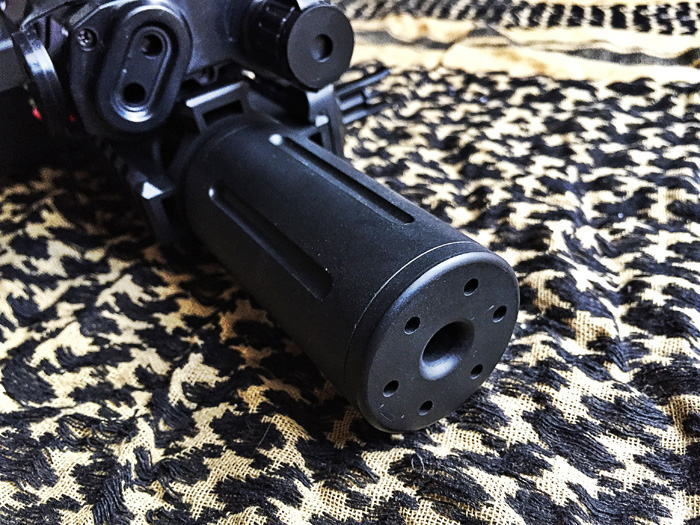 On the other end, the stock is a two position telescopic skeleton-like stock made out of a metal rod twisted in a U elongated shape and is strangely comfortable when fully extended!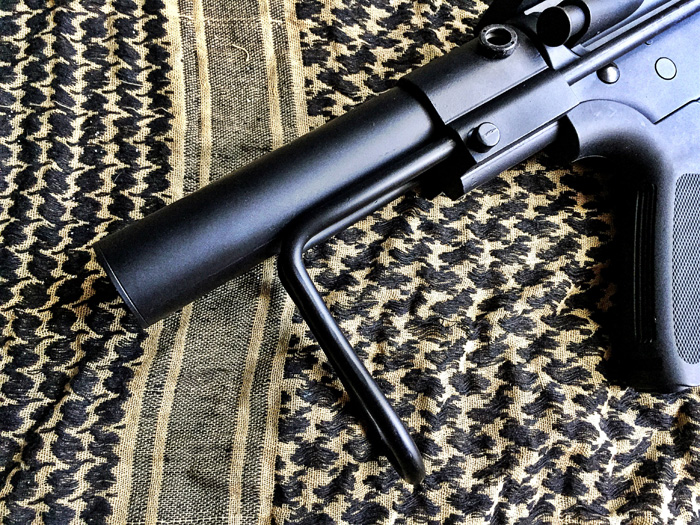 The FC-109 measures around 63cm when fully extended and 56 when the stock is collapsed, making it highly compact and great for those corners and tight CQB games where I have to enter one room then to the other and prefer to have a short and more lightweight gun that allows me to point and shoot quite quickly, since in CQB the first second or milliseconds are crucial!
The rod is then supported on a solid block of metal where there are two Quick Detach points which work great with one point slings.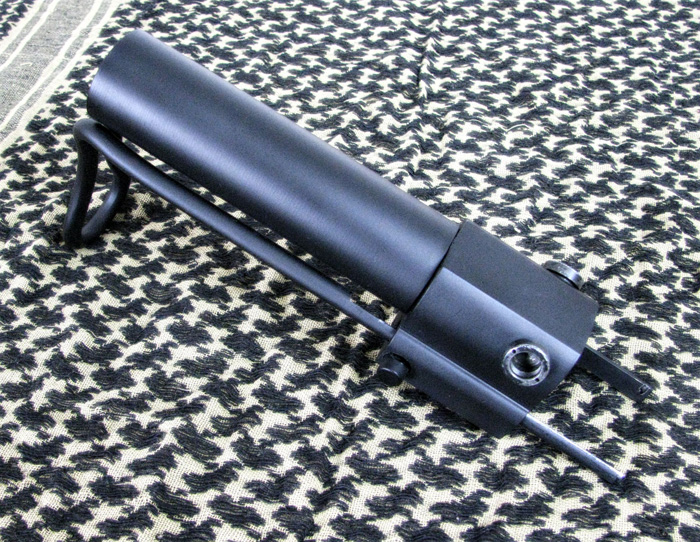 Finally, the stock being a rod will always wobble slightly when fully extended, but this is marginally felt when using the gun. Again, it feels very nice when shouldered and has no wobble when fully collapsed.
ACCESSORIES AND OPERATION
Included in the box is a 300 round metal hi-cap magazine, an EU charger for the 8.4v battery, a very plasticky AN-PEQ dummy box where the 8.4v NiMh battery, which is also included in the package, is stored.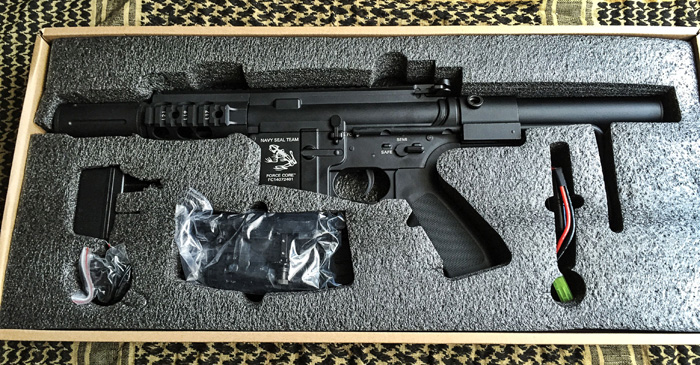 Here, I really believe that ForceCore could have avoided the PEQ box and have done this gun wired to the back, since the buffer tube is so big, you could easily fit a small 7.4v, or even a normal 11.1v stick Lipo battery in there! But we will get to the internals in a minute!
Operation couldn't be simpler, although I would advise you getting a smart charger and a square 7.4v Lipo battery.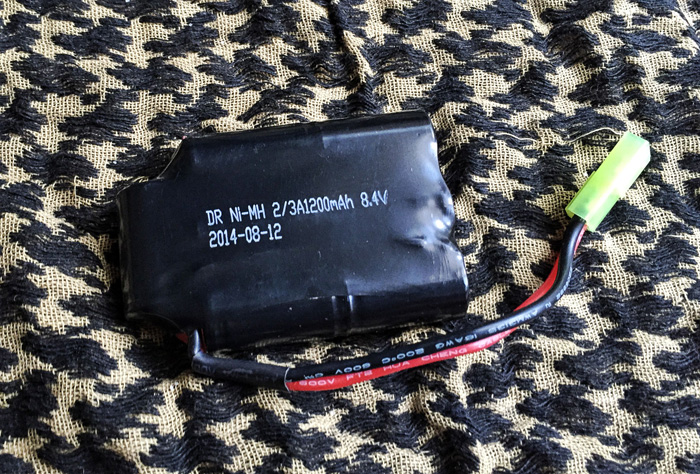 Once charged, just open the PEQ Box, and slap the battery in there. Connect the mini Tamiya connector and you're good to go! Of course, the wires are exposed but they're barely visible. My only concern is sometimes when I go through bushes that the PEQ box gets caught or the wires get tangled. Also, since the mini Tamiya plug isn't housed anywhere it's a special concern for those very rainy days.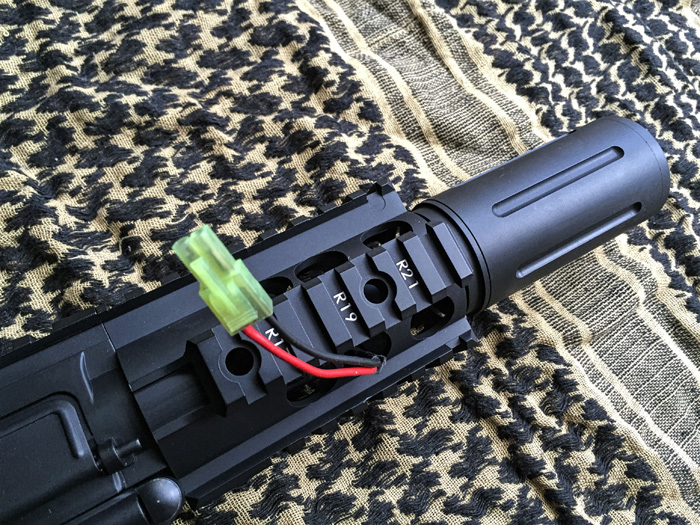 Negotiating corners and entering rooms or going thorough small and tight spaces is just easy peasy, being a very easy gun to shoulder when needed. I really enjoyed shooting from the hip using a small laser in order to acquire targets on the fly and become even faster!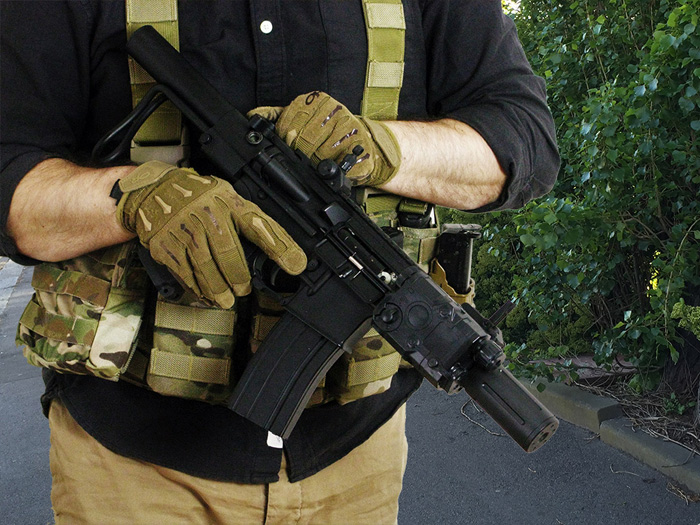 PERFORMANCE AND INTERNALS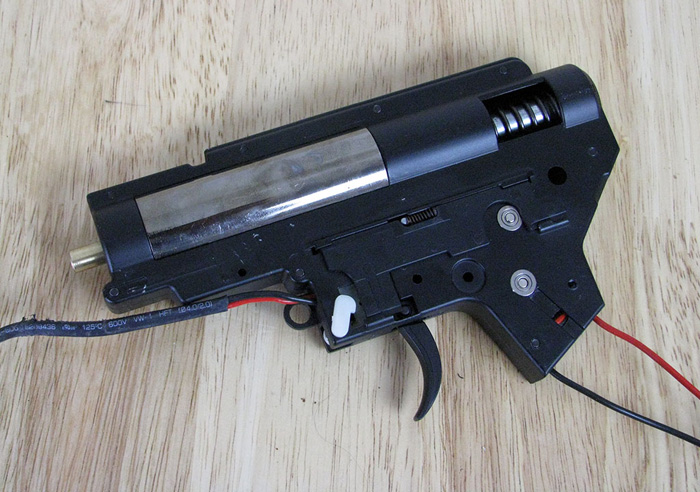 While the sight is pleasant on the outside, inside the receiver, the gearbox is also a good highlight on this gun as it features a metal gearbox with metal gears and 8mm bushings.
The gearbox is very solid and has a nice finish, with the gears looking very sharp and precision machined. The whole gearbox was quite clean with just a bit of grease, not the bad and weird grease you get in some models.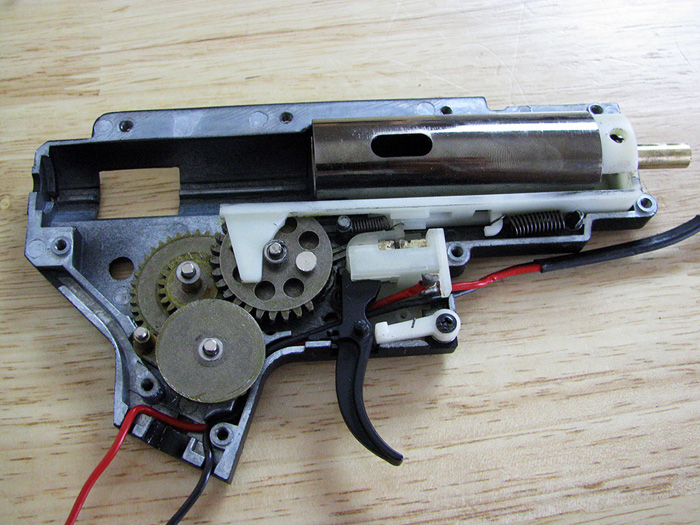 Compression is quite good and is achieved by using an aluminium cylinder, a brass air nozzle and a nylon cylinder head. The piston is also nylon but with full metal teeth which is quite nice, and a nylon piston head with one O-ring to keep it light and well-sealed.
Finally, there's the spring guide, which is also brass and quite heavy, and a spring which achieves around 340 FPS and 10 rounds per second with the stock 8.4v battery. But you can increase this with a LiFe battery or even a Lipo. The motor works well, but can easily be upgraded to a high torque if you want a faster trigger response.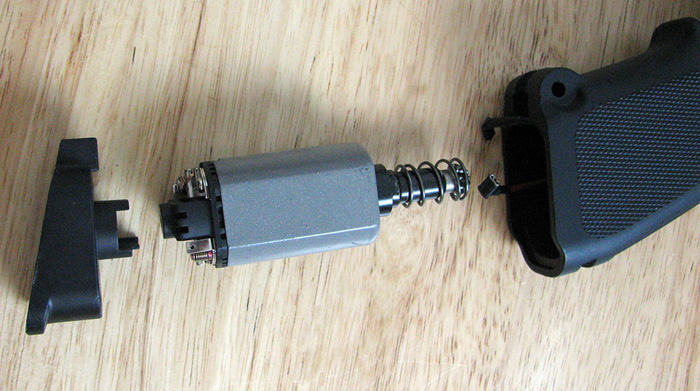 Overall, the gearbox quality is good, leaving room for some improvements, but can easily be used out of the box without any upgrades since it's a good performer.
The only thing I would prefer to have different in this AEG is the battery wires should be to the rear of the gun, since there's enough space in the buffer tube to accommodate most Lipos or LiFe batteries.
When it comes to precision, the combination of a metal hop up unit and a brass 170mm inner barrel does its job well for close to medium distance engagements. But it doesn't impress in longer distances and screams to be upgraded to a precision inner barrel if you're looking to get this to a woodland skirmish and have some range and accuracy at longer distances.
CONCLUSION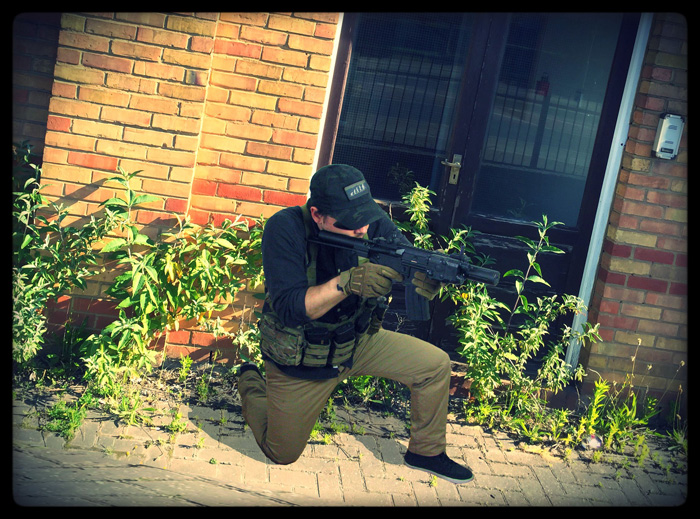 Overall, this is a great gun for CQB with a very unique look and an extremely affordable price tag that offers more than its usual to get on this price range without having to sacrifice the quality. On the contrary you're getting pretty much what you would get from many so called high AEGs that go for around 250€-300€ or £300-£350.
For only 135€, or around only £99, you get a full metal M4 with loads of goodies and a solid V2 gearbox. You cannot go wrong with such a deal.
Of course, the FC-109 isn't perfect, although the wiring to the back could've avoided the PEQ Box, you can still try to change this if you're a techie or want to get adventurous!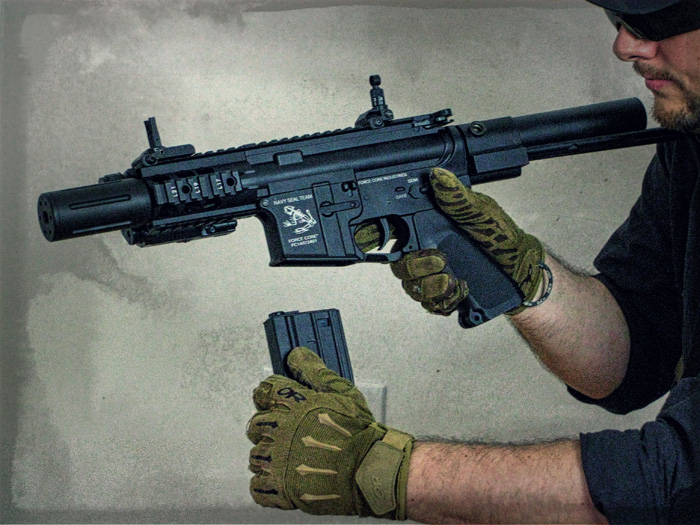 Pros
Very good build quality for its price
Decent V2 Gearbox
Great looking M4
Price!
Cons
Rear wired
Underpowered battery