Timerzanov Airsoft's Bolt Airsoft/Cybergun FN Herstal SCAR-SC BRSS Review
OptimusPrime
18 Mar 2023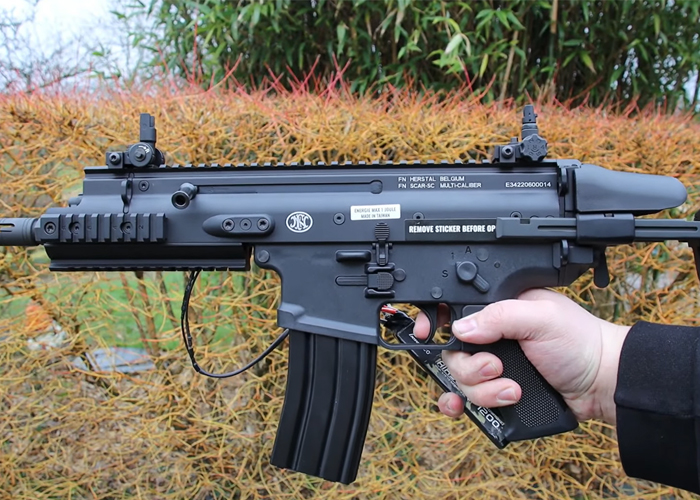 It's the turn of Timerzanov Airsoft to give his take on the Bolt Airsoft/Cybergun FN Herstal SCAR-SC BRSS Bolt which has simulated blowback and recoil... "Hi all ! For this Friday I invite you to discover the brand new SCAR-SC from Cybergun, a replica of the SCAR-SC in a version this time EBBR. Manufactured by Bolt for Cybergun this replica features the original FN Herstal license and BRSS (Bolt Recoil Shock System) build quality and system.
In short, I let you discover this in the video good video to all!
Thanks to Airsoft Entrepôt for the loan of the replica!
In 2003, the US SOCOM launched a call for tenders for the acquisition of a new combat rifle specially designed to meet the current and future needs of the American special forces. At the end of 2004, FN USA (American subsidiary of FN Herstal Belge) won the contract with SCAR. This weapon is available in several sizes (the SCAR-L MK.16 "Light" in 5.56x45 NATO and the SCAR-H MK.17 "Heavy" in 7.62x51 NATO) suitable for any type of environment, up to at CQB, as well as in different calibers and above all ambidextrous. The SCAR-L appears in many modern films such as Inception, Elysium or Jason Bourne, but also in video games, including various Ghost Recon and Battlefield.
Cybergun offers this SCAR-SC made by Bolt, a replica of excellent quality. As usual, Bolt provided a replica with exemplary finishes, and equipped with a blowback system that offers a powerful kick with each shot, offering the joys of GBBR with all the advantages of the AEG. The replica has a mosfet improving the responsiveness of the replica, the internal is reliable and gives excellent performance. The external offers everything you would expect from a tactical replica ready to go into the field in CQB, Picatinny rails on the sides, bottom and top will allow you to add all the desired accessories compatible with this system (grip, flashlight, laser, red dot sight or bezel). The stock is adjustable in 3 positions so that this SCAR can easily adapt to each user."