Timerzanov Airsoft: Ares/Cybergun FN Herstal SCAR-H TPR AEG
OptimusPrime
22 Sep 2022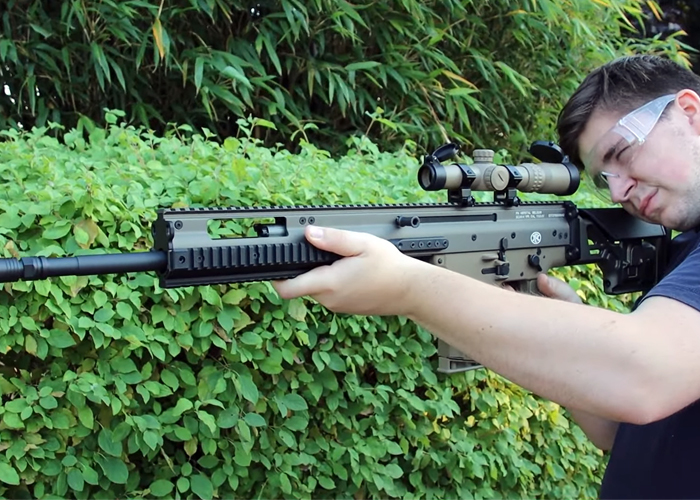 What's the selling point of the SCAR-H TPR AEG made by Ares Airsoft for Cybergun? Timerzanov Airsoft is on the case... "Hi all ! Today I present to you a replica recently released in collaboration between Cybergun/Ares and FN Herstal. Here is the SCAR-H TPR. A replica of the precision SCAR variant featuring a programmable EFCS gearbox. Go ask yourself well and good video!
The Scar-H TPR is an evolution of the Scar-H intended for precision shooting. This version has a 20-inch long barrel, thicker than the Scar-H. It also has a match type double dimple trigger and sighting elements designed to shoot up to 600m. An elongated top Picatinny rail allows for the positioning of a riflescope and a thermal scope for night missions. Operation similar to other Scar family weapons reduces training and maintenance costs.
The Hong Kong manufacturer ARES offers an AEG airsoft replica under official license FN Herstal in partnership with Cybergun of the SCAR H-TPR, the TPR variant (sniper) of the SCAR in H version and FDE color.
Strong points:
ARES manufacturing
FN HERSTAL license with markings
Amoeba reinforced gearbox
EFCS programmable Mosfet (via box sold as an option)
Quick spring change at the back of the Gearbox
Can be used with 11.1v LiPo out of the box
Ambidextrous design (magazine ejection, fire selector)
Functional bolt catch
Sniper Version of SCAR H
MK20 stock
Adjustable cheek rest
Picatinny rail for monopod
Sold in a hard case
Additional spring provided"