RedWolf Airsoft and Airsoft Hawaii Ash Bash 2007 Event Report
OptimusPrime
19 Aug 2007

RedWolf Airsoft's report of the Ash Bash 2007 event hosted by Airsoft Hawaii last 4 August 2007... "Celebrating its 20th anniversary, Airsoft Hawaii once again hosted the well renowned ASH BASH event in Hawaii to an impressive 380 players. With friends and family, the event was attended by close to 500 people making for another highly successful game! Held at the Kualoa ranch, a leisurely 35 minute drive from downtown Honolulu, the site is flanked by beautiful mountains and the beach leading into the cool Pacific ocean.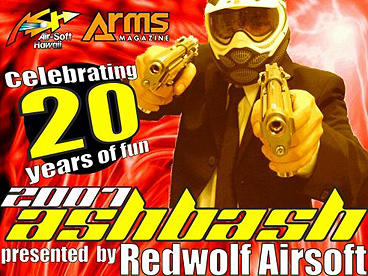 It took place on Saturday August 4th and registration started at 8am with the event wrapping up by around 5pm. True to ASH BASH fashion, there were many simultaneous events going on so players could choose which ones appealed to them most. Apart from the usual skirmishes that ran for 45 minute intervals, there were constant raffle drawings with numerous prizes from the likes of PDI, Laylax, Marui, ARMS, Madbull, NAM Magazine, Mil Force, Airsoft Surgeon, and many retailers such as IMPACT GAMES, Game Pod, and yours truly, RedWolf Airsoft."
Read more of this news at the RedWolf Airsoft News Section. Full event report and loads of pictures of the beautiful people of Hawaii to be seen there too.
You can visit Airsoft Hawaii's website by clicking on their logo below: