New Agilite K19 Plate Carrier Version
OptimusPrime
11 Aug 2021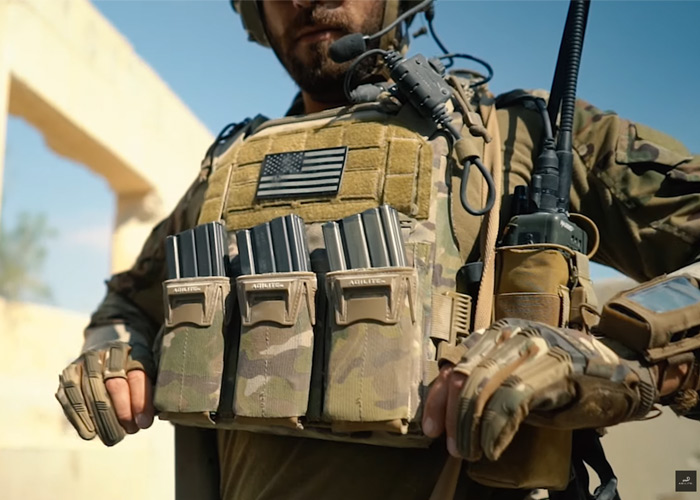 Video from Agilite Gear showing a new version of their K19 Plate Carrier... "The K19 is the ultimate modern plate carrier. Designed, tested and battle-proven in Israel and behind enemy lines with some of the IDF's most elite units. The K19 has numerous subtle but revolutionary features that no other plate carrier has.
When it comes to the cummerbund, we've thought of everything. Many modern plate carriers now employ quick release mechanisms but they always come at the expense of not being able to adjust the fit easily.
The K19 employs our Egress™ Quick-release system and proprietary Fast-Adjust™ Cummerbund that can be adjusted and fine-tuned in real time, by the wearer.
Getting the perfect fit can depend on your specific mission loadout, what you're wearing underneath (which can change mid-mission), or even on how much you've eaten for lunch. We know that the ability to adjust it yourself, on the fly, is critical in order to avoid unnecessary fatigue and compromised combat awareness.
The K19 has a one-size-fits-all cummerbund and multi-size plate bag absolving the need to make complicated and risky sizing choices when buying. You know it will always fit you or members of your team regardless of your loadout or mission set. This is also important for procurement professionals who can be sure it will fit all their guys (or girls) well.
The fast-adjust cummerbund also has a built-in stretch element which allows the vest to be pulled in nice and tight so it doesn't bounce when you run, but that gives you that inch or so of stretch needed when dropping to a knee so the carrier doesn't squash their torso.
The latest version of the K19 is also placard-compatible, with both upper attachment points and a new laser-cut loop overlay.
This new layer gives you the best of all worlds. It allows you to either add velcro-backed placards instantly, or use the mil spec, bartacked molle underneath to attach regular molle pouches.
Unlike other carriers, the shoulder area quick-release buckles are set way back so they don't interfere with your rifle stock and yet are easily accessible.
When it comes to comfort, The K19 shares many of the comfort features of the combat-proven Agilite K5, which is considered to be the most comfortable plate carrier on the market.
Such comfort features include generous fusion-foam shoulder padding for extreme comfort even during prolonged use. Anyone who's spent time in the Military knows that even the shortest of missions can turn into several day ops. Comfort is not a luxury, it's a necessity to stay alert and not distracted in hostile environments where complacency can cost you your life.
One of the secrets to the K19's comfort level is that the shoulder straps create a proprietary "V" shape to center mass which spreads weight over maximum surface area and relieves pressure points.
The rear of the K19 plate bags have a triple layer of low profile fusion foam to remain comfortable even when using the K19 with hard steel or ceramic armor plates. Steel or ceramic plates often have hard corners and edges that can dig in to your torso when using regular plate carriers but the K19 has inherent padding to prevent this from happening.
The K19 is also Agilite K-Series compatible, meaning that it has ability to attach the AMAP III Assault pack directly to it in seconds. No threading MOLLE, no hassle.
In the rear, the cummerbund has numerous attachment points for the mil-spec G hooks, allowing a perfect fit for all, from the largest to smallest person, without making the plate carrier unnecessarily large or prohibitively small.
The K19 has gone from the front lines of Israeli Special Forces to being one of the top-selling plate carriers in the USA.
It has traveled many miles and has crossed borders into some of the most dangerous places in the world in order to bring you one of the most detailed and thought out plate carriers on earth."