Laylax Battle Style CQC Holster Series
OptimusPrime
17 Sep 2020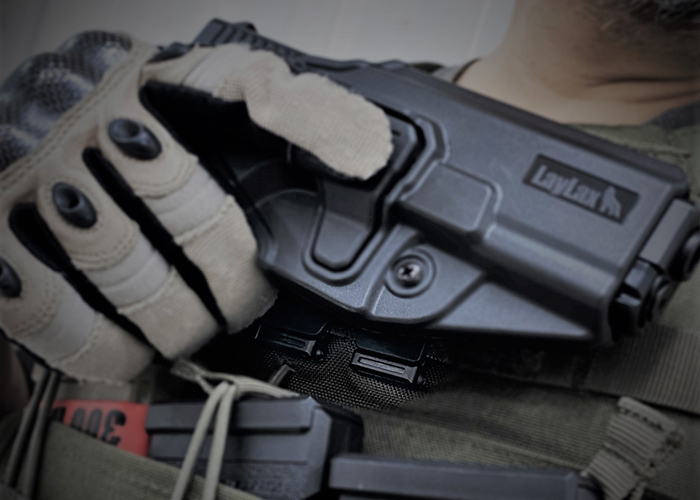 We get to see more Battle Style CQC Holsters from Laylax as they add to two more accessories to the series, the Drop Belt Loop and MOLLE Platform. The CQC Holsters fit the Tokyo Marui Hi-Capa and Glock Gas Blowback Pistol lines. Ryan/Rai of Laylax tells more... "Hello airsoft nation and LayLax fans LayLax Rai here! We have been busy with our new line of CQC holsters, so for all of you gunslingers out there, wait no longer. The new CQC Holster Series is our new line of holsters for the Hi Capa series and Glock series of Tokyo Marui GBB handguns. We may have plans for more handguns in the near future so sit tight.
The series is sleek, high quality polymer, with an extra smooth draw. Compared to past attempts at a Hi Capa holster, the LayLax CQC holster is highly refined and super compact without compromise. The draw release button clicks positively in place for that perfect retention ensuring that your handgun isn't flying about. The Glock CQC holster functions very similarly and is completely interchangeable with all of the CQC holster series of optional attachments. Coming in both black and tan, the holsters come with the fully adjustable paddle that has 360 degrees of free movement with 24 different slot positions. The quick release lever allows for speedy adjustment to any angle as well as placement on our other optional attachments. The MOLLE platform attachment is perfect for any player looking for a high draw on their chest rig or any custom placement on your MOLLE rigging. Then you have the drop leg belt loop attachment for those needing a lower draw when pairing their favorite handguns with their plate carriers and primary rifles, keeping the holster below your setup avoiding interference. Our left-handed crowd or dual-wielding folk need not worry as we looking into that as well.
Check it out on our Instagram for the CQC holsters in action!
Get your CQC Holster series holsters and attachments today, and you'll gun slinging in no time."