Jeff The Kid On The VFC Crusader Two-Stage Trigger
OptimusPrime
15 Jan 2022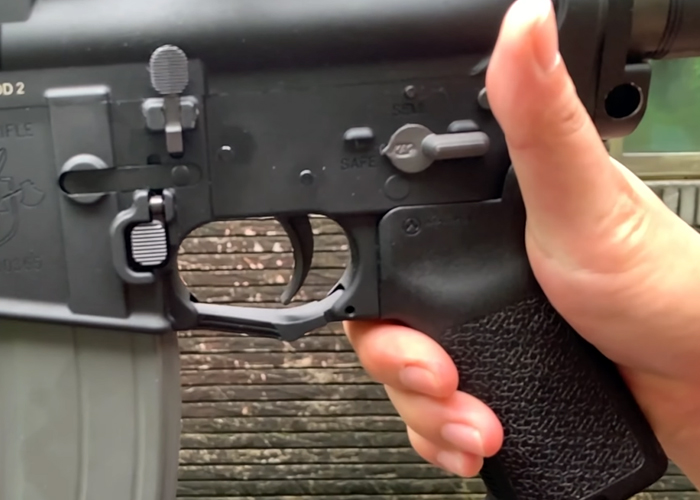 Jeff The Kid gives his take on the VFC Crusader Two-Stage Trigger for Gas Blowback Rifles... "When it comes to the second-stage trigger, I have been looking forward to the launch of the two-stage trigger by Crusader. Finally, Crusader will launch this set of two-stage triggers.
The Two Stage Trigger allows players using GBBR to experience the two-stage trigger that is very close to the common two-stage triggers in the real gun market. The segment trigger refers to the two-stage trigger system of the real gun for design. The shooter has a two-stage trigger experience when pulling the trigger.
In addition to the reduction of Wall's weight, it helps to reduce the jitter of the trigger during shooting and improve it. The accuracy can also be adjusted according to the shooting habits of each shooter. It is very suitable for GBBR players who are very particular about trigger control.
In addition to the control of Crusader's two-stage trigger, I also interacted with my friend and shooting instructor in the United States. @雪曼力量 Xiao Zhao discussed that most of the shooters who use real guns in the United States use the first-stage trigger or the second-stage trigger. Xiao Zhao also enthusiastically asked his surrounding shooters.
The subjects of inquiries included military personnel, law enforcement units and even members of the United States Army Rangers (United States Army Rangers). States Army Rangers) And I often ask Xiao Zhao for a lot of information and questions about real guns. Xiao Zhao is a very powerful shooter. You can learn a lot of shooting-related knowledge from him. You are welcome to visit him.
I believe the channel will be full of rewards! If the content of the video is wrong, you are welcome to give comments and suggestions. You are also welcome to talk about your own ideas. You can learn from each other and grow up. As for whether you would recommend this set of triggers, you will know after watching the video carefully!"