Arcturus M4 MOD1 ME AEG Series At Airsoft Atlanta
OptimusPrime
21 Mar 2023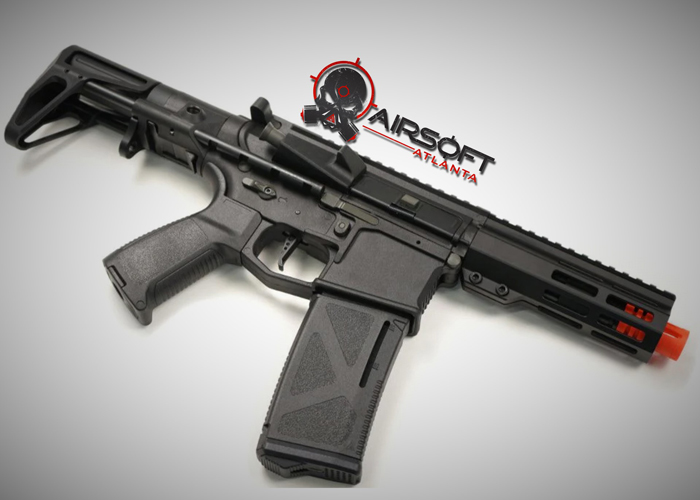 Take your pick from PDW to Carbine lengths as the Arcturus M4 MOD1 ME AEG Series are in stock at Airsoft Atlanta. There are four different lengths to choose from... "The Arcturus MOD1 M4 AEG ME Series is one of Arcturus's new premium airsoft gun lines! The Arcturus MOD1 series rifles come standard with a very solid, polymer receiver construction, metal handguard, adjustable rotary hopup, updated microswitch trigger, flat trigger, 6.02mm tightbore barrel, and a quick-change spring gearbox. All Arcturus MOD1 AEG series rifles include an Arcturus Sword Mid Cap magazine, deans adapter, flip up detachable sights, 1 extra black upgraded flashhider (optional), beaver tail AEG grip attachment, and a goodie bag! Uses any M4 style magazine.
Other notable features:
Quick-Change spring system (easy to swap out spring in rear)
SHS style Nylon Piston w/steel teeth
Rotary Hopup chamber
6.02mm tightbore inner upgraded barrel
Amazing hop up performance for long range and accuracy
Version 2 zinc gearbox shell
Copper cylinder
Microswitch for lipo ready batteries
8mm bearings
Fat thick spring guide (steel)
Steel and CNC internal parts where needed
FPS around 370-380 out of the box (compress spring in storage / hopup adjustment may bring it just below 399)
Gun does not include battery or charger.  Uses 11.1v Lipo/Li-ion stick or nun-chuck style in rear stock. Can also use a 7.4v, but we recommend 11.1v. Uses a native T-Plug (Deans) style battery connector but also includes an optional adapter for use with Tamiya batteries as well.
Note for MOD1 PDW: The rear battery space is similar to the G&G Arp9 battery space, except slimmer. So, with that, a 7.4v 1000mah stick (or around this small size) might be the only possible battery to fit. Upon company testing, we were able to fit a G&G 11.1v 800mah battery inside, but the wires were very crammed. If you do plan to pair the gun with this combo, please take your time wiring it in."
---