The "DS" Springfield Armory 1911 DS Prodigy May Mean "Double Satisfaction"
Logan
15 Jun 2023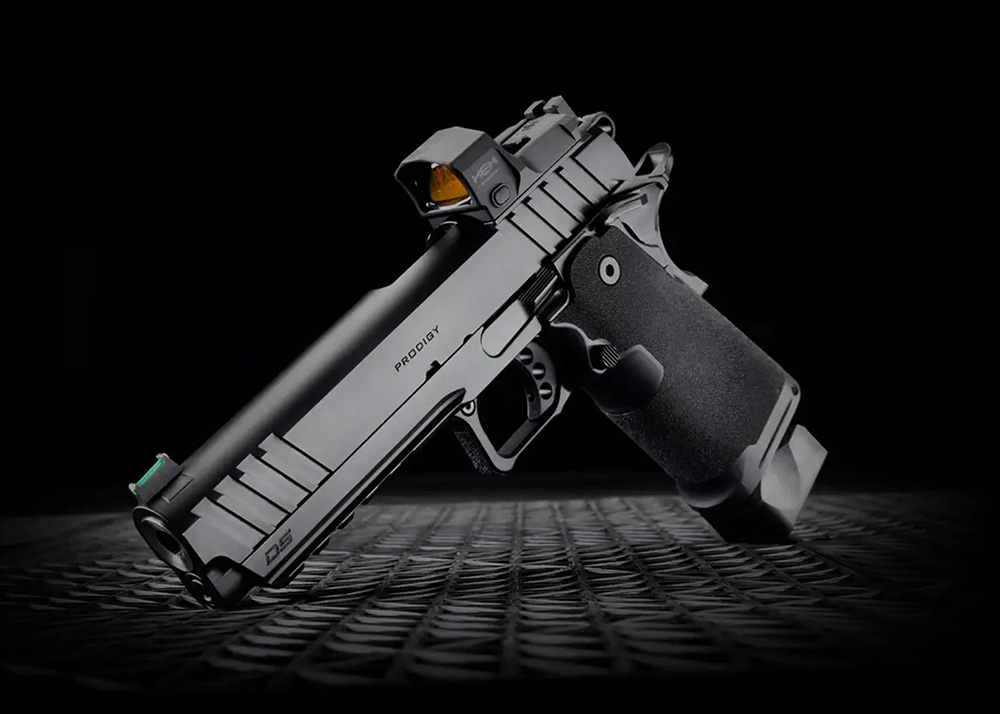 Announced last year, the Springfield Armory Prodigy is a 1911-style pistol with a double-stack magazine that holds 17 or 20 rounds. It has a polymer grip, a steel frame, and an optics-ready slide. It also has an ambidextrous safety and a picatinny rail for accessories. The Prodigy combines classic 1911 features with modern capacity and performance.
The Prodigy comes in two models: a 4.25-inch barrel and a 5-inch barrel. Both models have the Agency Optics System (AOS), which allows the user to mount different optic plates on the slide. The user can choose from five plates that fit various red dot sights. The Prodigy can also come with a HEX Dragonfly optic pre-installed.
The slide, frame, and small parts of the Prodigy are coated with black Cerakote for durability and corrosion resistance. The barrel is left unfinished for a traditional look. The slide has front and rear serrations and a lowered and flared ejection port. The fit and finish of the Prodigy are particularly good, with tight tolerances and smooth operation.
---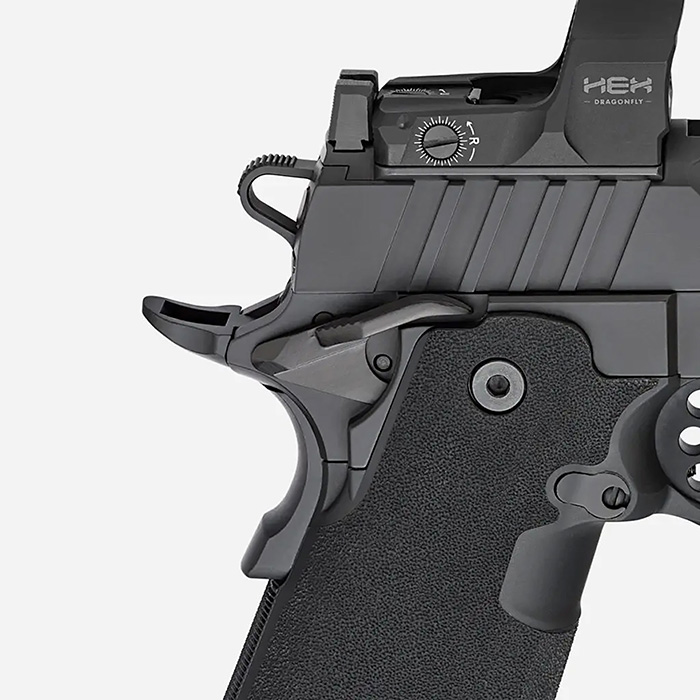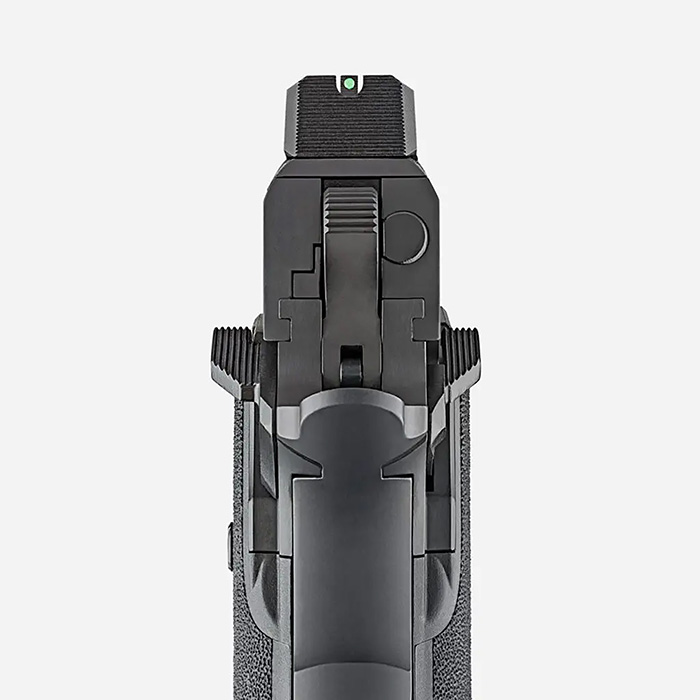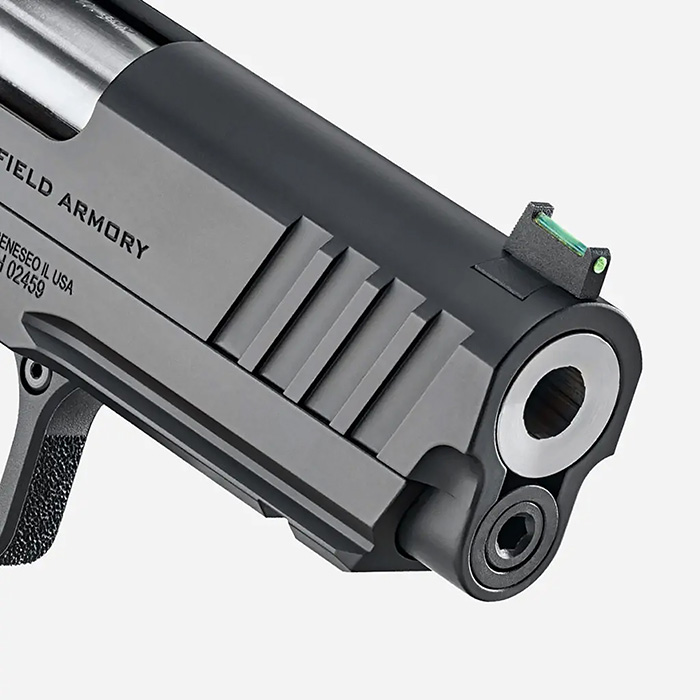 The grip module of the Prodigy is made of high-impact polymer that can withstand harsh conditions. The grip has an Adaptive Grip Texture that provides a secure and comfortable hold. The grip is also reconfigurable around the steel frame, which gives the user more options for customization.
The Prodigy is a versatile and reliable pistol that offers the best of both worlds: the proven design of the 1911 and the high capacity of a double-stack magazine. It is also ready for any optic or accessory that the user prefers. The Prodigy is a smart choice for anyone who wants a modernized 1911 pistol.
Springfield Armory ships the Prodigy pistol in a soft-sided zippered case. The case includes two magazines: a 17-round and a 20-round. The pistol also comes with two additional plates: an optics plate for the Springfield HEX Dragonfly (Shield/Docter footprint) and a plate with a Novak-style rear sight.
---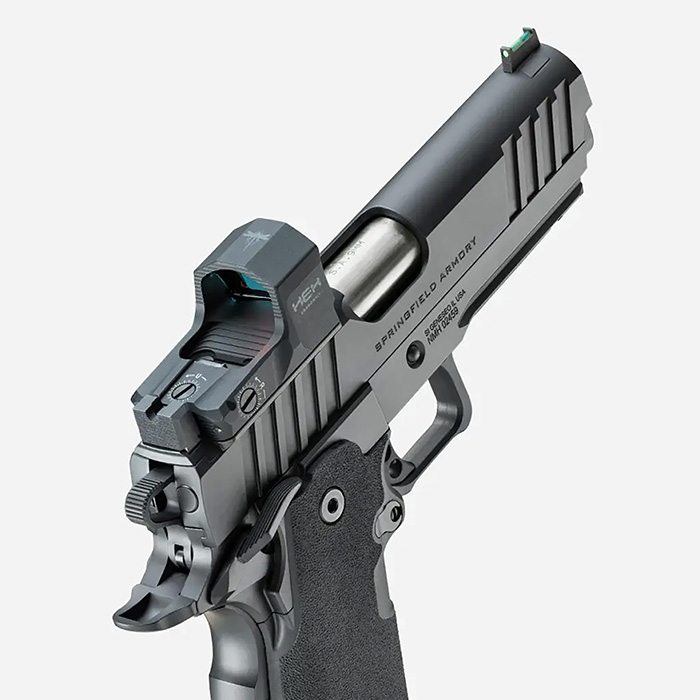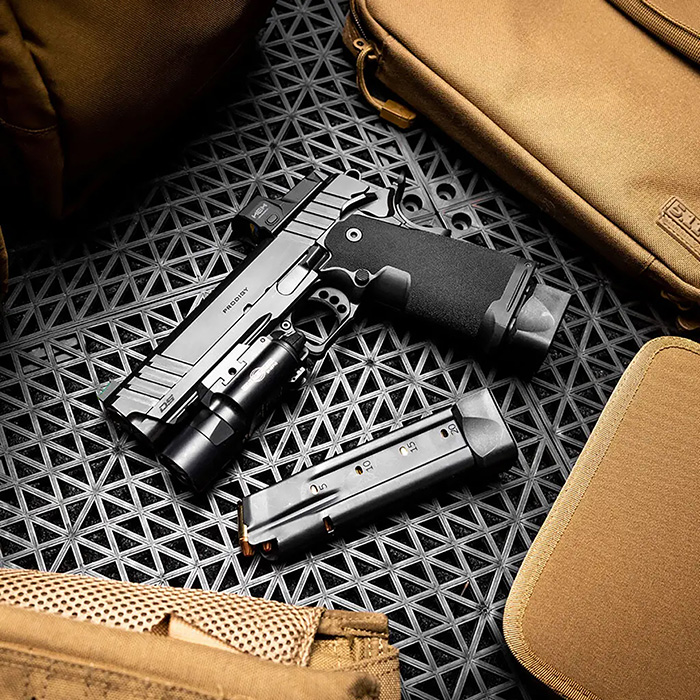 ---
The Prodigy pistol can be an excellent option for shooters who are looking for a modern 1911 with double-stack capacity and a performance-driven feature set. The pistol is optics ready and comes with two additional plates, making it easy to customize the Prodigy to your individual needs. This something that airsoft gun manufacturers will have to consider when developing their own optics ready handguns, make optics plates that can accommodate a wider range of optics for handguns rather than give customers the trouble on doing their own modifications.