You're All Invited To The 11th Airsoft Players' Choice Awards Virtual Awarding Ceremony
OptimusPrime
02 Apr 2021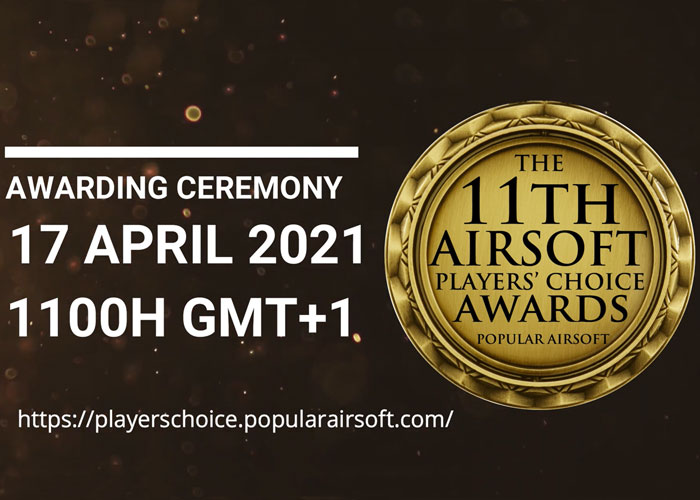 Advisory: We're taking a short Easter Break and that means no news and stories tomorrow. We'll resume posting on Easter Sunday. Happy Easter guys!
We're busy preparing for our very first virtual event, and we're nervous as hell. With the cancellation of the IWA Outdoor Classics 2021 and with that the cancellation of the annual Airsoft Meetup in Germany, the best way to honour the nominees and and winners of the 11th Airsoft Players' Choice Awards is to hold a virtual awards ceremony.
On the 17th of April 2021 at 1100H BST/GMT+1, the virtual awarding ceremony will be livestreamed and hosted by MasterChief and Azzkickr, two gents who are also as nervous as hell as it's their first time to host a virtual ceremony. So overall, expect some funny moments and amateurish styles to the awarding ceremony, we're noobs into this type.
But the virtual presenters, all 26 of them, are not amateurs and with their cooperation, they will be bringing to you the nominees and reveal the winners in all the categories. We are not going to announce yet who the virtual presenters are, but rest assured these are some of the most recognized names and faces in the industry and the airsoft communities they are in.
So better put it in your calendars. In about two weeks' time we finally get to find out who gets to bring home an award from the 11th Airsoft Players' Choice Awards.
See you there and don't forget to register to watch and interact with the Airsoft Industry and Media during the Virtual Airsoft Meetup that will take place next day. Better devote the 17-18 April for some quality time with the airsoft community virtually.