Would You Like An Airsoft Version Of The Upcoming Bond Arms Lever-Action AR-15?
Logan
03 Feb 2023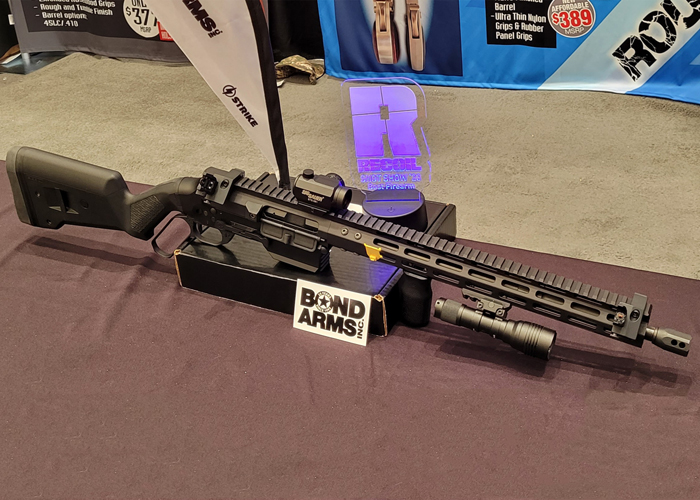 If you ask me, I would not hesitate to say yes. I actually find lever action guns to be fun to shoot and so far the lever action guns I find in airsoft are those from Umarex Legends, and A&K which are more based on the vintage Winchester M1873 design. But how about magazine fed lever action AR-style airsoft rifle? Surely the Bond Arms Lever-Action is the best candidate for it.
On display at the SHOT Show 2023 and one of the stars of the trade event, it is the first lever action rifle in development by the Texas-based company that is better known in making Derringer-style double barrel handguns. For many, this is an out of the blue surprise from the company.
Here is a video from The Firearm Blog taken at the SHOT Show 2023:
So why are they producing this? Here is what the company posted in its product page as explained by Gordon Bond:
Why did we do this???

At Shot Show 2019, right before Covid, we were sitting around after the show and we started talking about, "If we built a Lever Action Long Gun", what cool features would we want to add?  After discussing what things we liked about Lever Action guns, we started talking about how we could improve the features and performance.  Most Lever Action guns have a very long lever throw, so we thought it would be cool to do a Short Lever Throw that would actually be smoother than the normal long throw.  We also thought that it would be cool to utilize all the new technologies in play over the last 60 years with the AR market and make it a magazine fed system.

Little did we know that cycling a 5 round magazine was easy, but cycling a 30 round magazine with a lever gun was nearly impossible.

We spent over a year redesigning the lever system and actually came up with a very cleaver cam system that will aggressively extract a round out of a 30 round magazine with no problem and it allowed for a very short throw even with the longest rounds.  It was so good, we did a patent pending on this and several other things we discovered going through this design process.  Also, with all the interchangeable barrels we have with our current guns, we wanted to make it easily convertible to other calibers to add more cool factor.

As soon as you cycle the lever and pull the trigger, you know you have just felt the future of Lever Action guns.

You will find just as 1000's of others at Shot Show found, that this might just be the shortest, sweetest, crispest trigger, level gun they have ever held.

When you get the chance to try one out, you'll be hooked.

-Gordon Bond
---

---
Gordon Bond may be right that you'll get hooked by this. The Bond Arms Lever Action features a rotating bolt for strength and precision; chambering of modern cartridges; user configurability and modification; and utilization of modern materials. The company says that the lever loop is user configurable to meet personal preference as well as match readily available Remington 870 stocks.
The handguard is M-LOK to allow for more configurations such as mounting weapons accessories. A push button safety which is found in lever action guns can also be found on this rifle. The mag release is long to better accommodate the shooter's finger and the mag can be dropped on the other side as well. The mag well is flared for faster reloads and a 30-round PMAG can be easily inserted.
Users can also change the stock as it is made to be compatible with the Remington M870 shotgun stocks  which are widely available and in various designs.
Bond Arms see the release of the rifle in 2024 and when its initially released, available calibers will be 9mm, 5.56mm and .300 Blackout. There are plans for the .450 Bushmaster and 12.7x42, but it remains to be confirmed. As for pricing, it is estimated to be US$1,499.00.