U.S. Marines Experimenting With The "Arms Room Concept"
Gungho Cowboy
28 Apr 2021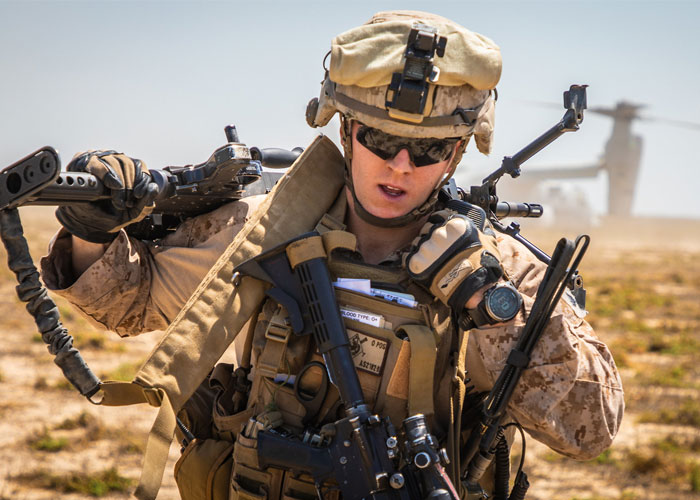 In what probably will shape the infantry in the coming years is now being tested in the U.S. Marines Corps. Whereas before infantry marines are trained to be specialised in weapons, with the "Arms Room Concept", they will be trained in multiple weapons systems. You may want to call them "generalists" rather than "specialists."
The new concept is part of the update of Force Design 2030, which is a ten-year plan is a plan for a better trained and equipped distributed operations capable ground combat force, an ACE with a balanced mix of manned and unmanned systems, and a logistics element capable of sustaining distributed ground and aviation elements as explained by LtCol J. Noel Williams (Ret) in the July 2020 issue of the Marine Corps Gazette.
Megan Eckstein, writing for USNI news, said the "Arms Room Concept" is aimed at having well-rounded marines who are able to operate with the weapons system available as the situation calls for. She quotes Brig. Gen. Benjamin Watson commanding general of the Marine Corps Warfighting Lab and the vice chief of naval research:
"We seek to enhance the infantry battalion's capabilities by adding organic multi-domain sensing (Operations in the Information Environment, Electronic Warfare, and Unmanned Aircraft Systems) capabilities, organic loitering munitions, and increased mobility. One of the changes being evaluated is a shift to an 'arms room' concept with the elimination of Weapons Company and the shift of weapons systems formerly associated with Weapons Company, 81mm mortars and the Javelin for example, into the headquarters or rifle companies. This will allow the rifle company to select mission-specific lethality and employ it organically," reads the Force Design annual update.
"Adjusting to this concept will require a more highly trained and multi-disciplinary Marine, supported by a longer, more comprehensive entry-level pipeline; this is an effort currently underway within Training and Education Command."
---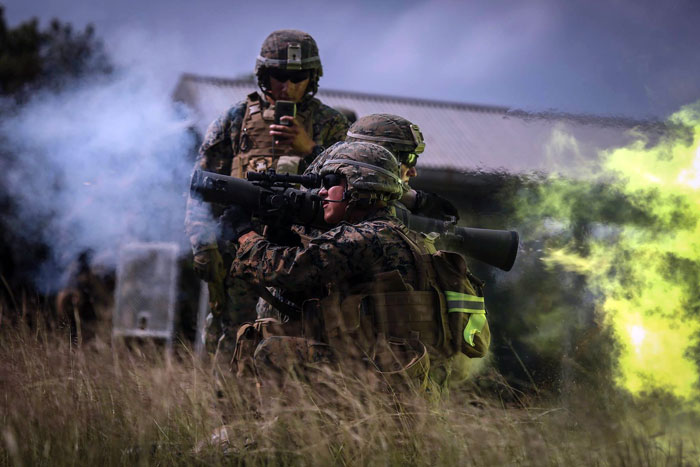 US Marines With Carl Gustav rocket system during live fire training at Camp Hansen in October 2017 (U.S. Marine Corps photo by Sgt. Aaron S. Patterson)
---
From being able to fire an M4 or M27 IAR rifle competently, the concept expects the infantry Marine to be able to handle other weapons systems, big or small. This means also the Marines will get to have more competency in other platforms, able to fill in the role when called for without requiring further instructions or training. They can pick up the weapon available for the job and off they go.
With more weapons they need to train with, the Schools of Infantry will train the Marines from on a longer duration, from the usual 9-week training course to a 14-week training course. 
Deputy Commandant for Combat Development and Integration Lt. Gen. Eric Smith recognises that there is criticism of this concept but with the advances of the weapons systems, he says it is a natural progression. Marines nowadays can hit targets at 700 metres which usually is the domain of snipers, but with the improvements in barrel and optics used with the M27 IAR, any Marine can hit a target at that range.
If the concept proves to be an effective in having Marines trained to be mission ready and able to handle in multi-weapon systems, it will lead to dramatic changes to the Marine infantry battalion and even revolutionise ground warfare that will also lead other militaries to rethink about how they train their soldiers.
Top photo: U.S. Marine during a g a tactical recovery of aircraft and personnel (TRAP) exercise on Karan Island, Kingdom of Saudi Arabia April 2020 (U.S. Marine Corps photo by Sgt. Kyle C. Talbot)