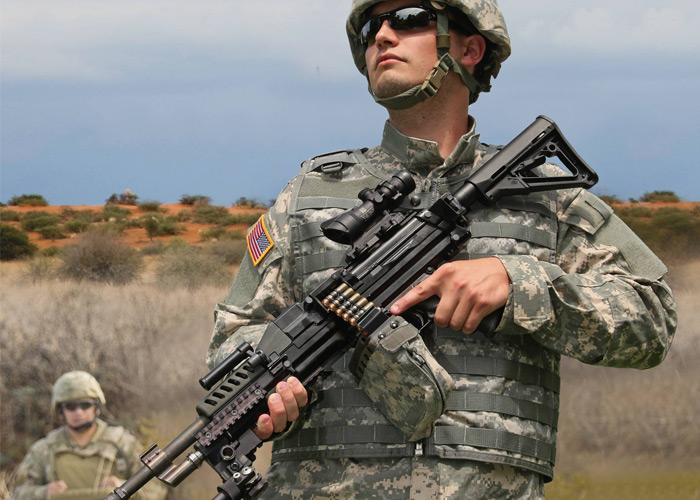 Last week, we featured the entry of the Cobalt Kinetics and MARS Inc. to the Next Generation Squad Weapons (NGSW) Program of the U.S. Army to replace the M249 and M4. Unfortunately, it was not selected for the Phase 2 of the program, along with the entries of FN, and the partnership of VK Integrated Systems and Bachstein Consulting.
Those that have been selected according to the award notice put out by the U.S. Army are:
W15QKN-19-9-1024 - General Dynamics-OTS Inc. - Williston, VT
W15QKN-19-9-1025 - AAI Corporation Textron Systems - Hunt Valley, MD
W15QKN-19-9-1022 - Sig Sauer Inc. - Newington, NH
The companies selected will have to provide prototypes for the NGSW program which are comprised of the following: Next Generation Squad Weapon-Rifle (NGSW-R) and the Next Generation Squad Weapon-Automatic Rifle (NGSW-AR). Both weapons will be using the 6.8mm round to replace the standard 5.56mm which is now seen to be inadequate to penetrate the body armor of near-peer enemies.
The U.S. Army's expect the prototype OTA period of performance is up to 8 years with delivery of weapons and ammunition expected within 27 months after award.
According to Soldier Systems, the General Dynamics-OTS Inc. is said to be submitting a bullpup design and the ammo they are developing in partnership with True Velocity for the 6.8mm ammo and the polymer case.
As for Textron Systems, we have mentioned before about the company's LSAT System, which is a Cased-Telescoped (CT) Weapons & Ammunition (top photo) that can help lower the weight of ammo that a soldier brings to combat by 40%.
The approach of Sig Sauer, which is developing the 6.8mm ammo in-house, will feature a hybrid case design with a brass body and perhaps a steel base. Still the entry of Sig Sauer offers something closer to the traditional way of producing ammo as compared to previous two which are new and promising.
So now it's down to three competitors. It will be a long drawn battle as the prototypes will undergo the scrutiny and tests that a military superpower will require of their weapons. Will Sig Sauer be seen as the favorite given that it has already bagged the MHS program with the M17 and M18 pistols? What we can say is that it's not going to be a sure shot for the company.